In a previous article, a long straddle was proposed for Google (NASDAQ:GOOG), and subsequently, the position made about a 30% profit in one day. The profit was a result of Google's stock taking a plunge following Q3 2012 earnings release, as the release was considered disappointing by investors/analysts. As speculated in the previous article, the acquisition of Motorola Mobility combined a high margin Internet business with a low margin hardware company, and the results were not too pretty. While the mobile environment is bringing new users, new clicks and advertisers, the revenue/profit per click for mobile is less than for desktop.
Google's quarterly results were strong, as revenue was up 45% year-over-year to $14.1 billion, however, not as strong as investors and analysts were expecting. Revenue increased 15% quarter-to-quarter. Google's search query volume increased and over a half billion Android devices have been activated - 1.3 million activated every day. Google's U.S. revenue grew 23% year-over-year to $5.4 billion and its UK revenue increased 16% to $1.2 billion. While Google saw robust growth in the U.S., UK and Japan, it experienced tepid growth in Europe.
Motorola's gross revenue was $2.6 billion with $1.8 billion attributed to mobile and $797 million related to the home market segment.
Google noted it has 200 times more video advertisers than an average U.S. television network. The company also indicated its enterprise business continues to thrive and is seeing great traction in retail and education sectors with Dillard's (NYSE:DDS), Kohl's (NYSE:KSS) and Office Depot (NYSE:ODP) now using Google's Enterprise products.
Over the last year Google's stock price has been up and partially back down as shown below: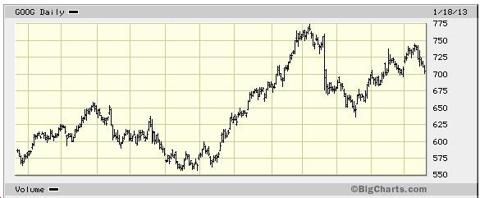 The Mototola low-margin situation probably hasn't gone away, and Google is also reportedly having some problems supplying its Nexus 4 device due to strong demand. The supply issue is not surprising, as the $299 cost of an unlocked Nexus 4 is $400 cheaper than a comparable unlocked Samsung Galaxy S III. So it appears that someone, possibly Google, is subsidizing the price difference, so once again Google could take a hit to its once pristine profit margins. Additionally, while Google's Price-to-Earnings ratio of 22 is reasonable for a high-technology company, its Price-to-Sales ratio of 6.3 is pretty expensive.
Based on the Motorola/Nexus 4 issues and based on Google reporting its earnings release tomorrow, a long straddle for the company is in order. A long straddle is entered by purchasing a put option and a call option at the same strike price and for the same month of expiration. The position is profitable for a large movement in price up or down. So if the price of the stock tanks or if the stock price goes ballistic, the position generates a profit. If the stock remains near the current price, then the position most likely results in a loss.
Using PowerOptions, a couple of straddle positions for Google were found for January 2013 expiration as shown below: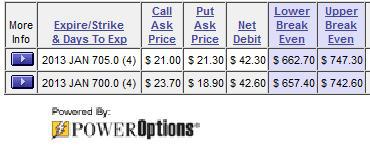 The straddle with the options having the $705 strike price is attractive, as it is more biased to making a profit on the downside than the other choice. The lower break-even point for the $705 straddle is $662.70 and the upper break-even point is $747.30.
The details for entering the 2013 Jan 705 Google long straddle are shown below:
Google Long Straddle Trade
Buy 2013 Jan 705 Call at $21
Buy 2013 Jan 705 Put at $21.30
Look forward to hearing your comments below!
Disclosure: I have no positions in any stocks mentioned, and no plans to initiate any positions within the next 72 hours. I wrote this article myself, and it expresses my own opinions. I am not receiving compensation for it (other than from Seeking Alpha). I have no business relationship with any company whose stock is mentioned in this article.