General Electric (NYSE:GE) is a conglomerate business that can be divided into 2 segments: GE Capital and GE Industrial. For the most recent quarter, GE Capital was just 29.43% of revenues and 27% of total profit, compared to GE Industrial's 70.57% of revenues and 73% of total profit. This is good news to investors, as GE Capital has been steadily shrinking its operations while the most exciting departments of GE Industrial are flourishing across the globe. But what subdivisions are the strongest, most popular, and most underrated?
| | | | | | |
| --- | --- | --- | --- | --- | --- |
| Industrial Division: | % of Industrial Revenue | Q4 Revenues in Millions | Q3 Revenues in Millions | | Q/Q Rev Growth |
| Energy | 33.97% | 9,586 | 8,530 | | 12.38% |
| Oil & Gas | 16.12% | 4,548 | 3,650 | | 24.6% |
| Aviation | 19.38% | 5,467 | 4,781 | | 14.35% |
| Healthcare | 18.37% | 5,183 | 4,307 | | 20.34% |
| Transportation | 4.83% | 1,364 | 1,409 | | -3.2% |
| H&BS | 7.33% | 2,068 | 2,120 | | -2.5% |
| Total Industrial | | 28,216 | 24,797 | | 13.79% |
Solely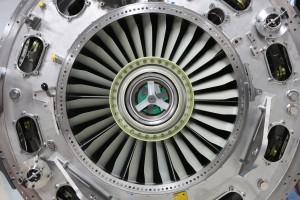 contributing 19.38% to the top line of industrial revenues, GE Aviation gets a ton of media attention due to long-standing relationships with Lockheed Martin Corp (NYSE:LMT) and The Boeing Co. (NYSE:BA). In addition, GE recently acquired Avio SPA for $4.3B or ~8.5x estimated EBITDA, a jet propulsion components supplier. With a strong history in the industry for both public and military projects, including the lime light-riddled 787 Dreamliner, investors salivate over GE's exposure to the flourishing aerospace cycle.
Another segment receiving much puppy love in the media is GE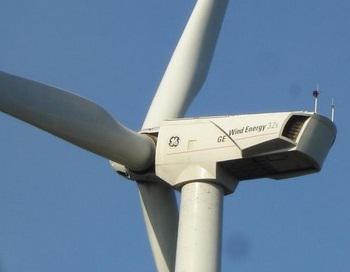 Energy. Contributing 33.97% to industrial revenues, this is the largest segment of GE's six industrials. The Obama Administration's push for renewable and/or cleaner energy development puts GE in the sweet spot. By supplying equipment like wind turbines, as well that which supports the rotation from coal to cleaner, cheaper natural gas use by power plants, this segment raked in $9.5 B in revenue and $1.7 B in profit in the fourth quarter alone. In a recent interview, GE CEO Jeff Immelt acknowledged some slowing in turbine orders, but there was a light at the end of the fiscal cliff tunnel. Mr. Immelt issued a statement regarding the U.S. Production Tax Credit extension:
(The extension) "...opens up a two-year window," referring to the fact that projects need to start construction, rather than complete work, during the calendar year. "We hear more positive comments coming out of the renewable energy sector," he added.
Clearly, the rest of GE Industrial is doing very well, especially considering the challenging economic environment. But to me, the most impressive segment is GE Oil & Gas. With 24.6% Q/Q revenue growth announced in the 4Q results, what's not to like? Sporting $649M in profits and $4,548B in revenues for 4Q while amounting to 16.12% of revenues for GE Industrial, GE O&G is a growth machine hidden inside GE's huge conglomerate size. Despite this girth, over the past year GE O&G has become a larger percentage of the total revenue pie, thus outpacing revenue growth of the other segments:

Without comparison to others, GE O&G sported a 14.34% Compound Quarterly Revenue Growth Rate for 2012, with an even better 17.5% CQGR for profits. This not only displays rich growth evident in both measures, but more importantly, it conveys improving profit margins as well. Perhaps management is demanding higher pricing or improving efficiency across the globe.
Back in the fall, I was also impressed by a very similar performance, and a huge backlog in projects as well -- read about it here. But just as back then, I am still surprised by the lack of publicity and coverage of General Electric's Oil & Gas Industrial Segment. This segment has been one of the fastest growing cogs within GE over the past year, and has grown to be a larger piece of the GE Industrial pie by 2% points, despite impressive growth in GE Industrial as a whole. Perhaps Oil & Gas services doesn't command the same volume of audience as the 787 Dreamliner?
Comparison:
When analyzing a company or industry, utilizing comparisons is always helpful and can put more color in the picture, so to speak. Since Schlumberger (NYSE:SLB) is usually considered a bellwether of the oil well services and equipment industry, what better to compare GE Oil & Gas to than this fabulous company?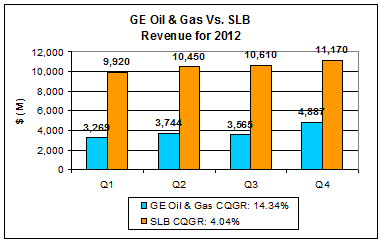 SLB's revenue was clearly much more consistent than that of GE O&G, and this was expected considering SLB's much larger size. However, this strength is perhaps a simultaneous weakness, as SLB grew at a 4.04% compound quarterly growth rate for 2012. Although this performance was very respectable, it does put into perspective the superior compound quarterly growth rate of 14.34% for GE O&G over the same period. Even SLB bulls must admit -- this segment of GE blew SLB out of the water in 2012.
Summary:
GE Capital is shrinking as planned, while GE Industrial has grown revenues, profits, and margins over the past year despite economic challenges. In light of the lack of coverage of the O&G segment of GE Industrial, perhaps in time, investors will have more respect if growth continues to outpace the rest of GE as it did in 2012.
A quote from my last GE article, linked above, still rings true: "In time, the market will appreciate this gem, which for now is still hidden deep within GE's formidable arsenal of industrial businesses."
GE is running strong. I see the dividend increasing in 2013 as growth continues and more capital is leeched from GE Capital and input to shareholders and also invested into the Industrial segment. Despite economic challenges, GE continues to perform well in most of its businesses.
Disclosure: I am long GE. I wrote this article myself, and it expresses my own opinions. I am not receiving compensation for it (other than from Seeking Alpha). I have no business relationship with any company whose stock is mentioned in this article.