This is the big announcement we have all been looking forward to forever, or so it seems. Where will Apple (NASDAQ:AAPL) be trading at the close on Friday, January 25th? That is the $64 million question. This is the big one, the one that finally reveals how many iPhone 5s and iPad Minis were sold, what the margins were, and what the guidance might be. Of course, the company has cried "wolf" so many times with the guidance that everyone seems to use that number as a base and then add 25% or so (since that has been the average percentage that AAPL has under-guided).
In a few days, we will know how the important Christmas quarter turned out, and we can go back to speculating on how big China might be, or what new products are in the pipeline, or whether iTV will finally become a serious alternative, or whether the dividend will be increased or more stock buy-backs will be authorized.
But now everyone seems to be focused on what the earnings might be. Some authors aren't sure which way it will go, but AAPL's price is "definitely, most certainly, positively not going to be trading at $500/share on January 24th, the day after their earnings release." Another concludes that it is undervalued by about 10%, (using what he calls a Buffett-style evaluation technique), others call it "significantly undervalued," while others predict a bumpy ride, and still others argue that "betting on Apple at this point is risky business." Bottom line, the consensus outlook is as clear as mud (although the majority of articles suggest that things will be getting better).
The stock is trading some 28% below its high in spite of consistent 20%+ annual growth. The most recent weakness in the stock has been attributed to some unconfirmed reports that the company cut back on the parts order level -- Apple Cuts Orders for iPhone 5 Parts on Weak Demand: Reports. Even though there was a decent chance that AAPL had merely shifted some work to a different supplier, or maybe an iPhone 5S will be introduced earlier than expected so fewer iPhone 5s might be sold. In any event, the report resulted in a lower price for the stock. And the report is still not confirmed, as best I can tell.
Speaking of new phones, I suspect the company will come out with a lower-cost iPhone for the China market, which only works in China. This iPhone could be popular with millions of less affluent Chinese people without cannibalizing sales of iPhones in other parts of the world (because of its low price). Margins would surely fall if Apple chooses to do this, but net profits has always seemed to be a more important number to me than profit margin. I say go for the profit, who cares what the margins are?
From a technical indicator viewpoint, there is not a lot going for the company: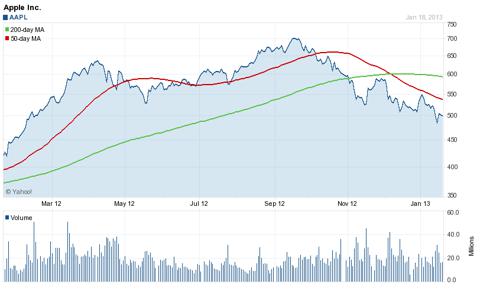 I am not a strong adherent of moving average technical indicators, but this time around, they sure were right. Check out how anyone would have done if they sold AAPL short when the stock fell below its 50-day moving average in early October or the 200-day moving average in early November. Wow! They are happy campers right now.
In spite of the consistently lower price for five months, 14-day RSI is not anyway near over-sold, so another technical indicator suggests that there may be further weakness.
That being said (and reflective of my basic mistrust of technical indicators in general), I think a good argument could be made that the number $500 is sort of a magic psychological support level. Even the hedge fund managers (who are supposed to be totally rational) might feel they were buying right if they bought the stock below $500 (after all, some suckers paid over $700 at one time last September).
The stock is trading at a P/E ratio (cash-adjusted 8.7 trailing) of less than half its growth rate (24% historical, 18% projected). How many other companies out there can boast of such a difference between P/E ratio and growth rate? Is there a single one? If you can find one, please send the name along. I would love to check it out.
To my way of thinking, the stock continues to be a screaming buy by any conventional fundamental valuation method. For that reason, I believe that the chances are much greater that the stock is well above $500 next week than it is below. In fact, I think $500 is about the lowest it will get for some time.
Most people don't have $50,000 sitting around with which to buy 100 shares of a stock, so naturally, options are a viable alternative for a high-cost stock such as AAPL. I would like to propose an options strategy that is considerably less risky (in my opinion) to either buying or selling the stock.
As is usually the case just prior to an earnings announcement, there is a huge implied volatility (IV) difference between the various option series:
AAPL Option Expiration Date Implied Volatility Theta
Jan4-13 Weekly 1/25/13 76 $340
Feb1-13 Weekly 2/1/13 56 $162
Feb2-13 Weekly 2/8/13 48 $110
Feb-13 Monthly 2/15/13 43 $84
Feb4-13 Weekly 2/22/13 40 $68
Mar-13 Monthly 3/16/13 36 $48
Apr-13 Monthly 4/20/13 34 $34
With the Jan4-13 Weekly options at an exorbitant 76 IV, it would cost about $36 ($3600) to buy a straddle (both a put and a call) at the $500 strike (where AAPL closed Friday). That means the stock would have to fluctuate either $36 up or down next week for a straddle-buyer to make any money. Even for a volatile stock like AAPL, that is a big move.
My preference would be to sell that straddle, using a longer-term straddle as collateral. The table above shows that any further-out option series carries a considerably lower IV, meaning that you are buying relatively "cheap" options and selling relatively "expensive" ones.
If you bought a Feb-13 500 straddle, it would cost about $4700. You could sell the same straddle in the Jan4-13 Weekly series for about $3500. That means you would have to come up with only $1200 per straddle spread. Your maximum loss would not be that great because when you close out the trades, presumably on Friday, January 25, your long Feb-13 options will have more value than the short options you need to buy back (since they have another three weeks of life).
It would be nice to think that if the stock closed at exactly $500 on January 25th, both the short put and call expiring worthless, your long straddle would be worth about $4700 less a couple of days' decay (theta) of about $168. If this scenario came true, you would collect about $4500 on your $1200 investment.
But you can be absolutely guaranteed that it will not work out that way. First, as we earlier discussed, the stock is highly unlikely to be exactly at $500. Second, and more important, IV of the Feb-13 option series will plummet the day after earnings are announced. Those options will not be worth anything near what they are today. If they were to fall to an IV of 34 (which is the IV of the April series), the straddle would be trading for about $3200. The value of the straddle would have dropped $1500 in a single day from the change in IV (plus the theta of about $168 for two days, for a total drop of $1668).
When IV falls this fast (as it most certainly will), a good share (or all) of the gains that you expected might easily disappear. The stock would have to make only a very small change in either direction for your straddle spreads to succeed.
However, there are two things you can do to benefit from the extremely high Jan4-13 AAPL option prices and expect to make a profit. First, use further-out options (e.g., Apr-13) as the long side rather than the Feb-13 series. Obviously, this will tie up a whole lot more cash, but IV might not fall very far from the 34 where it is now. After the announcement, your straddle might be worth about what you paid for it less a couple of days of decay (and theta for the April straddle is only $34 compared to $84 for the February straddle).
My choice would be the Apr-13 straddle, which would cost about $6500, raising your net investment from $1200 to $2900.
The other thing you should do (at least in my opinion, given that the stock is likely to make a big move in either direction) is to buy two extra Apr-13 500 straddles. This really pushes up your net investment -- by $13,000 for a total of almost $16,000.
This extra investment is necessary to make this a "safe" investment (although most people would never use "safe" in the same sentence as "options").
The extra straddles will make a gain if the stock moves big-time (over $35) in either direction, and will protect you against losses that will come about from the Jan4-13 500 straddle you sold for $35 but which will now cost you more than that to buy back.
Here is the risk profile graph for these positions (buying 3 Apr-13 500 straddles and selling one Jan4-13 500 straddle, investing about $16,000:

The greatest gain (about 18% after commissions) occurs if the stock does not fluctuate from its present price of $500, but the graph shows that some sort of gain will be made regardless of where the stock ends up. The one caveat here is that IV of the April options falls rather than staying flat. I suspect that if it does fall, it won't be by a significant amount that would dramatically change the likely gains that might come your way.
These straddle buys and sells are for someone who believes he has no idea which way the stock might be headed. If you are more like me (who believes it is headed higher, by at least $30 after the announcement), you would make your straddle trades at the strike you believe is most likely to be where the stock ends up on Friday. (I plan to make my trades at the 530 strike.) That is where the maximum gain would take place (unless there is a 60-point move in either direction).
Since the options market is supposedly totally efficient, a strategy like this that shows a gain no matter what happens to the stock should not be a possibility. But as long as IV of the April options does not plummet after the earnings announcement, these positions should result in a nice profit for the week. It might be "only" 5% or 10%, but annualized, those kinds of gains can add up nicely.
Disclosure: I am long AAPL. I wrote this article myself, and it expresses my own opinions. I am not receiving compensation for it (other than from Seeking Alpha). I have no business relationship with any company whose stock is mentioned in this article.