F5 (NASDAQ:FFIV) is a unique and highly focused network appliances company. It is more focused than its competitors and has been growing steadily for years. F5 took a beating in October of 2012 after it missed expectations due in part to economic uncertainty and misses on estimated taxes. Immediately after this earnings miss, F5 gapped down nearly 25% from a high of about $110 per share to the low eighties.
This is a company that has been trading at a PE that's quite a bit lower than its leading competitors with the exception of Cisco (NASDAQ:CSCO) which we'll revisit in a minute.
| | | |
| --- | --- | --- |
|   | Trailing PE | Forward PE |
| Cisco | 13.56 | 9.96 |
| Citrix (NASDAQ:CTXS) | 36.95 | 21.54 |
| F5 | 28.08 | 16.62 |
| Juniper (NYSE:JNPR) | 60.37 | 19.19 |
Source: Yahoo Finance
Fourth Quarter 2012 Earnings Conference Call (October 24, 2012)
With the exception of the fourth quarter 2012 earnings, F5 has met or beat earnings expectations over the past 3 years. In the fourth quarter for fiscal year 2012, F5 missed earnings coming in at a 1.12 instead of the expected 1.18 for a -5% miss. The market responded with a 25% drop in stock price.
A major part of the explanation for the earnings miss was economic uncertainty and slowed spending as indicated by Andy Reinland, CFO, during the conference call.
"We also recognize that our short-term visibility continues to be limited by the macroeconomic uncertainty which caused many of our customers to slow or reduce spending in the second half of fiscal 2012, particularly in the case of larger million dollar plus type opportunities."
Another contributing factor was a missed estimate of foreign tax rates.
Company Performance
The following quarterly revenue shows a steady revenue growth for the last four years.
| | | | | |
| --- | --- | --- | --- | --- |
| Annual | 2012 | 2011 | 2010 | 2009 |
| Revenue | $1,377 | $1,152 | $882 | $653 |
| Growth | 20% | 31% | 35% | - |
Source: Google Finance
The quarterly revenue shows steady growth as well and highlights the seasonality of F5's revenue.
| | | | | | |
| --- | --- | --- | --- | --- | --- |
| Quarterly | FQ4 2012 | FQ3 2012 | FQ2 2012 | FQ1 2012 | FQ4 2011 |
| Revenue | $363 | $353 | $340 | $322 | $315 |
| Growth | 3% | 4% | 5% | 2% | - |
Source: Google Finance
Outlook Going Forward
Even though growth does seem to be slowing, there is still a substantial upside for this company as it adapts its product line to changing architectural models and takes advantage of attrition among its competitors.
Andy Reinland describes the corporate reaction to Cisco's announcement to drop out of the load balancing market ceding the race to F5.
"Lastly, we see a very real market share opportunity with the recent announcement from Cisco to cease development of its ACE product line and we are being very aggressive in our efforts to capture this opportunity."
F5 is a well-managed company with strong line of focused products and a long history of managing and meeting earnings expectations. Guidance places revenue targets at $363 to $370 million which puts EPS right in the $1.13 to $1.15 range that most analysts are expecting.
Stock Performance
The stock price has already started recovering from its high but there is still upside left in the recovery. In December 2012 the stock crossed above the 50 day moving average and is on its way to crossing the 200.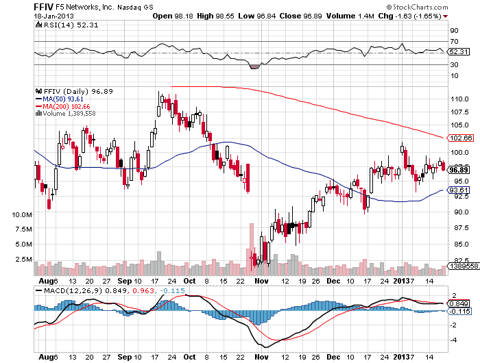 My Personal Experience
The technicals are looking positive although the stock tends to move more tentatively compared to other companies I trade on a regular basis. The only explanation I have for this is the company produces a product line that is not well understood by the layman.
I've personally used both F5 and Cisco products for years. One simply couldn't get away with not using Cisco, of course, but in 2003 I was responsible for building a scalable web site supporting millions of users.
Our team selected F5 load balancers for scalability and have been using their products ever since. The product is easy to use and well designed and simply works. Since then, we haven't had a single F5 appliance related issue and as a direct result of the use of F5's products, we have plenty of room to grow with our current installation.
How to Trade the Earnings Announcement
One of my favorite setups for a buy is when the market punishes a good company unfairly which tends to happen with tech companies rather often. This is understandable since technology changes rapidly and it is hard for companies to keep up. In my opinion, F5 will not have a problem keeping up. Based on the product line, the management and the company performance I'd have to say the company will exceed expectations. Some of this expectation is already priced into the stock but as I've stated, the market seems hesitant.
Take advantage of this nervousness and get in before the earnings call.
Disclosure: I am long FFIV. I wrote this article myself, and it expresses my own opinions. I am not receiving compensation for it (other than from Seeking Alpha). I have no business relationship with any company whose stock is mentioned in this article.