Introduction
In this article, we will look at five titans in the technology sector. The companies are Apple Inc. (NASDAQ:AAPL), Hewlett-Packard Company (NYSE:HPQ), Microsoft Corporation (NASDAQ:MSFT), Dell Inc. (NASDAQ:DELL), and Google Inc. (NASDAQ:GOOG). We will look at key valuation and fundamental performance measures as well as forward-looking growth prospects. Our goal is to identify which of these companies could be a big winner in 2013.
Tracking Financials
Here are the five companies for our analysis:

Market Cap

$470.3 bil

$33.3 bil

$222.93 bil

$22.3 bil

$231.5 bil

Price/Earnings (TTM)

11.3

N/A

14.7

8.7

22.1

Price/Sales

3.0

0.3

3.2

0.4

4.4

Price/Book

4.0

1.5

3.3

2.2

3.4

Forward P/E

8.8

4.6

8.5

7.7

14.7

5 Year Growth Forecast

18.5%

-9.6%

7.3%

2.3%

13.5%

Dividend Yield

2.1%

3.0%

3.4%

2.9%

--

ROE

42.84%

-41.43%

24.5%

27.46%

17.18%

Operating Margin

35.3%

-9.19%

27.46%

5.53%

27%

Debt/Equity

--

0.97

0.14

0.52

0.04

Current Price

$499.89

$17.07

$27.25

$12.85

$705.00

Estimated Fair Value Range

$1021-$1147

N/A

$34-$43

$22-$28

$780-$987

Stock Valuation

Undervalued

N/A

Undervalued

Undervalued

Undervalued

Upside Potential (Premium)

to Reach a Fair Stock Value

104%

N/A

26%

74%

11%
Data from Morningstar and Financial Visualizations on January 22, 2013
The discounted earnings plus equity model, developed by EFS Investment Partners and applied to the five competitors, suggests the following: currently four stocks (AAPL, MSFT, HPQ, DELL) are undervalued. In addition, EFS's fair stock price valuation indicates that two stocks -- Apple and Dell -- are trading at an attractive discount. Apple offers the most favorable stock price to be a buy option.
What Does 2013 Have in Store for these Tech Titans?
Top tech CEO's at the recent Consumer Electronics Show in Las Vegas see continuing troubles with PC sales and continued explosive growth in mobile computing. A quote from Marc Benioff, CEO of Salesforce.com, sums up the state of the industry. He said: "the tech industry has almost been run over by the mobile computer boom."
In a late 2012 interview, the head of the Technology, Media, and Telecommunications Group at Deloitte LLP expressed the opinion global economic concerns in 2013 will move tech companies to continue to attack costs and conserve cash. At the same time, winning tech companies will continue to develop an improved customer experience through innovative products. The bulk of this innovation will be seen in the mobile and smartphone space.
Apple Inc. has mastered what many experts see to be the heart of the modern technology company. It integrates hardware and software into products that deliver the best possible user experience to its customers. Apple products may be expensive, but few deny they work better than competitive products.
In recent times Apple has gone from a rarely matched unanimity in bullish views to a more mixed following. Apple Bears are evident and growling about margins and market share. Yet if you look at the numbers in our table, Apple is the clear choice here. The company has the highest growth forecast, lowest forward P/E, highest return on equity, and highest operating margin.
However, Apple is losing market share. The most recent bit of news came in mid - January of 2013 when Counterpoint Research found Korean manufacturer LG Electronics bumped Apple from the #2 position in the U.S. smartphone market. Yet, an even smaller slice of a larger pie will continue to reward investors as long as Apple's margins hold up. Apple Bears need to remember that despite losing market share in both smartphones and tablets to Android manufacturers, Apple remains far more profitable. The key to Apple's future is its ability to continue to charge premium prices for its products.
Hewlett-Packard Company is in danger of going the way of Polaroid, Palm and other once dominant tech companies. First, the company's core revenue streams come from product categories in declines. The PC may never disappear completely, but no one predicts robust growth here, as well as for printers, another HP mainstay. Even the company's lucrative server market will be pressured by the move to cloud computing. Hewlett's aggressive moves to capitalize on the need for large data center servers are one of the company's positive notes.
However, the company's track record on acquisitions over the last few years is abysmal. Software firm Autonomy was the latest disaster and the newest CEO brought in to resurrect HP, Meg Whitman, is preparing to battle class action suits over the acquisition. If you are one who believes Hewlett-Packard can make a comeback, you would be well advised to take note of the company's strategy over the last several years. Today's winners are the innovators, something HP management abandoned as it focused instead on acquisitions to battle in the PC space. You don't meet changing consumer demands by cutting R&D spending. There are better investments than gambling on a comeback for this fading giant.
Microsoft Corporation is moving to battle Apple on its own turf, with an integrated ecosystem of hardware and software products. This is a major strategic change for this stagnating company. Microsoft may dominate the software space but with the PC market in decline, the company appears to have awakened from its long and peaceful slumber.
Microsoft trails far behind Apple. The first generation of Windows-based smartphones failed to catch on and its first entry into the tablet market, the Surface, has had a less than impressive start. Windows 8 was to be the software platform that tied together the PC, the Surface Tablet, and the latest Nokia (NYSE:NOK) smartphones.
The recent Consumer Electronics Show highlighted the two major concerns now evident with Windows 8. First, users feel the "learning curve" is steep. Second, the tile-based user interface is more appropriate for touch screen computers.
Microsoft is a stable company with a high dividend yield. The company's operating margins and return on equity are second only to Apple from the companies in our table. Microsoft is off to a rocky start in its attempt to compete directly with Apple, but its dominance of the global software market makes it an attractive prospect for income investors.
Dell Inc. is another leading PC manufacturer scrambling for sources of revenue growth. The company has gone on a costly shopping spree for businesses that will allow Dell to better compete in the enterprise sector. Dell's stock price year over year is down almost 21%. On Monday January 14, 2013, the stock was trading around $10.90 a share when news leaked that the company might go private. The share price rallied about 20% over the next few days.
Current shareholders of Dell face a dilemma. CNN Money cites a Fortune report the initial deal involving TPG Capital and Silver Lake Resources has seen TPG withdraw, leaving only Silver Lake. If the deal falls through, the share price will likely take a big hit. New investors have nothing to gain by buying Dell right now. The boat has sailed.
Google Inc. continues to dominate Internet search. The ad revenue from its core search business allows Google to expand into other businesses either organically or through acquisition. In May of 2012 the company shelled out $12.5 billion to buy Motorola Mobility, the smartphone operation of the former Motorola Inc. In early 2013 the company sold off Motorola Home, the cable box operation that came with the deal, for $3.5 billion.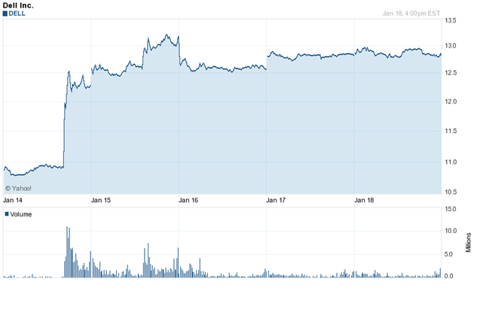 Despite intense competition from Bing, Yahoo, and now Facebook (NASDAQ:FB), Google continues to dominate the Internet Search space, with an estimated 66% share of global PC Searches. More stunning is Google's total dominance of mobile search, a mind-boggling 97% share of global mobile search. Microsoft's Bing is a distant second, with only about 15.9% U.S. market share against Google's 66.4%.
If mobile demand and product innovation are to be prime growth drivers for technology companies of the future, Google is well positioned in both. The Android operating system now dominates the mobile device market, although rival Apple is still the leading single manufacturer.
Some worry that Apple's Siri will challenge Google's search dominance in the future. Google is well positioned to respond to threats as evidenced by its own voice-activated search personal assistant, Google Now. The battle between these two tech titans is far from over, but there are already voices out there proclaiming Google Now is superior to Apple's Siri.
Google has a long history of technological innovation, with notable failures and successes. Some technophiles claim Google is currently the most innovative tech company on the planet. The driverless car is one example of Google's far reaching innovation.
Final Verdict
Google, Microsoft, and Apple are bedrocks of technology all of whom could continue to do well in the future. Microsoft has to demonstrate that Windows 8 can deliver on its promise. Investors interested in the safety of Microsoft need to follow sales of the Surface and the Nokia Lumia line of Windows smartphones.
Based on technological innovation, Google appears the safest bet. Apple detractors point out the company's superior track record is now working against the company. Apple has yet to deliver a new game-changing product since the introduction of the iPad three years ago. Investors are asking what's next.
Disclosure: I have no positions in any stocks mentioned, and no plans to initiate any positions within the next 72 hours. I wrote this article myself, and it expresses my own opinions. I am not receiving compensation for it (other than from Seeking Alpha). I have no business relationship with any company whose stock is mentioned in this article.