This article will discuss five ETFs that are geared toward the BRIC countries: Brazil, Russia, India, and China. These ETFs are my personal favorites and I have been a long-term investor in these names for years. This article will inform you of ways to invest in the stocks of these companies in a manner that will instantly diversify you among the top stocks in the countries via these ETFs. I have been an investor in these ETFs since at least 2008, and as a result, I have seen higher prices in the past for these investments. 2012 was better though and recently I have noticed that they have started to increase in value a bit, so now is a great time to take a look at them.
I am one that believes in the long-term growth story for these countries. At the current time, the country that is doing the best of these four in terms of share prices is India.
Since the best current performing ETF of this bunch is the Indian one, we will start there. iPath MSCI India Index ETN (NYSEARCA:INP) is the ETF I have chosen to gain exposure to its stock market. The profile of this ETF per Yahoo! Finance states that the investment seeks to track the performance of the MSCI India Total Return Index. The profile also states that its expense ratio is .89% and that it has $464.38 million in assets. On January 18, 2013, this investment just reached a new 52-week high of $62.38.
The top holding for this India Index fund is Reliance Industries Ltd. As the top holding list shows, many of these ticker symbols are either over the counter stocks in the U.S.A. or are ones that are difficult to directly invest in. An advantage to owning this ETF, as is the case with the other ETFs mentioned here, is you gain access to owning these shares without having to incur the commissions of trading them on global platforms.
The next ETF I would like to highlight is iShares MSCI Brazil Index (NYSEARCA:EWZ). The profile of this ETF states that it strives to mirror the performance of the MSCI Brazil Index. It has a yearly expense ratio of .61% and pays a current yield of 2.84%. These distributions are typically made at year-end and I recently have started to reinvest these dividends because I think we are at a great entry point with this investment's current share price. With a current 52-week price range of $48.27 to $70.74, its current price of $56.84 is toward the lower end of that range.
This Brazil ETF's top holding is Vale-PNA N1. It only trades on the foreign stock exchange, so this is another example of why this ETF is a great way to get into these stocks. The poor recent performance of Petrobras (NYSE:PBR) has contributed to this fund's performance, though I believe that this fund will provide long-term investors with solid gains in the years to come and that the mix of stocks held by this fund is strong. Brazil has a growing middle class and its economy is poised for growth in the future, as it has forged strong worldwide business relationships.
Next, for China, we have PowerShares Golden Dragon China (NASDAQ:PGJ). The profile of this fund explains that the fund tracks the performance of the NASDAQ Golden Dragon China Index. It has a current yield of 2.4% and a current annual expense ratio of .69%. It has net assets of $196.85 million. As the price chart for year-to-date performance in 2013 shows below, this fund has outperformed the S&P 500 so far this year. This fund provides an excellent opportunity to obtain broad diversification in stocks that derive most of their revenues from China.
China Mobile (NYSE:CHL) is the top holding of this fund. The fund contains stocks that are traded as ADRs on the U.S. stock exchanges, in addition to stocks that are traded on Hong Kong's Hang Seng Index. CNOOC Ltd. (NYSE:CEO) is another holding in the fund's top 10 holdings. The strong performance of this fund around the time it was created, December 9, 2004, through 2007 shows the potential returns that could happen in the future if these BRIC funds gain steam again.
Market Vectors Russia ETF (NYSEARCA:RSX) is an ETF that provides exposure to Russian stocks. Lately, the fund has been moving closer to its 52-week high of $33.74, as it closed on January 18, 2013 at $30.38. The fund profile states that the fund attempts to mirror the performance of the Market Vectors Russia Index. It has $1.63 billion of net assets, a current yield of 2.46%, and an annual expense ratio of .62%.
The top holding of this Russian ETF is Lukoil Co Sponsor ADR. This stock and several others of the top 10 holdings trade as OTC stocks for U.S markets. Energy makes up the largest sector in this fund, coming in at 41.47%. The average price-to-earnings ratio of a stock in this fund is only 5.57. This shows me that there is vast potential for price increases in this fund if the global economy improves and if P/E ratios move up for Russian stocks.
Finally, we have iShares MSCI Emerging Markets Index (NYSEARCA:EEM). This fund has stocks from different countries and therefore is not a country-specific fund. It has a 52-week high of $45.33 per share and closed on Friday January 18, 2013 at $44.78. Its profile states that it tries to match the performance of the MSCI Emerging Markets Index. With $48.19 billion of net assets, it is the largest fund out of the five highlighted here. It has a current yield of 1.71% and an annual expense ratio of .68%.
The Emerging Markets Index has top holdings that include Samsung Electronics and China Mobile. As those holdings show, countries represented in this fund include Japan, China, Russia, Brazil, and others. The average price-to-earnings ratio of the stocks in this fund is 10.89. With companies such as China Mobile and CNOOC in its holdings, that P/E ratio average is understandable as some of these companies are growing fast.
The following is a year-to-date price chart of these ETFs versus the S&P 500.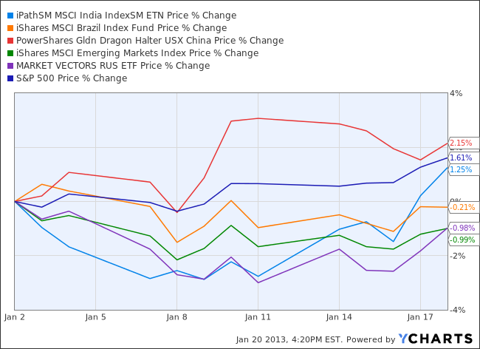 data by YCharts
This price chart shows that out of these ETFs so far this year, only the Chinese ETF has outperformed the S&P 500.
The following is a price chart for the 2012 performance of the ETFs compared to the S&P 500.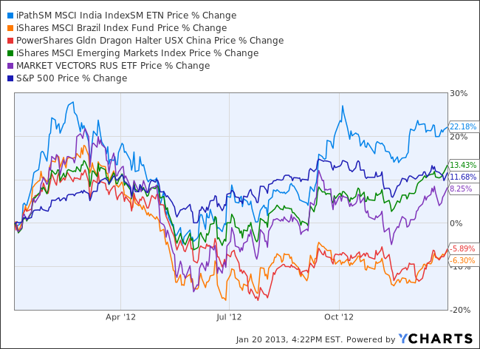 data by YCharts
As this price chart shows, the Indian index fund and the Emerging Markets index fund both outperformed the S&P 500, while the others lagged. Past performance is not always indicative of future results, however, and in recent years the performance of these international stocks has not outperformed U.S. markets. However, in previous years such as before the U.S. credit crisis, these stocks produced staggering returns and that type of performance is possible in the future if these countries become global economic powerhouses.
In general, some potential catalysts for these funds are as follows. If the U.S. economy continues to recover, and we get back to robust growth as we should, I say these countries are sure to grow also. In fact, robust growth in the past from the U.S. was a large catalyst that facilitated the large stock price gains for these countries when we last saw that, in my opinion. Also, if the countries can exceed expectations for their yearly GDP growth, that would also be huge for their stock markets. Furthermore, a change in investor sentiment to favor the BRIC stocks could send investors to purchase these ETFs. These funds are great choices for owning shares in many companies from BRIC countries, and increased ownership would increase net asset values and can drive price increases for the companies and the funds.
Disclosure: I am long EWZ, EEM, PGJ, RSX, INP, CHL, PBR. I wrote this article myself, and it expresses my own opinions. I am not receiving compensation for it (other than from Seeking Alpha). I have no business relationship with any company whose stock is mentioned in this article.