Introduction
Bank of America (NYSE:BAC) will add $30 billion in market valuation going into 2013, due to improving economic conditions, declining loan loss allowances, cost cutting, and organic growth. Bank of America is a compelling investment opportunity.
Qualitative Analysis
Source: Information pertaining to Bank of America came from the shareholder annual report, with additional information from the Bank of America quarterly report and the Wells Fargo & Company/JP Morgan Chase annual report.
Bank of America is a conglomerate in the financial sector with a large variety of financial products and services. The products and services include banking, investing, asset management, and other financial and risk management products and services.
The Basel Committee on Banking Supervision has finalized the Basel III regulation for determining regulatory capital, and when fully phased in by 2019, will require a tier 1 common equity to risk-weighted assets of at least 7.0% for small banks. For bigger banks the equity to risk-weighted assets will be 8-10.5%.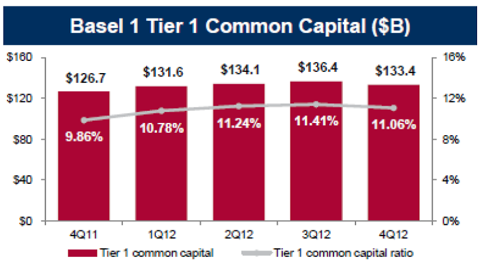 Bank of America has met the capital requirements imposed for globally systematically important banks (G-SIBs). The Basel III requires 7% plus an additional 3-3.5% in Tier 1 common equity capital totaling 10-10.5% for common equity by 2019 for systematically important banks like Bank of America. Bank of America meets Basel III requirement by over 500 basis points.
Bank of America anticipates that it will cut $5 billion in costs by the end of 2013, which should result in $5 billion in added net income. Bank of America is accomplishing this by closing non-performing bank branches, looking for free-lunch opportunities in its pre-existing business operations, and implementing suggestions from thousands of its employees.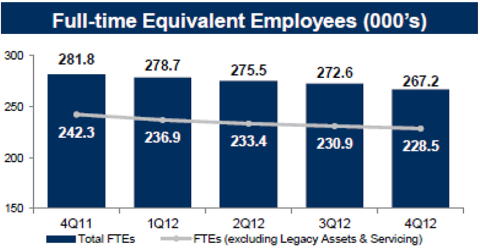 The company has been successful at cutting costs. Bank of America has been able to decrease the size of its labor force by 5.6% over 4Q 2011.
Many in the financial media have cited that the shadow inventory of houses would collapse any hopes of a long-term housing recovery. This has been proven to be incorrect as the American population has continued to grow by 3 million people a year. Population growth implies a demographic need for housing. Economists estimated that there is pent-up demand and that household formation will return to 1.2 million a year as job conditions continue to improve (unemployment rate is currently 7.9%). During 2011 only 845,000 housing units were built annually over the last four years, with demolition and destruction of homes from demolition, and natural disaster (Katrina, Sandy, etc.) resulted in a 250,000 decrease in the number of homes on average (4-year average). The growth of households are likely to absorb pre-existing housing supply, this implies growth in Bank of America's lending, and that new loans may be able to off-set losses from its pre-existing lending portfolio.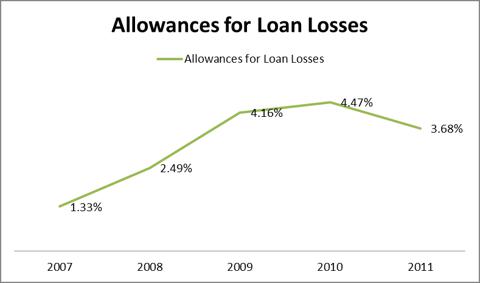 Bank of America anticipates lower loan losses going forward hence the reduction in allowances for loan losses. This reduction will result in higher profit margins, and earnings growth.
The wall-street reform act (Dodd Frank) will result in higher deposits held by banks, and banks not being allowed to speculate using bank-money. Fee income generated by merchant card activities (Banks issuing Visa & MasterCard's) have declined due to the Durbin Amendment. This may have an adverse effect on earnings going forward. On the positive, Bank of America has many upside catalysts going for it: declining loan loss allowances, improving economic conditions, rising demand for mortgages, along with cost cutting.
Bank of America competes with Citigroup (NYSE:C), Wells Fargo & Company (NYSE:WFC), JPMorgan Chase (NYSE:JPM), Goldman Sachs (NYSE:GS), Morgan Stanley (NYSE:MS), Lloyds Banking (NYSE:LYG), HSBC Holdings (HBC), Black Rock (NYSE:BLK), Charles Schwab (NYSE:SCHW), UBS (NYSE:AG), among many others.
Technical Analysis
Bank of America has been on a continuous up-trend since the beginning of 2012. I anticipate the company stock to break out of the symmetrical triangle formation by the middle of 2013.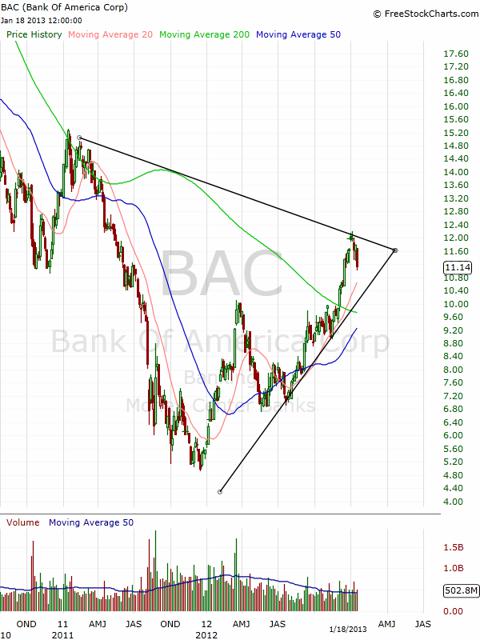 Source: Chart from freestockcharts.com
The stock is trading above the 20-, 50-, and 200- Day Moving Average. The stock is in a confirmed up-trend (higher highs and higher lows), the up-trend further supports my buy-thesis, and a confirmed break above the symmetrical triangle formation will cause the stock to experience a revival in valuation that will be unprecedented.
Notable support is $7.20, $8.40, and $10.20 per share. Notable resistance is $14.75, $19.50, and $24.00 per share.
Street Assessment
Analysts on a consensus basis have reasonable expectations for the company going forward.
| | | | | |
| --- | --- | --- | --- | --- |
| Growth Est | BAC | Industry | Sector | S&P 500 |
| Current Qtr. | 633.30% | 305.40% | -94.00% | 6.90% |
| Next Qtr. | 31.60% | 116.00% | -92.80% | 16.50% |
| This Year | 288.00% | 20.80% | 22.50% | 6.20% |
| Next Year | 32.00% | 8.60% | 6.50% | 12.90% |
| Past 5 Years (per annum) | -11.00% | N/A | N/A | N/A |
| Next 5 Years (per annum) | 18.76% | 8.40% | 10.67% | 9.02% |
| Price/Earnings (avg. for comparison categories) | 11.48 | 11.88 | 16.23 | 12.55 |
| PEG Ratio (avg. for comparison categories) | 0.61 | 1.51 | 0.72 | 3.91 |
Source: Table and data from Yahoo Finance
Analysts on a consensus basis have a 5-year average growth rate forecast of 18.76% (based on the above table).
| | | | | |
| --- | --- | --- | --- | --- |
| Earnings History | 12-Mar | 12-Jun | 12-Sep | 12-Dec |
| EPS Est | 0.12 | 0.14 | -0.07 | 0.02 |
| EPS Actual | 0.03 | 0.19 | 0 | 0.03 |
| Difference | -0.09 | 0.05 | 0.07 | 0.01 |
| Surprise % | -75.00% | 35.70% | 100.00% | 50.00% |
Source: Table and data from Yahoo Finance
The average surprise percentage is 27.6% above analyst forecasted earnings over the past four quarters (based on the above table).
Forecast and History
| | | |
| --- | --- | --- |
| Year | Adjusted EPS | P/E Multiple |
| 2003 | $ 3.63 | 8.47 |
| 2004 | $ 3.76 | 9.94 |
| 2005 | $ 4.10 | 9.33 |
| 2006 | $ 4.66 | 9.91 |
| 2007 | $ 3.29 | 11.4 |
| 2008 | $ 0.54 | 25.63 |
| 2009 | $ (0.29) | - |
| 2010 | $ (0.37) | - |
| 2011 | $ 0.01 | 553 |
| 2012 | $ 0.26 | 44.65 |
Source: Table created by Alex Cho, data from shareholder annual report, and price history is from Yahoo Finance.
The EPS figure shows that throughout the 2003- 2006 period, the company was able to grow earnings. Throughout 2007-2010 earnings contracted. The contraction in earnings was due to the great recession. Following the recession the company was able to grow earnings.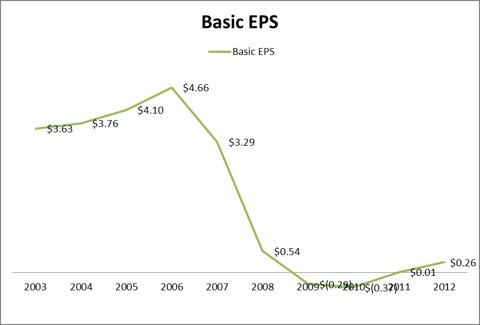 Source: Table created by Alex Cho, data from shareholder annual report
By observing the chart we can conclude that the business is cyclical and is affected by macroeconomics. Therefore the largest risk factor to Bank of America is the slowing of international gross domestic product growth. So as long as the United States economy continues to grow, the company will generate reasonable returns over a 5-year time span based on the forecast below.

Source: Forecast and table by Alex Cho
By 2018 I anticipate the company to generate $3.02 in earnings per share. This is because of cost management, growth in core businesses, and improving economic outlook.
The forecast is proprietary, and below is a non-linear chart indicating the price of the stock over the next 5-years.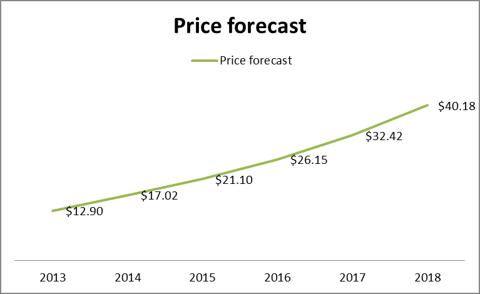 Source: Forecast and chart by Alex Cho
Below is a price chart incorporating the past 10 years and the next 6 years. Detailing 16 years in pricing based on my forecast and price history on December 31st of each year.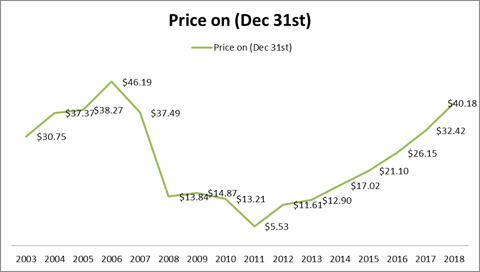 Source: Forecast and chart created by Alex Cho, data from shareholder annual report, and price history is from Yahoo Finance.
Investment Strategy
BAC currently trades at $11.14. I have a price forecast of $12.90 for December 31st 2013. Generally undervalued stock will experience sudden rallies in order to fetch a reasonable premium relative to historic valuation, or book value. I factored that into my price forecast, making it an important component behind the forecasted stock valuation.
Short Term
Over the next twelve months, the stock is likely to appreciate from $11.14 to $12.90 per share. This implies 15.8% upside from current levels. The stock is in an up-trend, which further supports my investment thesis.
Investors should buy Bank of America at $11.14 and sell at $12.90 in order to pocket short-term gains of 15.7% during 2013.
Long Term
The company is a decent investment for the long-term. I anticipate BAC to deliver upon the price and earnings forecast despite the risk factors (competition, regulation, economic environment). BAC's primary upside catalyst is improving economics, growth in financial products, and managing costs. I anticipate the company to deliver upon my forecasted price target of $40.18 by 2018. This implies a return of 260% by 2018. This is a phenomenal return for a financial company.
A higher yielding investment opportunity albeit having higher risk is to buy the Jan 17, 2015 calls at the $12.00 strike. The call premiums trade at $2.10. The price forecast for the end of 2014 is $17.02. The rate of return if the calls expire at $17.02 is 139%, the option will break-even when the stock trades at $14.10.
The risk to reward ratio on the option strategy remains high. The high-returns comes with high risk (5-year beta of 2.4)
Bank of America has a market capitalization of $120.1 billion; the added liquidity makes this an investment opportunity appropriate for larger institutions that require added liquidity.
Conclusion
Investors should remain optimistic on Bank of America because of growth, and cost-cutting. I am strongly convinced that the stock will out-perform the Dow Jones Industrial Average going into 2013, making it an appealing investment opportunity for those who are willing to take on the higher risk.
The conclusion remains simple: buy Bank of America.
Disclosure: I have no positions in any stocks mentioned, and no plans to initiate any positions within the next 72 hours. I wrote this article myself, and it expresses my own opinions. I am not receiving compensation for it (other than from Seeking Alpha). I have no business relationship with any company whose stock is mentioned in this article.