In 2012, many stem cell stocks experienced fast-paced growth as new and promising research continues to propel the industry forward. Last July, I wrote about Pluristem Therapeutics (PSTI), a bio-therapeutics company engaged in the commercialization of non-personalized cell therapy products for the treatment of several severe degenerative, ischemic, and autoimmune disorders. Since the beginning of 2012, the company has seen a 33% increase in share price on mainly positive news regarding some patients showing signs of improvement after receiving treatment using Pluristem's PLX (PLacental eXpanded) cells.
Pluristem derives its platform from cells derived from the placenta. The placenta, or after-birth, is an organ commonly thought of as medical waste to be disposed of after childbirth. If Pluristem continues on its positive track, it could be a big winner this year, especially if it can secure orphan drug status for its treatment of Aplastic Bone Marrow.
Today, I write about another company in the same industry with near term catalysts that I think has a chance to have even larger upside potential in 2013 than Pluristem percentage wise.
Athersys (ATHX) is a clinical stage biopharmaceutical company with a growing pipeline of highly differentiated therapeutics to treat significant and life-threatening diseases. The company has established a diverse portfolio of product candidates. Its most advanced programs are in the area of regenerative medicine, which is focused on the development of therapeutic stem cells with the ability to reduce tissue damage and promote healing, or repair and replace diseased/damaged tissue.
The company is developing a patented and proprietary non-embryonic stem cell therapy called MultiStem for the treatment of cardiovascular disease, neurological conditions, inflammatory and immune conditions, as well as certain other potential applications. Over the past several years, the company has advanced multiple programs into clinical development and currently has four clinical stage programs involving MultiStem. These programs are exploring the potential use of MultiStem to treat:
Inflammatory Bowel Disease (Pfizer partnership)
Ischemic stroke (ongoing Phase 2 clinical trial)
Complications associated with traditional bone marrow or hematopoietic stem cell transplants, such as Graft Versus Host Disease (GVHD)
Damage from acute myocardial infarction (i.e. heart attack)
Upcoming Catalyst:
In July, 2013, Athersys expects top line data for its Phase II study for patients with moderate to severe ulcerative colitis. This is part of an ongoing partnership with Pfizer Inc. (NYSE:PFE). As I have alluded to in previous articles, I often invest in small companies who have the opportunity to learn and work with reputable and successful companies such as Pfizer.
In December of 2009, Athersys, Inc. announced it entered into an agreement with Pfizer Inc.to develop and commercialize MultiStem for the treatment of Inflammatory Bowel Disease (NYSEARCA:IBD).
Under the terms of the agreement, Athersys received an up-front cash payment of $6 million, as well as research funding and support during the initial phase of the collaboration. In addition, Athersys is also eligible to receive milestone payments of up to $105 million upon the successful achievement of certain development, regulatory, and commercial milestones. Pfizer will have responsibility for development, regulatory, and commercialization while paying Athersys tiered royalties on worldwide commercial sales of MultiStem IBD products.
Athersys feels this study will provide the opportunity to highlight its foundation of prior work and de-risk other opportunities, including Crohn's disease. The company thinks the rapid progression of this program illustrates the effectiveness of the Pfizer collaboration. The objectives of this Phase II study for ulcerative colitis include evaluating efficacy through week sixteen along with one year's worth of safety data.
Another Phase II study regarding the MultiStem technology is in the area of ischemic stroke. I think this is a big opportunity for the company as it represents a major unmet need and includes an annual market opportunity of more than $15 Billion. Athersys has a big lead in developing its technology for stroke victims over companies such as StemCells Inc. (STEM), which is in pre-clinical trials for the same indication. In these trials, StemCells Inc. has conducted preliminary studies in collaboration with professors of neurosurgery at Stanford University School of Medicine, successfully demonstrating that its human neural stem cells enhance functional recovery after stroke in rats. This is certainly an important step for StemCells and definitely a potential value driver for the company.
However, StemCells market cap is almost exactly the same as Athersys, yet Athersys has a much more intriguing pipeline as well as a much more advanced stroke candidate. In addition, the company has an upcoming catalyst that could rally the stock in the shorter term. The cash position of the two companies is about the same while StemCells burns more per quarter at $5M versus $4.55M for Athersys. While as I mentioned, StemCells is undervalued promising speculation investment stem cell company, Athersys offers better value at this time in my strong opinion.
Stroke is a leading cause of serious disability and the third leading cause of mortality in U.S. and globally. Annually, there are approximately 800,000 stroke victims in the U.S. and 15 M globally (85% ischemic strokes). With an increasingly obese and aging population, the clinical need and commercial opportunity is expected to increase dramatically in years ahead.
Currently the only FDA approved drug for ischemic stroke is rtPA (recombinant tissue plasminogen activators), which helps dissolve the blood clot that impedes blood flow to the brain. However, this is only effective if administered within 3-4 hours of the stroke. Athersy's Phase II study is evaluating the effectiveness of their medicine in the 24-36 hours following the stroke. Clearly, this would be a significant development because by the time many stroke victims even get to the hospital and/or are properly diagnosed, the time frame for using the currently available treatment may have elapsed.
In its Phase II study, Athersys has involved 140 patients and is being conducted at several leading stroke centers across the U.S. In October of last year, the company announced the successful completion of the first two dosing cohorts for trial. Both dose levels were shown to be safe and well tolerated. Results from this final portion of this study are expected within the next 12 months.
The third area of clinical development I would like to touch on for Athersys is in the area of GvHD, an imbalance of immune system function caused by transplanted cells that attack various tissues and organs. In early 2012 Athersys announced successful completion of a Phase I clinical study involving administration of MultiStem to patients suffering from leukemia or certain other blood-born cancers that undergo radiation therapy and then receive a hematopoietic stem cell transplant. Such patients are at significant risk for serious complications, including GvHD. Phase I of Athersys's study was completed in early 2012 for patients suffering from leukemia and other blood-born cancers. In the highest single dose group "no cases of severe GVHD were observed and there was only one moderate grade (grade 2) that resolved with treatment."
Athersys believes there is strong rationale to support the accelerated development of MultiStem for the prevention of GvHD. In April 2012, it met with the FDA to discuss the clinical path. The company is currently defining the detailed clinical plan for an upcoming double blind, placebo controlled phase II/III study. With these preparations taking place now, the submission to the FDA for these trials should be imminent.
When the submission of this Phase II/III happens, it should put more of an emphasis on the potential success story Athersys is starting to develop into. In addition, this could lead to additional partnerships along with the one already established with Pfizer. This would lead to more up-front and developmental cash payments. If Athersys can prove its worth along the way to Pfizer and other high level pharmas, the potential would be very high for the company and related stock price.
Perhaps the biggest speculative value driver for Athersys is ATH-9I385, a 5HT2c receptor agonist the company is developing in its pipeline. This receptor is a key for assisting the brain in regulating appetite and food intake that is effective for the treatment of obesity and diabetes.
In 2012, for the first time in over 13 years, 2 companies had their anti-obesity drugs approved by the FDA.
Arena Pharma (ARNA) had its drug Belviq approved in June of 2012, While Vivus (VVUS) had its drug Qsymia approved in July of the same year.
There has been some question as to the safety of Vivus's Qsymia for its alleged potential to cause dangerous heart problems, birth defects, and cognitive effects such as mental fogginess or lack of concentration in patients taking the drug. Regardless, the FDA approved Qsymia with a Risk Evaluation and Mitigation Strategy (REMS). Qsymia is not designed to selectively activate the 5HT2C receptor, (although the 5HT2C receptor plays a role with Qsymia) and ultimately I do not think the drug will ever be an effective frontline treatment for obesity, as there are too many questions surrounding the drug.
Arena's Belviq, which I do feel will be a somewhat effective frontline treatment, is designed to decrease food consumption and promote satiety by selectively activating 5HT2C receptors located in the hypothalamus, like Atherys's ATH-9I385. However, Athersys believes that ATH-91385 has better compound selectivity than other 5HT2c agonists like Arena's Belviq. Additionally, ATH-91385 avoids the 5HT2b receptor and other receptors, such as 5HT2a.
Athersys's specific goal is to develop a once-per-day orally administered pill that reduces appetite by stimulating the 5HT2c receptor, but that does not stimulate the 5HT2b receptor, the 5HT2a receptor, or other receptors that could cause adverse side effects.
If ATH-91385 ultimately proves itself to work as effectively as the company believes, Belviq and Qsyimia could be facing some stiff competition from ATH-91385 in the future.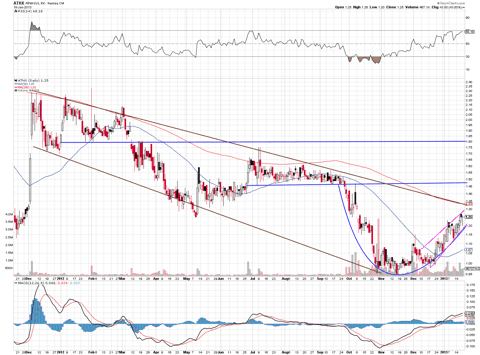 The stock appears to be forming a rounding bottom here from the $1.00 level with an indication it wants to go higher. The first point of minor resistance will be the 200ma at $1.33, but from there it should be clear until the $1.50 and $1.80 level. The MACD and RSI both are indicating good room to run with bullish momentum indicators.
With its near term catalyst, strong chart, and adequate management, I think the company is very undervalued with a market cap of only $66M. If the collaboration program with Pfizer and other catalysts solidify previous results, the stock price by the end of the year could easily be approaching $4 to $5.
Price target opinions: Short term (1 day - 3 months) $1.55 - $1.75, long term (over 1 year) $5.
Disclosure: I am long ATHX. I wrote this article myself, and it expresses my own opinions. I am not receiving compensation for it. I have no business relationship with any company whose stock is mentioned in this article.
Additional disclosure: Disclaimer: This article is intended for informational and entertainment use only, and should not be construed as professional investment advice. They are my opinions only. Trading stocks is risky -- always be sure to know and understand your risk tolerance. You can incur substantial financial losses in any trade or investment. Always do your own due diligence before buying and selling any stock, and/or consult with a licensed financial adviser.