On Friday, January 18th yet another takeover rumor surfaced concerning Molycorp (MCP). This rumor involved foreign suitors like the Chinese government, Germany's Siemens, and Japanese and South Korean car manufacturers Nissan and Hyundai. Giving legs to the rumor was the fact that Chinese government officials recently toured Molycorp's Mountain Pass mine:
"Molycorp has no value outside of Chinese control," says Jim Kennedy, president of St. Louis-based rare earth and thorium consulting firm ThREEM3, which also owns right to rare-earth byproducts from Missouri's Pea Ridge iron ore mine. China's ability to influence supply and prices means that any other acquirer would struggle to survive, he said. Adding legs to his assertion: According to one source, Chinese government officials recently toured Molycorp's Mountain Pass facilities in Mojave Desert, near Nevada. They are not interested in the deposit so much as the company's refining techniques.
Takeover interest in Molycorp has surfaced as the bottom has fallen out of rare-earth prices. According to "Molycorp: 'The Pain' Is Here," price changes for the company's third-quarter 2012 vs. third-quarter 2011 results were as follows:
Resources (10% of revenue): Average prices for the primary products in this segment (cerium, lanthanum, neodymium, and praseodymium) declined 80% in comparison to third-quarter 2011.
Chemicals and Oxides (45% of revenue): Average prices declined 13% vs. third-quarter 2011.
Magnetic Materials and Alloys (34% of revenue): Average prices declined 23% vs. third-quarter 2011.
Rare Metals (12% of revenue): Average prices increased 78% vs. third-quarter 2011, partially offsetting price erosion in other segments.
Meanwhile, Molycorp's revenue and cash flow have fallen in lockstep.
Revenue was $35.2 million, $396.8 million, and $527.6 million for 2010, 2011, and the last 12 months ended through September 30, 2012 ("LTM12"), respectively. 2010 results occurred before the company's Mountain Pass mine was modernized.
Gross margin: Sales minus cost of sales (excluding amortization and depreciation) as a percentage of revenue was -6.9%, 55.2%, and 22.3% for 2010, 2011, and LTM12, respectively. LTM12 gross margin reflects cost allocated to inventory acquired as part of various business acquisitions.
The company achieved net income of -$50.8 million (2010), $117.5 million (2011), and -$63.4 million (LTM12). Even more alarming is that LTM12 results, after Mountain Pass was reopened, was were worse than the 2010 performance.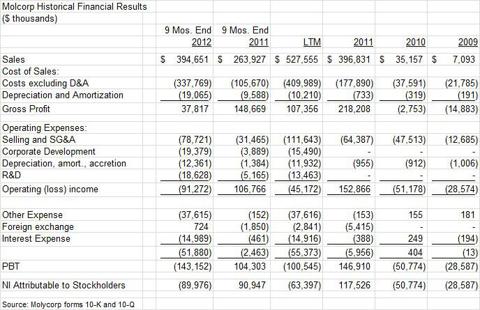 That said, there are several impediments that would make a sale to China nearly untenable.
Valuation Gap
Molycorp's attractiveness to potential buyers - the fact that it trades below book value - would be a source of angst for shareholders. The company's stock price has ranged from $35.79/share in April 2012 to $5.75/share in November 2012. Its current market capitalization represents a 26% discount to its $1.6 billion book value, and 1.95x tangible equity of $637 million. That said, "3 Reasons Why Molycorp Will Not Be Acquired" highlighted the company's valuation gap as a hurdle to a potential deal.
A buyer would value Molycorp based on its current operating performance, while management and shareholders would most likely want the benefit of past performance. The valuation gap between the two negotiating postures would be difficult to close.
Molycorp Alleviates U.S. Dependence on China For Rare-Earths
The September 2010 Diaoyu Islands dispute between China and Japan resulted in a Chinese embargo of rare-earth minerals to Japan. In October 2010, China, which controlled over 90% of the market for rare-earth minerals, denied rare-earth shipments to Europe and the U.S. The action set off an international manhunt for rare-earth deposits, making Molycorp and the Mountain Pass mine important to U.S. economic interests; rare-earth minerals are used in the manufacture of military equipment to high-tech equipment like hybrid cars and smartphones. In the fourth quarter of 2010, Molycorp raised $1 billion in capital from Resource Capital Funds to reopen Mountain Pass which had been closed for nearly a decade. Allowing the Chinese to acquire Molycorp would again make the U.S. beholden to China for rare-earth minerals, in the same way it was in October 2010. The U.S. would be loathe to allow this to happen.
Congress Blocked Previous Attempts to Acquire Mountain Pass
If recent rumors of China's interests in Mountain Pass are true, it would not be the first time China will have attempted to acquire it. On at least three other occasions the Chinese have been rebuffed in its overtures, or the transaction was downright blocked by Congress. According to the New York Times,
China ramped up production in the 1980s, initially hiring American advisers who formerly worked at Mountain Pass. Cnooc, a government-controlled Chinese oil company, tried to buy the mine in 2005 as part of Unocal, which owned Molycorp then. But Congress effectively blocked the Unocal transaction by raising objections. Mark A. Smith, the longtime chief executive of Molycorp, said that after Chevron bought Unocal, Chinese companies were rebuffed in two attempts to buy the mine from Chevron. A group of private equity firms and Mr. Smith bought Molycorp from Chevron in 2008.
Given the Mountain Pass mine's strategic importance to the U.S. and the fact that Chinese companies have been rebuffed from acquiring it in the past, it is highly improbable that the U.S. will acquiesce this time around. I recommend that potential investors focus on Molycorp's fundamentals, and not its status as a Chinese takeover target. Given the continued decline in rare-earth prices and Molycorp's negative cash flows, I rate the stock a "hold."
Disclosure: I have no positions in any stocks mentioned, and no plans to initiate any positions within the next 72 hours. I wrote this article myself, and it expresses my own opinions. I am not receiving compensation for it (other than from Seeking Alpha). I have no business relationship with any company whose stock is mentioned in this article.