A few days ago, fellow Seeking Alpha writer Dane Bowler wrote an excellent article (Financial And Operational Dominance From The Healthcare REIT Sector) wherein he provided a compelling argument of the differentiated healthcare REITs. As Bowler explained:
As interest rates remain low, continued organic spread improvement remains possible as more expensive debt comes due. As many of the acquisitions came with contracts as long as 15 years, earnings should remain strong for the foreseeable future.
I think Bowler was absolutely correct and his forecast for continued accretive healthcare growth is a key component for my "sleep well at night" REIT picks (see my Forbes newsletter). There is simply no better risk-aligned arbitrage model than healthcare. What I mean is that the healthcare REITs are buying assets at better spreads than most other REIT sectors and that is simply the driving force behind the higher paying "necessity-driven" REIT class.
Last December, I wrote an article (Healthcare REITs: It Pays Dividends To Have A Circle Of Competence) explaining how one could invest in the smaller healthcare REITs - the ones with a focused core of competence - to stay within a suitable margin-of-safety. Essentially my argument was that the larger diversified healthcare REITs were trading at higher multiples and the smaller "pure play" REITs were paying higher dividends. My thesis (article) went like this:
Although Ventas is not trading at a monster premium (P/FFO of 16.59), investors can still find attractive pricing with the smaller non-mega REITs. By combining multiple "pure play" REITs, an investor can gain diversified exposure to healthcare while also maintaining a risk-adjusted "circle of competence" portfolio. By doing so, investors find that dividend yields are much more attractive and simply a better value proposition for "sleeping well at night.
But what if an investor was looking to gain exposure to the healthcare sector, but he or she did not want to take on added risk of the dividend. It's clear Ventas is trading at a higher multiple (to the smaller peers) but it's not insanely expensive. Also, compared with other non-REIT alternatives, Ventas looks even cheap.
Unlocking the Value of Ventas
Last week I wrote three different articles on REIT investing, and in hindsight, I should have used the analogy of Goldilocks and the Three Bears. You remember the fairy tale in which Goldilocks was hungry so she tasted three different bowls of porridge: one too hot, one too cold, and one just right.
Similarly, my three articles last week described three groups of REITs: ones that are pricey, ones that are not too pricey, and ones that are just right. In the first article (article) I mentioned four blue chip REITs - Realty Income (NYSE:O), Ventas Inc. (NYSE:VTR), Federal Realty (NYSE:FRT), and Essex Property Trust (NYSE:ESS). As I explained in the article, Mr. Market has his own way of valuing shares in a company and although a company may be operating on all cylinders, it does not make it a good buy today. As I wrote in the article:
Remember that a company's present price is based on a mix of unpredictable factors, many of which pertain more to emotion and mass psychology.
So maybe it's time to break away from the obfuscation and superficiality of Mr. Market and formulate my own value of Ventas, Inc. For one way to assess value is to look at more qualitative factors such as management, integrity, and the uniqueness of the brand itself. In other words, I will step away from the traditional "Grahamian" approach of purchasing companies cheaply and just try to determine if I can buy "a wonderful business at a moderate price."
Before getting into the details, let's look at the value of Ventas by using F.A.S.T. Graphs. Note that Ventas did not cut its dividend and the diversified healthcare REIT has increased (its dividend) every year except between 2008 and 2009 (aka "angel freeze"). Funds from Operations (FFO) per share did fall from $2.34 to $2.14 (during 2008 to 2009) but Ventas increased its dividends paid last year by 9% ($2.28 to $2.48).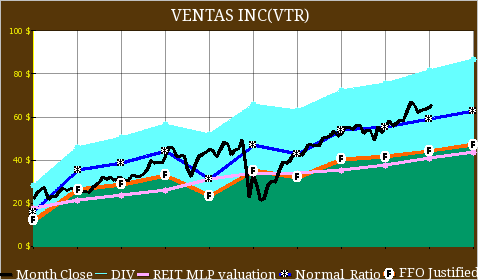 As you can see, Ventas is a great example of a "rise from the ashes" REIT. In fact, back in July (2012), I wrote an article (Sleep Well At Night With An Immortal Healthcare REIT Named Ventas) in which I analogized the company's successful transformation from one tenant (in bankruptcy) with 271 properties (in 1999) to become an incredible S&P 500 company with 1,428 facilities (Q3-12) in 47 states and 2 provinces. As I wrote:
Ventas has made an extraordinary flight to quality and the rise from the ashes has elevated the "best in class" REIT from a phoenix (mythology for immortal bird) to a SWAN (sleep well at night). In addition, the fundamentals for health care investments are perfectly aligned for Ventas to continue its rise to success.
So What Has Made Ventas a Blue Chip REIT?
In Dane Bowler's recent article (Financial And Operational Dominance From The Healthcare REIT Sector) the author summed up the healthcare sector and Ventas' uniquely-aligned value proposition:
With $580.383mm of Senior notes redeemed or retired in 2012 at a weighted average 7.63% refinanced at 3.38%, the annual savings are immense. The 425 basis point gain on spread directly contributes $24.67mm annually to FFO. This provides immediate and long-lasting strength to Ventas. As the clear winner of the current financial environment, and the best valued among the diversified healthcare REITs, I believe Ventas to be the best single choice for exposure to all three subsectors.
Ventas with a market capitalization of $19.43 billion has a P/FFO multiple of 16.8, making the Chicago-based healthcare REIT moderately valued as compared to the peer group (the average P/FFO multiple for the 11 healthcare REITs is 17.25).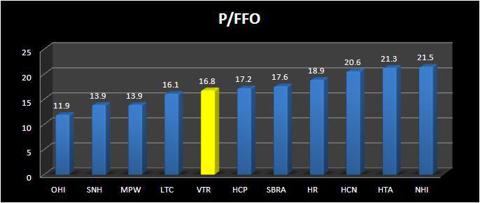 Ventas shares closed at $65.75 and since the end of the Great Recession (the last 3 years) shares have increased over 47%.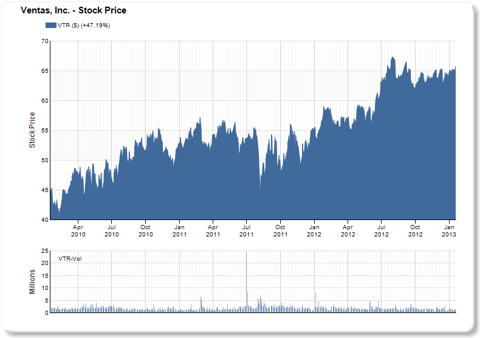 Ventas has a current dividend yield of 3.77% and since the end of the Great Recession (the last 3 years), the company has returned 67.5%.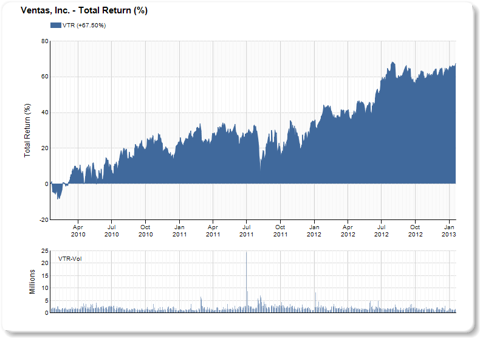 Clearly Ventas has been a stalwart performer, but let's compare the blue chip to others in the S&P 500 and the MSCI US REIT (RMS) Index.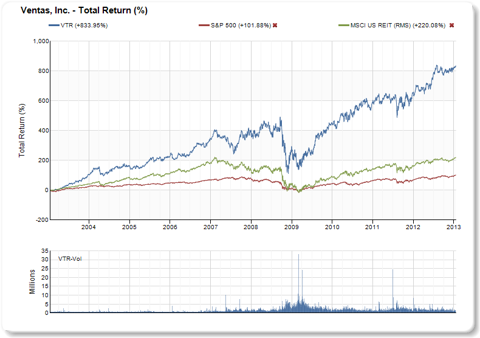 What a nice looking chart. Ventas exceeded returns of the S&P 500 and RMS each of the last 1-, 3-, 5- and 10-year periods. Since 2003, Ventas has grown its equity market value by an astonishing 21x and the company's 10-year total return performance is 833.95%.
So Let's Check Under the Hood of the Blue Chip
Before we begin, here is a quote from Ventas' CEO, Debra A. Cafaro, from the company's third quarter earnings call:
The Ventas business continues to thrive, demonstrating our ability to grow because of our high-performing diverse portfolio driven by demographic demand and our robust disciplined investment activities. We are executing on our 3 pillars of excellence: Capital raising, capital allocation and asset management, which are producing consistent superior results. Quarter-after-quarter, year-after-year, we have put great numbers on the board with minimal volatility.
Cafaro is right and there is simply one word to sum up Ventas: GROWTH.
Since the beginning of 2011, Ventas has completed over $14 billion in acquisitions, including $1.7 billion in the first three quarters of 2012 and $950 million in the fourth quarter of 2012. (source: Press Release dated December 24, 2012). More impressively, Ventas has managed to acquire highly accretive properties with cap rates exceeding around 7.5%.
During the third quarter (2012) Ventas closed over $400 million in property, mostly private pay assets, including 36 high-quality medical office buildings (MOBs), on-campus or affiliated with AA-rated hospital system. The future for Ventas looks bright as the company's low cost of funds (more on that later) has provided the company with a durable competitive advantage to increase market share in the highly fragmented and growing $1 trillion healthcare real estate sector. As Cafaro said in earnings call (third quarter earnings call):
Our acquisition pipeline is very active with potential deals emanating from Ventas, Lillibridge and NHP legacy relationship, as well as from new sellers eager to enter a market that can produce win-win outcomes for buyers and sellers. We began our acquisition charge two years ago, and the benefits of our strategy are clear today. Our focus is, as it always has been, on creating shareholder value.

The strategy we articulated over a decade ago to become a leading player in our consolidating, dynamic sector with a disciplined approach to building a diversified portfolio with a private pay focus is serving us and our shareholders well. Ventas' need-based business continues to generate reliable demographic demand, furthered by policy shifts to lower-cost setting. These benefits translate into property performance that is the most positive and least volatile of all real estate asset classes.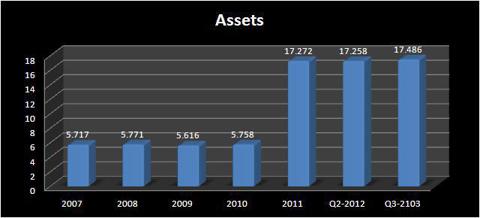 As you see, a big part of the growth for Ventas occurred in 2011 when the company acquired Nationwide Health Properties ($7.6 billion) and Atria ($3.1 billion) and since that time Ventas has continued to build a dominate platform driven by a fortuitous balance sheet (debt at 29% to enterprise value). Ventas also acquired Cogdell Spencer last year for around $760 million.
Today (Q3-12)m, Ventas is the largest owner of senior housing and MOBs with a well-balanced portfolio that consists of 1,428 facilities in 47 states (including DC). The breakdown of the diverse model consists of senior housing operating assets (26%), skilled nursing (23%), MOBs (17%), hospitals (8%), senior housing net lease (25%), and loan investments (25).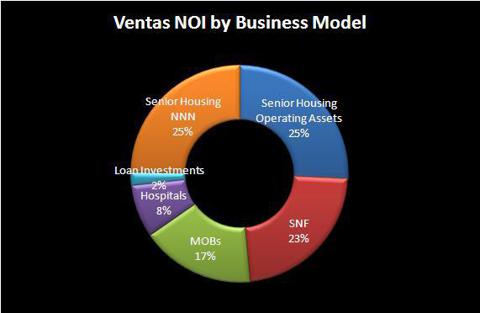 Of course, as the name applies diversified REITs offer extreme diversity in geography, operating model, and tenants (operators). Let's look at the Ventas geography. California, Texas, and New York are the top three states (30% based on revenue) making Ventas a superior REIT in terms of overall geographic diversification: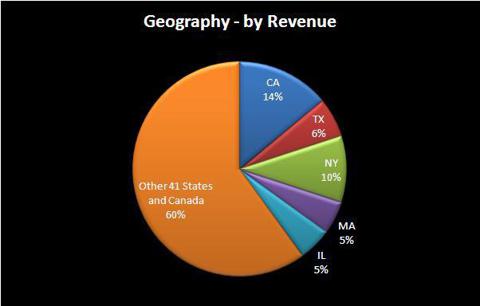 The operating model is simple and, in my opinion, well-balanced with a majority of exposure to the stable net lease sector (57% are net lease properties). In addition, the combined MOB exposure (17%) and the Net Lease exposure (57%) makes Ventas one of the most stable REITs in the overall REIT industry. Remember, growth and income are important for shareholders and Ventas has a well-aligned combination of both - contractual long-term leases (net lease) and annual rental increases (senior housing and MOBs).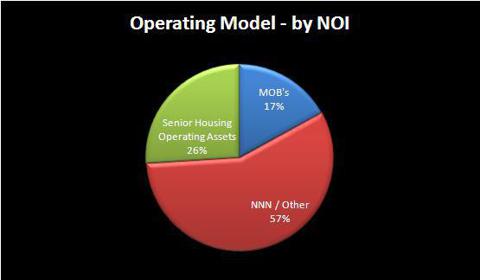 As mentioned above, the healthcare industry is a $1 Trillion Real Estate Market that is comprised of Senior Housing (+/- $160 billion), MOB and Outpatient (+/- $415 billion), Hospitals (+/- $335 billion), Skilled Nursing (+/- $105 billion), and Other (+/- $55 billion). Accordingly, there are many ways that Ventas has been able to integrate its diverse model to deliver exceptional operating results. (Source: Ventas Investor Presentation)
The Senior Housing business provides Ventas with the highest growth. As of the latest quarter (Q3-12) Ventas's Senior Housing Portfolio had net operating income of around $781 million with 667 properties with 43 operators. Around 51% of the Senior Housing portfolio are Senior Housing Operating Properties (referred to as SHOP) and 49% are Net Leases (referred to as NNN).
In my view, this is a very well-balanced composition as the SHOP portfolio provides higher growth with granular cash flows, while the NNN model (contractual rent increases) provides credit support and better coverage and structural (downside) protection. Here is a snapshot of the Ventas's well-balanced tenant/operator profile: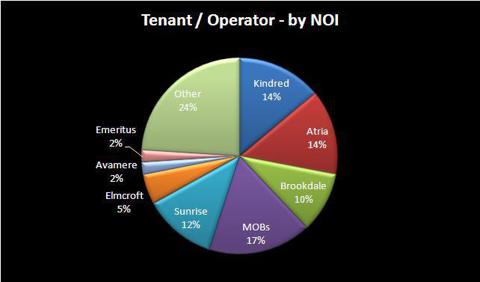 Keeping in mind that Senior Housing Operating assets provide a "lift" in an up economy and resiliency in the "down" economy. Most of Ventas's tenants are private pay (82%) and the company has exceptional contracts with many "best in class" operators (i.e. Atria is the 4th largest operator and Sunrise has the best global brand).
Ventas has 212 Senior Housing Operating Properties that contribute around 26% of the company's overall NOI. Because Ventas has a high-quality operator mix and because the company focuses on assets in affluent markets around major Metropolitan areas, the REIT's performance has been exceptionally strong.
During the latest quarter (Q3-12), Ventas's Atria-managed business at Longmont (acquired in March 2012) was around 82% occupied and now it is 98% occupied. Atria of Hudson, which reopened in April (2011) is now fully occupied, and Atria of Glen Cove, which reopened in October (2011) is now 84% occupied. Here is a snapshot of the growing Senior Housing Operating Property occupancy trends: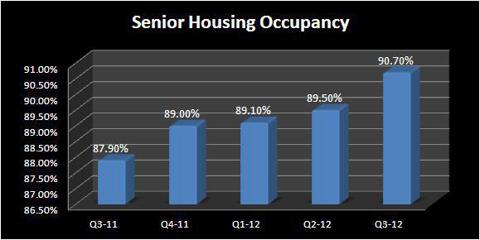 Ventas' MOB portfolio consists of 292 consolidated properties spanning 15.7 million square feet, which accounts for 17% of our annualized NOI. These well-occupied, on-campus properties affiliated with highly rated health systems have core-like characteristics, but provide above core returns. The MOB portfolio has exceptionally strong occupancy (91.6%) with around 95% of MOBs on-campus or affiliated.
As mentioned above, Ventas derives around 55% of its NOI from long-term NNN leases. With around 900 assets, Ventas generates around $851 million (annually) from its NNN leases with a balanced composition of SNF's (41%), Senior Housing NNN (45%) and Hospitals (14%). The NNN portfolio has a weighted average lease term of 7 years with excellent operator cash flow rent coverage: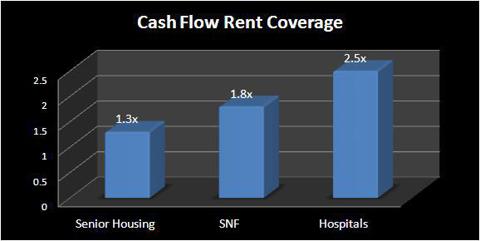 Generally the NNN assets are pooled multi-facility long-term master leases with credit and structural support and the growing diversification has allowed Ventas to cushion the impact when tenants vacate. For example, Ventas is in the process of releasing its Kindred skilled nursing facilities. Currently (Q3-12), there is a total of $126 million of Kindred rent up for renewal of which Ventas has replaced approximately $75 million. Kindred is marketing the remaining 54 properties for releasing and according to Raymond Lewis (Ventas President during Q3 earnings call):
The process is going very well, and we are moving into the selection phase. Interest in the portfolio is strong, and we have multiple bids to lease the assets from both existing and new relationships for Ventas. We expect to complete the releasing in stages or clusters and that the total rent on the assets up for renewal should approximate the current rent level. We are excited about the opportunity this process provides Ventas to expand its tenant base and diversify its tenant relationships with multiple quality operators. We are confident that we will execute the releasing process to a successful outcome and look forward to providing you with more information through the end of this year.
Now Let's Check the Horse Power
Ventas' balance sheet is a clear differentiator. Currently the stalwart REIT has around $1.5 billion in available liquidity with a revolver balance at quarter-end of $705 million. With such deep liquidity strength, Ventas has been able to take advantage of opportunities while also being a safe haven for investors in a fearful marketplace.
Ventas has a debt/enterprise value ratio of 29% and the strong balance sheet has allowed the company to continue to increase its cash flows from operations. As explained by Richard A. Schweinhart, CFO, in the latest earnings call (Q3-12):
Net cash provided by operating activities increased 60% to $709 million in the 9-month year-to-date in 2012 from $444 million in the first 9 months of last year. Our weighted average share count for the same period increased less than 40%.
Ventas continues to exploit its "low cost" producing platform as explained by Ventas' CEO, Debra Cafaro (during Q3-12 earnings call):
What I would tell you is we are and continue to be a disciplined investor. Capital allocation is another important aspect of our activities. And we have, I think, been proven ourselves to be good capital allocators. And so we have lots of opportunities. The pie is large. It's a fragmented industry.

And we believe we can drive value for investors by continuing to acquire in a thoughtful way. And as I mentioned, the $1.7 billion that we've acquired year-to-date, we are getting about a 7.5% unlevered yield, and they're very high-quality private pay assets. So if we can continue to do that, whether it's from new business, whether it's from existing NHP, Ventas, Lillibridge relationship, I think that would create value for our investors.
Sum Up "The Most Important Thing"
Now as I started out I explained that Ventas is like a hot bowl of porridge, or more simply, not a Ben Graham pick. However, the dividend safety of Ventas could be considered a bowl of porridge that is just right. Check out the dividend history: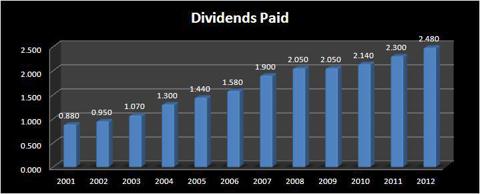 With the exception of 2009, Ventas increased its dividend every year and the company has never cut its dividend during that period. In addition, Ventas increased its dividend by 8% in 2012 and by 7% in 2011. In addition, Ventas' FFO payout ratio was just 63.92% in the latest quarter (Q3-12) indicating that there is more room to grow its dividend.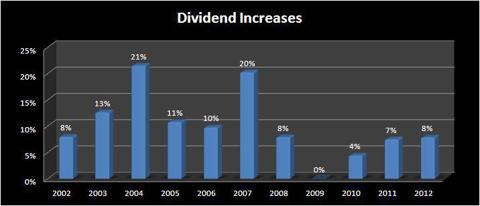 Ventas is currently trading at $63.75 per share and the consensus estimate is $46.83 - a 36% premium for the blue-chip REIT. As I suggested in a previous article "I like Ventas with a 4.5% dividend handle. That means I recommend Ventas when shares get closer to $55.00." Ventas was trading in the mid $50's this past summer (2012) and hopefully a pull-back will prompt me to include the blue chip in my SWAN (sleep well at night) portfolio.
One final observation and as I explained in a previous article:
Ms. Cafaro is doing a fabulous job. Remember, we value investors must practice "extreme conservatism" and as much as I like Ventas I must be self-disciplined with my investments.
In addition to her current role as Chairman of Ventas, Ms. Debra Cafaro, JD is also a Member of the Executive Committee, and Member of Investment Committee of Ventas. She has been the CEO since 1999, Chairman since 2003, and previously served as the President at the firm. She was the President from April 1997 to May 1998 and Director since April 1997 at Ambassador Apartments Inc. (a Sam Zell company). Ms. Cafaro was also a Founding Member at Barack Ferrazzano in Chicago, where she practiced real estate, corporate, and finance law for 13 years.(source: Bloomberg Businessweek)
Without a doubt, Ms. Cafaro has been an exceptional leader and her tenure at Ventas is worth noting. For it's no fluke that Ventas was able to turn a struggling tow boat into a durable battleship. As I explained in a previous article:
Over many long periods, REITs have been able to deliver outstanding total returns to their investors, with fairly low correlations to other asset classes, predictable and stable cash flows (due to long-term leases with tenants), and higher-than-average dividend yields. I'm more convinced than ever that owning commercial real estate in securitized form, through REIT shares, is the smartest way to participate in this asset class - after all that is what makes an Intelligent REIT Investor.
A $1,000 investment in Ventas 10 years ago (at $45.45 per share) would now be worth $3,771.06. That is 15.8% annualized ROR. Comparatively, the same amount invested in the S&P 500 would have accumulated to $1,539.19 or an annualized ROR of just 4.9%. Here is a snapshot of Ventas and its 10-year total return performance of 833.95%.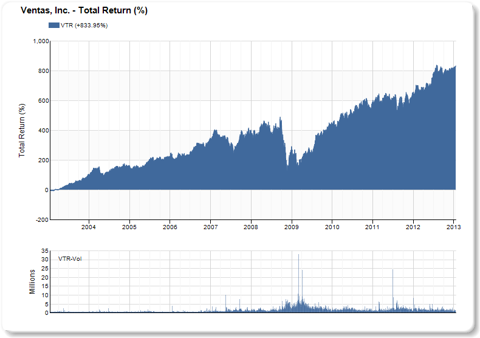 Other REITs mentioned: (NYSE:HCP), (HCN), (NYSE:SNH), (NYSE:OHI), (NYSE:HTA), (NYSE:HR), (NYSE:MPW), (NYSE:NHI), (NYSE:LTC), and (NASDAQ:SBRA).
Source: SNL Financial
Disclosure: I have no positions in any stocks mentioned, and no plans to initiate any positions within the next 72 hours. I wrote this article myself, and it expresses my own opinions. I am not receiving compensation for it (other than from Seeking Alpha). I have no business relationship with any company whose stock is mentioned in this article.