After looking into the valuation of Dell (DELL) and HP (NYSE:HPQ), I'm turning to Microsoft (NASDAQ:MSFT). MS has not been the focus of much attention recently, and has pretty much fallen out of favor with a flat stock price over the past 10 years or so:

Source : MorningStar
MS looks like an old tech stock, set to follow the way of Nokia (NYSE:NOK) or Dell, "killed" by Apple's (NASDAQ:AAPL) innovations (which will probably eventually lose their appeal to consumers) or by the death of the PC (which I don't believe in).
But let's keep to the facts and stick to the numbers…
Basic Facts
MS's sales and free cash flow are still both increasing, with a record FCF last reported at $29B.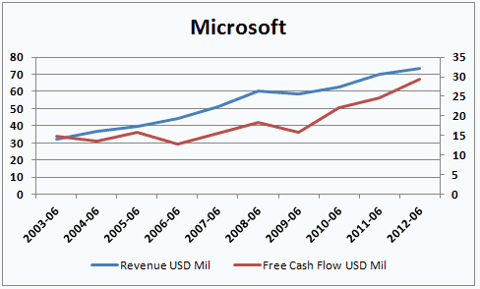 Source : MorningStar
It's true that Microsoft has been "wasting" some of its free cash flow with acquisitions that were just too expensive (recently: $6.2B depreciation on the aQuantive purchase from 2007, Skype bought for $8.5B). It's also been sitting on a massive $52B of net cash - a big -part of which is likely "trapped" through foreign subsidiaries. However, MS has also been massively buying its stock back and pays a dividend.
These stock repurchases are relutive (add value to the stock) and allow the FCF / share to increase faster than the FCF in absolute value (x2.5 and x2, respectively, over the past ten years).
click to enlarge)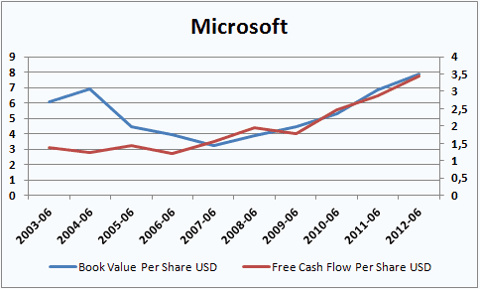 Source : MorningStar
Equity per share has also been increasing thanks to increasing cash reserves and stock buy-backs. This ratio went down in 2005-2007 after an exceptional dividend payment of $36B, and some expensive stock buy-backs.
Sales are broken down as follows: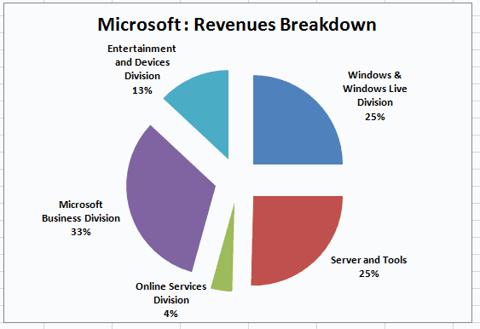 Source : Microsoft Annual Report 2012
Microsoft Business Division: Microsoft Office system (Office, SharePoint, Exchange, Lync, and Office 365) and Microsoft Dynamics business solutions
Windows & Windows Live Division: develops and markets PC operating systems, related software and online services, and PC hardware products
Server and Tools: Windows Server, Microsoft SQL Server, Windows Azure, Visual Studio, System Center products, Windows Embedded device platforms, and Enterprise Services.
Entertainment and Devices Division: the Xbox 360 entertainment platform, Mediaroom, Skype, and Windows Phone, including related patent licensing revenue
Online Services Division : Bing, MSN, adCenter, and advertiser tools
Sales appear to be well diversified, however only the business, server and tools and Windows/Windows Live divisions contribute to profits.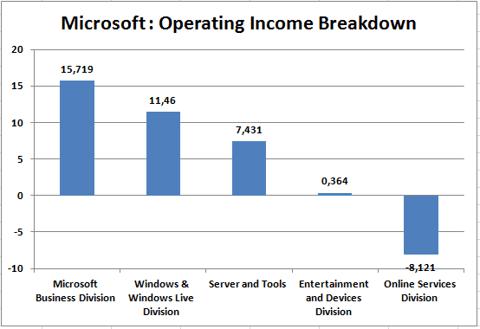 Source : Microsoft Annual Report 2012
These cash cows benefit from significant competitive advantages:
High switch cost due to strong system integration (for example, Office SharePoint Exchange)
"Network" effect from Office file formats - IT managers prefer paying for MS Office rather than using freeware equivalent such as OpenOffice
Clients are forced to upgrade not to end up with unsupported software.
Investors anticipate that these advantages will be eroded over time, and Microsoft's power position would be challenged:
On smartphones and other tablets where MS does not have the prevailing OS
With the migration towards cloud-based applications, to the detriment of Office applications.
Nevertheless, this has not affected free cash flows, which doubled over the past ten years.
Now we can take a step back and try and estimate Microsoft's value with the tool XlsValuation:
Historical multiples
As a first step we pull the highest and lowest PE, price to book and price to sales multiples from Morningstar since 2008:

Sources : Morningstar & XlsValuation
The price-to-sales multiple will be weighted a bit more (37%) since it is less variable than the other two, which suggests that it is more "reliable."
Note that this valuation approach by historical multiples assumes a return to the average in terms of valuations.
Peers comparison
As comparables I picked :
But MS is in such a dominating position that there is no direct comparable, and the competitors I picked in the list above are only relevant in specific segments.

This peers-based valuation approach implicitly assumes that MS would be valued using the same average multiples as the comparable universe.
Normalized data
I simply took the most recent quarterly data (for cash and debt), yearly data (for sales and margins), or estimates (for EPS for the current year).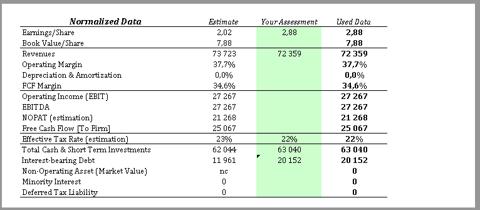 Sources : Bloomberg, Morningstar & XlsValuation
According to Morningstar, Microsoft has $8B in "other long-term liabilities"; I did not check what they correspond to exactly and in doubt I include them in debt - hence the $20.132B amount for debt.
Deferred taxes are fully compensated with a deferred tax credit, so I did not factor these taxes in.
Note that the GAAP EPS for the current year is significantly higher than the prior one, because the prior year's included an asset depreciation amount of $6B for aQuantive.
Present value rate
If we use a bottom-up beta as suggested by Pr. A. Damodaran and considering that Microsoft belongs to the "Computer Software" industry sector, we obtain an unlevered beta of 1.18, and a levered beta of 1.27:

Sources : Damodaran & XlsValuation
This bottom-up beta is smaller than the historical (5-year) CAPM beta, which I calculated at 0.92: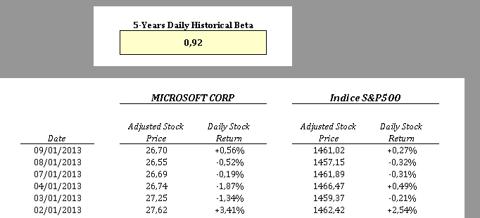 Source : Yahoo Finance & XlsValuation
Let's be conservative and use the highest beta, that is the Levered beta.
For the risk-free rate, we use the 10-year Treasury Bond (1.9%) and for the equity risk premium we follow A. Damodaran (6%).
This leads to a cost of equity of 9.5%. Including the cost of debt (post-tax) of 3.2%, the weighted average cost of capital is 8.9%:

Sources : Damodaran & XlsValuation
Growth
This is where science becomes art.
Conservatively, I assume neither positive nor negative growth:

Sources : author's estimates & XlsValuation
Valuation
I apply the following weights to the three valuation methods developed above:
Historical multiples: 40%
Comparable multiples: 20% (Microsoft does not really have any comparables)
Discounted Cash Flows: 40%
The results are shown below:

Sources: author's estimates & XlsValuation
The three methods converge to an estimate around $33-36/share. These numbers are in line with Morningstar's estimate of $35/share.
At $35/share, the PE is at 12.1, which would seem consistent with Microsoft's operational stability and size ($224B in market cap).
Microsoft currently trades around $27, hence implying an upside of about 30%, with rather conservative valuation assumptions (beta, flat growth).
Super-investors
According to Dataroma, Microsoft is currently the stock with the highest ownership amongst asset managers for value funds, but none of them have any significant trades on.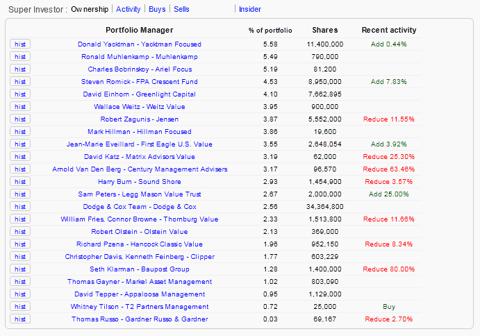 Source: Dataroma
Conclusion
I purchased Microsoft at the end of 2011, and I am now up about 9% ex dividends (accounting for the EUR/USD exchange rate since I am a French investor). I think I will add to this position over time if it trades under $25/share. The opportunity does not look to me as strong as Dell or HP, but the risk of a capital loss seems low to me at the current share price.
Even if Mr. Market remains capricious and under values Microsoft, stock repurchases will be that much more relutive, and getting a dividend a good compensation.
Disclosure: I am long DELL, HPQ, MSFT. I wrote this article myself, and it expresses my own opinions. I am not receiving compensation for it (other than from Seeking Alpha). I have no business relationship with any company whose stock is mentioned in this article.