The year 2012 proved to be another tough year for Japanese economy resulting from a strong Japanese Yen and the dispute with China over the inhabited islands in the East China Sea. This negatively affected the country's exports resulting in the decline of Japanese exports.
The decline in Japanese exports: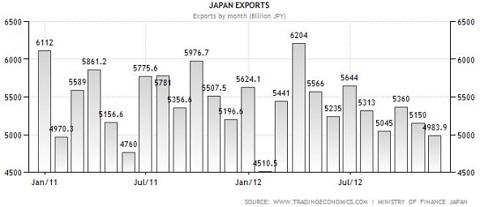 Since 2010, China had been Japanese's largest importers of Japanese goods but was displaced by the United States following the dispute over the inhabited islands and the strong protests from China that resulted in the boycott of Japanese goods. The exports fell heavily and the U.S. displaced China as the biggest market for Japanese exports
Japanese exports and yen:
For economic recovery, Japan has to focus on enlarging her export market in other countries as opposed to China so as to boost economic growth but a strong Yen remains an obstacle.
Plans to weaken the Yen:
In 2012, Japanese Finance Minister Taro Aso announced about Japan's plans for the use of foreign exchange reserves to buy bonds issued by the European Stability Mechanism (ESM) and Euro-area sovereigns to weaken the Japanese Yen. The proposed was a good economic strategy, which would be welcomed by Europe as it would help in economic stability. Any direct intervention by increasing their Forex reserves to weaken Yen would have yielded to criticism from other economies; Japan had faced a similar challenge in 2011. In addition, a direct intervention would result to other countries taking a counter step of buying Yen against their currencies resulting to a cold-currency war.
Effects of Weakened Yen:
Though a weakened Yen is good for Japanese manufacturing industry as it will boost the exports, any excessive weakness will negatively affect the Japanese economy.
Increase in Japanese imports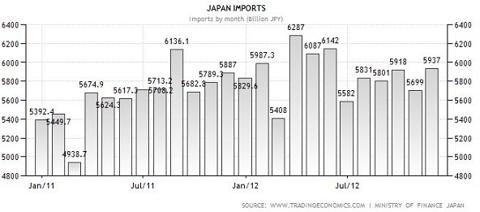 Monthly imports during 2011-2012: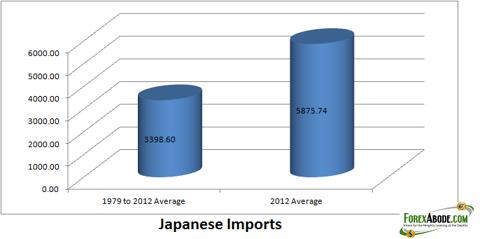 There has been a revolution of Japanese imports. For instance, the average imports of Japan during 1979 to 2012 have been 3398.6 billion yen per month. Fuel is the major import constituting of 32% of the total imports. However, the average imports during 2012 were quite higher than average. A weaker Yen which makes the imports quite expensive and adds to the manufacturing cost of Japanese industry.
Breakup of Japanese imports
Fuel: 32%
Machinery: 19%
Food: 9%
Manufactured goods: 9% (9 percent),
Chemicals: 8.5%
Raw materials: 8%
Clothing: 4%
Increasing trade deficit
The Japanese trade deficit is increasingly high due to increased imports and this has negatively affected the economy. The following chart shows the historical balance of trade data since 2000.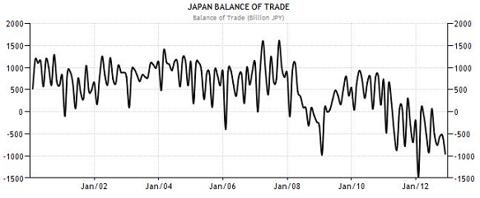 Japan trade deficit at 20 years high
The following chart shows the historical trade deficit since 1980: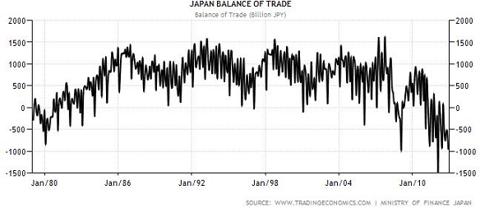 The following chart from Japan Ministry of Finance gives a clearer picture of the changing trend of foreign trade: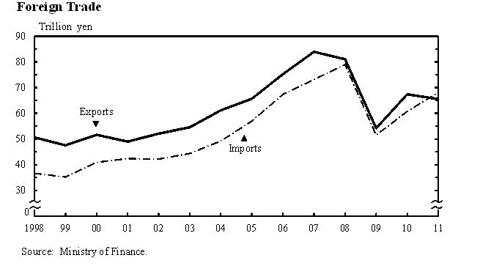 The above chart shows the data till 2011 but the latest data can also be seen at the Japan Ministry of Finance site.
Weakened Yen - threat to imports and manufacturing cost
The import of fuel is expected to accelerate because of increasing dependency on crude oil to generate power. This is as a result of the earthquake and tsunami in March 2011 which led to the shutdown of nuclear plants. The weakened Yen is a threat to the rising energy generation cost and manufacturing. Not only has it affected fuel imports but also all industrial imports.
Any more drastic and sudden weakness of Yen would also be considered as a sign of a weak economy and may send wrong signals to the foreign investor.
Poor economic data from Japan
The machine tool orders fell again during December. The preliminary report showed a year on year drop of -27.5% which was more than the drop of -21.3% during November.
Japanese Yen Update
Trading USD/JPY
The price action has been mainly below 85.00 level since the end of September 2010. Only once during early April 2011 it had tried to break over that level but had failed at 85.52 to touch a low of 75.36.After this continuous weakness, USD/JPY not only broke above 85.00 but went as high as 90.21. The 90.00 psychological level has been keeping the pair in a sideways narrow range around 90.00. Considering overall bullish sentiments for USD/JPY and the poor economic data. The recent data showed another unexpected drop in machinery orders, machine orders and overall industrial production.
If resistance near 90.60 holds then the psychological level of 90.00 may bring some consolidation or keep it in some sideways move. Any decisive break over 90.60 and sustained price action above that may target first the resistance level of 92.86 and then probably a strong resistance zone of 94.60/94.90.
Trading EUR/JPY
EUR/JPY had been below 115.00 level since July 2011 and during July 2012 the currency pair had gone as low as 95.12. The recent jump has not only taken out the key psychological resistance of 115.00 but also 120.00. The move to 120.72 came as surprise but the momentum indicates further gains for EUR/JPY. The next key resistance for EUR/JPY will be 123.32 where the pair had failed during April 2011. The upward gains cannot be attributed to bullish sentiments about Euro zone economy but mainly to the weak economic data from Japan. Considering the weak economic data from Japan the pair should test 123.32 level.
Whatever said and done, the underlying uncertainties about Euro zone's debt crisis and increasing unemployment levels have not vanished. The European Stability Mechanism's progress in the rescue efforts of Greece have brought in some optimism for Euro but the underlying uncertainties have not vanished. The recent gains of Euro cannot be considered as a reversal of the downtrend as yet and sooner or later another fall in Euro/Japanese yen cannot be ignored.
Disclosure: I have no positions in any stocks mentioned, and no plans to initiate any positions within the next 72 hours. I wrote this article myself, and it expresses my own opinions. I am not receiving compensation for it. I have no business relationship with any company whose stock is mentioned in this article.
Additional disclosure: These views are the views of the author and should not be taken as an investment advice. The author has put in all possible efforts to validate the correctness of the data provided but Seeking Alpha cannot take any responsibilities of any mistakes.