Shares of Baidu (NASDAQ:BIDU) have recently recovered by 27.8% from their 52-week low of $85.96 to the current price at $109.84. Should investors buy into the price uptrend? In this article, I will elaborate on my valuation analysis which may assist you in formulating the investment decisions.
Relative Valuation
From a relative valuation standpoint, Baidu's valuation continues to be attractive, based on the company's solid financial performance relative to its peers' (see comparable analysis chart below). Sell-side analysts on average predict the firm's revenue, EBITDA, and EPS to grow at 2-year CAGRs of 32.5%, 27.2%, and 23.5%, respectively, over the next 2 fiscal years. Compared to the average growth rates of 19.2%, 26.9%, and 36.1%, respectively, for a peer group consisting of Baidu's primary peers, only the firm's EPS growth is below the group average. However, Baidu's EBITDA margin is forecasted to compress by 4.5% over the same period, compared to the group's average estimated margin expansion of 1.4%. On the profit side, Baidu has demonstrated a superior margin performance as all of the company's profitability and capital return metrics are considerably above the par.
Baidu carries a relatively low level of debt as reflected by its below average debt-to-capitalization and debt-to-EBITDA ratios. In terms of liquidity, the company's trailing free cash flow are significantly above the peer average. Due to the robust profitability and the low leverage, Baidu was able to maintain a very healthy interest coverage ratio. Both the firm's current and quick ratios are below the par, but they remain at a healthy level on an absolute basis, suggesting a fairly liquid corporate balance sheet.

To summarize the financial comparisons, Baidu's relatively weaker EPS growth potential would be the primary drag on the stock valuation. However, given the company's robust top-line growth prospects as well as its superior margin and liquidity performance, I believe the stock's fair value should at least trade on par with the peer-average level. Nevertheless, the stock's current valuations at 19.7x forward P/E and 0.6x PEG are trading at notable discounts to the peer-average forward P/E and PEG multiples of 21.6x and 1.1x (see chart above), respectively, indicating that Baidu stock may be somewhat undervalued.
DCF Valuation
To support my view, I also performed a DCF analysis which incorporates the market's consensus revenue and EBITDA estimates from fiscal 2013 to fiscal 2015 (see DCF chart below). The revenue growth from fiscal 2016 to the terminal year is assumed to decrease to 3.5% in the terminal year for conservatism. The EBITDA margin in the same period are assumed to be constant at 50.0%, which is slightly below the market's average estimated margin at 53.7% from fiscal 2012 to fiscal 2015. Other free cash flow related items such as depreciation and amortization, tax expense, capital expenditure, and net working capital investment are projected based on their 3-year historical ratios relative to the revenue as those ratios have become somewhat stable since fiscal 2009.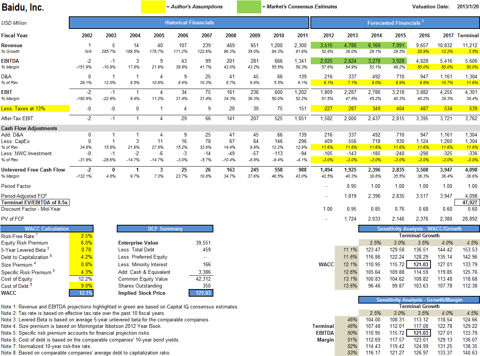 A company-specific risk premium of 4.3% is applied in the cost of equity calculation to account for the financial projection risk. Instead of using the currently depressed 10-year Treasury Bond yield, a normalized 10-year risk-free rate of 2.5% is employed. As such, based on a WACC of 12.1%, a terminal growth rate of 3.5%, and an implied terminal EV/EBITDA multiple of 8.5x (currently at 14.3x), the DCF model yields a stock value of $121.03, which is 10.2% above the current share price at $109.84. Given the conservative assumptions (i.e. terminal EBITDA margin and implied terminal EBITDA multiple) used in the model, the DCF analysis suggests that Baidu is currently trading at a tempting valuation level.
On the qualitative side, JPMorgan's research analysts, Dick Wei and Evan Zhou, are bullish on the stock based on the following primary factors (sourced from Thomson One, Equity Research):
(1) Worst sentiment & lowest valuation in years - despite clarity in 30% CAGR earnings growth, (2) market share / barrier of entry / monetization remain high, (3) fundamental need for information doesn't change on mobile, (4) Qihoo monetization rate to be low in '13.
In terms of near-term price catalyst, I tend to agree with the two analysts' view that the company's pending Q4 earnings release in early February may come with a positive surprise (per Thomson One, Equity Research):
With earlier signs of macroeconomic improvement since November 2012, we expect higher ad spend to come through in 2Q13 (around 6 months after signs of macro improvements). We believe both large advertisers and SMEs will increase ad spending to drive revenue. In addition, we think 4Q12 results could have potential upside. Company guides for flat sequential revenue growth in 4Q12, but from our checks, we believe revenue could see mid- to low-single digit growth. For full year 2013, we expect the street to revise up full-year revenue growth to closer to 40%.
Bottom line, despite the recent price appreciation, Baidu's valuation continues to trade at an attractive level. Given the company's robust long-term estimated earnings growth rate at above 30.0% and its solid market position in the Chinese internet sector, the investment's tempting risk/reward profile should warrant your buy decision. Alternatively, to limit the investment risk, investors may also consider selling out-of-money put options to either collect upfront premium or take a potential opportunity to acquire the shares at a lower valuation level.
The comparable analysis and DCF charts are created by the author and all historical and consensus estimated financial data in the article and the charts are sourced from Capital IQ unless otherwise specified.
Disclosure: I am long BIDU. I wrote this article myself, and it expresses my own opinions. I am not receiving compensation for it (other than from Seeking Alpha). I have no business relationship with any company whose stock is mentioned in this article.