With over a billion smokers worldwide it is not surprising that companies selling tobacco can be extremely profitable. These companies often reward their investors by sharing profits in the form of a dividend. If you are looking for a company that pays a high dividend there are several "sin stocks" that you may find attractive. Such as: Lorillard, Inc. (NYSE:LO), Philip Morris International, Inc. (NYSE:PM), Reynolds American Inc. (NYSE:RAI),Vector Group Ltd. (NYSE:VGR), British American Tobacco plc (NYSEMKT:BTI) and Altria Group Inc. (NYSE:MO). All of these "tobacco" companies provide high dividends. Below is a chart of the current dividend yield for each company.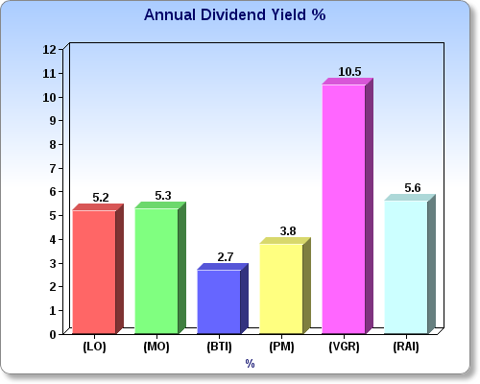 As you can see the dividends for these stocks are very rewarding. Each company offers its investors a uniquely different opportunity to invest in tobacco. Depending on your investment philosophy, you may find one company more attractive than the rest. While each company is different, they all share the common traits of selling tobacco and paying a high dividend. While I do not recommend investing in all of these stocks, there is one that caught my attention. That company was Altria Group Inc.
Altria
Altria is what I consider the ultimate "sin stock". The Virginia based Altria Group manufactures and sells cigarettes, smokeless products, and wine. This makes Altria truly a company that profits from "sin". Since 2009 Altria's stock has enjoyed a 120% increase. While share prices have more than doubled, Altria is still predominately recognized amongst investors for its high dividend yield.
Altria has a current dividend yield of 5.40%, making this stock very attractive to those investors seeking a high dividend yield. When investing in a company that pays a dividend, I look for two key traits reliability and sustainability. Both of these characteristics are a must have when investing in any dividend stock.
Reliability
Since 1970 Altria has consistently been paying out a dividend. Altria has shown its commitment to the dividend by increasing it annually for 40 out of the last 42 years! The only two times the dividend was not increased was in: 2007 when the Kraft Spin-off (KRFT) was completed and in 2008 when the Philip Morris International Spin-Off was completed. In both instances Altria issued a special one time divided payment: $21.90 per share for the Kraft Spin-Off, and $51.06 per share for the PMI Spin-Off.
As you can see Altria has been the model for reliability. Altria's target dividend payout ratio is approximately 80 percent of adjusted earnings per share. Since 2009 Altria's dividend has increased 37.5% or 32 cents per share to 44 cents per share. Below is the dividend schedule and history for Altria's 2012 and 2013 dividends.


Altria has demonstrated a pattern of increasing its dividend while maintaining consistent payouts. This is the type of reliability investors should be looking for when investing in a high dividend stock. Altria's track record speaks for its self. I believe Altria will continue this tradition of reliability for many years to come.
Sustainability
The next trait I look for is sustainability. Altria has been able to sustain its dividend over all these years because of its business plan. Altria is more than a simple tobacco company. It had annual revenues of $74.9 billion and a gross profit of $32.8 billion last year. It has $7.31 billion cash on hand. Altria is more than a simple tobacco company. It is made up of several subsidiaries each one providing a different avenue of revenue. Lets take a quick look at some of these avenues.
Tobacco
In 2012 43.8 million Americans smoked tobacco daily. Although the number of smokers has steadily been on the decline for many years. Altria has positioned its self to continue to profit regardless of the decline. Approximately 74% of Altria's sales come from cigarettes. Altria through its subsidiary Philip Morris USA makes up the largest tobacco company in the U.S.Philip Morris USA brands include: Marlboro, Virginia Slims, Benson & Hedges, Merit, Parliament, Alpine, Basic, Cambridge, Bucks, Dave's, Chesterfield, Collector's Choice, Commander, English Ovals, Lark, L&M, Players and Saratoga. This line-up gives Altria approximately 50% of the U.S. cigarette market. By having such a large market share Altria is easily able to influence the market price. Ensuring that Altria will always be a dominate force in the U.S. cigarette market.
Here is a chart showing the current U.S. cigarette market share.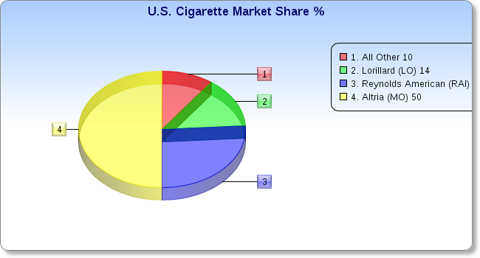 Cigars
Altria also consists of subsidiary John Middleton Co., which is the second largest manufacturer of large machine-made cigars, and a maker of pipe tobacco. Its cigar brands include: Black & Mild, Middleton's Cherry Blend, Gold & Mild and Prince Albert's. Its pipe tobacco brands include: Apple, Black & Mild, Carter Hall, Middleton's Cherry Blend, Gold & Mild, Kentucky Club, Prince Albert, Royal Comfort, Sugar Barrel, Walnut and Wine Berry. Black & Mild has approximately 23 percent of the U.S. machine-made cigar market. Selling an estimated 5.3 billion units annually. Black & Mild brand is the second-largest-selling brand in the category.
Smokeless
On January 6, 2009, Alrtia acquired UST Inc., whose products included smokeless tobacco (made by U.S. Smokeless Tobacco Company) and wine (made by Ste. Michelle Wine Estates). U.S. Smokeless Tobacco Company is a leading producer of moist smokeless tobacco. Altria looked to increase income through smokeless volume growth. Its brands include: Copenhagen, Skoal, Red Seal, Husky and Bruton. The company's lead brands are Copenhagen and Skoal which combine for over $2 billion per year in retail sales. Smokeless tobacco accounted for around 10% of Altria's sales and has been growing 3.5 to 4% yearly. It is clear that Altria acquired this company to look for growth outside of cigarettes.
Beer/Wine
SAB Miller is a brewing and beverage company headquartered in London, United Kingdom. Altria has a 28.7% economic and voting interest, and has 3 seats on the 11 person board of directors. SAB Miller is the world's second-largest brewer. Its brands include: Grolsch, Miller Genuine Draft, Peroni Nastro Azzurro and Pilsner Urquelland. It is also a major bottler of Coca-Cola. It has operations in 75 countries sells around 21 billion liters of lager per year.
In 2009 Altria acquired Chateau Ste. Michelle Wine Estates. The Chateau Ste. Michelle winery is the oldest in Washington state. It is known for its best-selling Riesling bottlings. Chateau Ste. Michelle is the largest single producer of Riesling wine in the United States. With annual productions of over 2,000,000 cases a year.
Conclusion:
As you can see Altria is more than a "tobacco" company. While Altria derives the majority of its revenue from tobacco it is the exposure in these other markets that make Altria unique. Since tobacco consumption will continually decrease over the coming years, having exposure to other markets is imperative. Altria's dominate position in U.S. tobacco ensures that its core business will continue to be successful. However, I would not be surprised to see Altria continue to keep looking for other avenues of growth outside of cigarettes. If you are looking for a high dividend stock that is both sustainable and reliable then I would strongly recommend adding this stock to your portfolio.
Disclosure: I am long MO. I wrote this article myself, and it expresses my own opinions. I am not receiving compensation for it (other than from Seeking Alpha). I have no business relationship with any company whose stock is mentioned in this article.