More than 2.25 billion cups of coffee are consumed in the world every day, with over a 100 million daily coffee drinkers in the U.S. The coffee business can be very lucrative. In the U.S, approximately 18 billion dollars is spent yearly on specialty coffee. With all the new-found health benefits tied to coffee, it would not be surprising to see the consumption rate of coffee continue to increase. One company that is poised to take advantage of this emerging market is Starbucks. (NASDAQ:SBUX)
Starbucks
Starbucks Coffee Company announced that after market close on Thursday (1/24/13) it will release its first quarter earnings for 2013. It will commence with a conference call and a webcast to follow. Whenever a company reports its quarter results, the initial inquiry is whether it met The Street's expectations. Analysts project a profit of 57 cents per share. This would be a rise from a year ago, when it profited 50 cents per share. Revenue should reach $3.84 billion for the quarter. For the year, revenue is expected to reach $14.98 billion.
For the past four quarters, Starbucks has reported double digit revenue increases, while it has reported increased profits for three consecutive quarters. Last quarter, the company came in at net income of 46 cents per share beating estimates by 1 cent per share. This was a welcomed surprise after missing them in the previous quarter by 2 cents.
Since last quarter (11/01/12), Starbucks stock has risen 19.4% from $45.90 to $54.81 per share as of (1/18/13), with 20 analysts rating the stock a buy, seven rating the stock a hold, and none rating it a sell. There is clearly a bullish tendency, with over 70% of the analysts still rating this stock a buy. Lets take a look at what Starbucks is doing to attract customers, and keep on growing.
New Global Growth Plans
On 12/05/12 Starbucks announced its accelerated global growth plans. Highlights were:
Opening 3,000+ net new stores in Americas region by 2017
Channel Development [CPG] to double its international footprint by 2015
China on track to become second-largest market in 2014
Starbucks VIA® Ready Brew, K-Cup® packs and now the Verismo System combine to create the strongest and most complete line-up of premium single-serve options in the global coffee industry
Social and digital media, loyalty and mobile payment platforms transforming customer experience and deepening connection to customers around the world
Reiterated commitment to leadership position in $40 billion global tea market and reaffirmed intent to acquire Teavana this year
Reiterated commitment to profitability in Western Europe
Verismo:
Starbucks welcomed its home-brewing coffee system "Verismo" earlier this holiday season. With this new device, Starbucks entered the profitable single serve coffee market. This area had been controlled by Green Mountain Coffee Roasters (NASDAQ:GMCR) with its "Keurig" machines. This has been the fastest growing market in the coffee industry. Other companies along with Starbucks have also entered this expanding market. In October 2012, Bunn maker of commercial beverage equipment, launched "MyCafe," its home version single serve coffee machine. Also launched at this time was a machine made by Esio Beverage Company. This device makes hot and cold drinks and sells in approximately two-thirds of U.S. Walmart stores (NYSE:WMT). It is clear that Green Mountain Coffee Roasters Keurig machines will face some increased pressure from its competitors. Last year, the market for single-serve coffee machines and pods nearly tripled to $8 billion. With this market continuing to grow, it will be interesting to see which company is able to capitalize the most on this new trend.
New Stores:
Starbucks has already announced its intent to continue growth by adding new stores. It will be looking to add over 3,000 new stores in the Americas by 2017, and to continue its expansion in Europe/China. Lets take a look at Starbucks store counts for the past two years.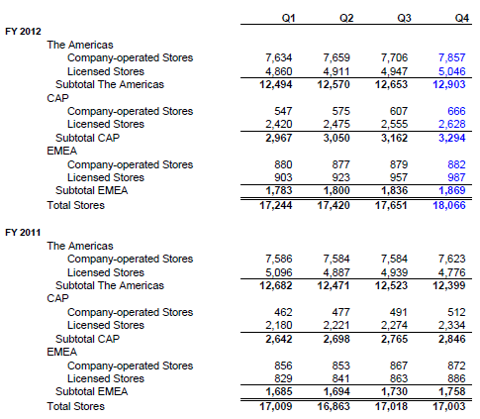 As you can see from the above chart, over the past 2 years, Starbucks has continued to add stores globally. However, the number of stores in the Americas decreased in 2011, only to regain its position in 2012. With the clear goal of adding more than 3,000 stores over the next four years, Starbucks will continue to positively grow its store count. These additional stores should provide room for increased revenue growth. One place Starbucks has set its sights on is Mexico. Starbucks Mexico director, Federico Tejado, recently spoke on the large consumption trends in Mexico, and the plan to open 45 new stores every year for the next four years. Mexico is the fastest growing coffee market in Latin America. Starbucks is placing its self in a great position to take advantage of this growing market.
Dividend
Since March 2010, Starbucks has been paying its stock holders a dividend. Starbucks' current dividend yield is 1.5% or 84 cents per share, based on Friday's close of $54.81. Below is a chart showing the dividend history: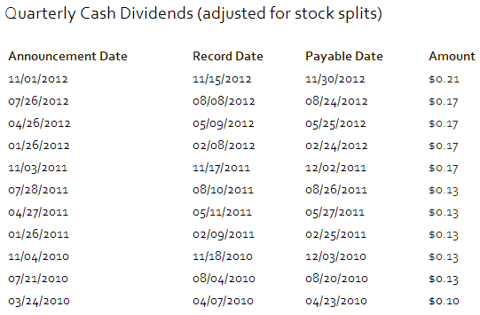 Although it has only been a couple years, Starbucks has shown its commitment to paying its investors a dividend. In that short time, the dividend has increased over 100%. I would not be surprised to see the dividend yield continue to increase over years to come. Starbucks has placed itself in position to keep rewarding its investors by paying them a dividend.
Conclusion:
Investing in any company right before earnings can be tricky. With Starbucks recent stock increase, any disappointing reports could cause this stock to pull back. Although, I expect Starbucks to meet or beat all first quarter expectations, it might be wise to wait for the earnings call. Regardless, I feel Starbucks will reward its long term investors going forward by continuing to take advantage of emerging markets and growing.
Disclosure: I have no positions in any stocks mentioned, and no plans to initiate any positions within the next 72 hours. I wrote this article myself, and it expresses my own opinions. I am not receiving compensation for it (other than from Seeking Alpha). I have no business relationship with any company whose stock is mentioned in this article.