Apple (AAPL) is entering a critical year for the company. The stock started 2012 with significant appreciation but slumped during the fourth quarter. Optimism surrounding the company seemed to vanish overnight. Analysts and the media are very critical of every news article involving Apple so it is important to monitor developments for the company and its competitors. Below I will layout the reason why I continue to recommend Apple and, as a supplement, present complementary option approaches.
I have been long Apple for years and I utilize conservative covered calls to simultaneously generate income and reduce your effective cost basis. Selling out-of-the-money options to generate weekly income is ideal for long-term investors because if you are comfortable owning the stock, there is no potential for additional loss versus outright ownership. Options may sound complicated but the risk/reward profile for covered calls is simple: relative to a long position, selling a covered call means that you are willing to sacrifice some capital gains if the stock appreciates considerably in return for guaranteed income. Essentially this means you are willing to trade-off potential upside for a reduced downside.
This is not a strategy based on speculation or complex technical indicators - this is a strategy for long-term investors to capitalize on volatility. For reference, please view the first and other articles in the series to understand the strategy and its potential returns Even if you have no plans to engage in the options market this is your one-stop primer for the critical Apple developments. Options may not be suitable for many investors but I believe owning Apple stock is. Even if Apple is one of your core holdings you should understand the various legal, product, and competitive developments that could materially impact the stock's future performance.

(Source: Yahoo! Finance)
Key Recent Headlines:
Apple's highly anticipated first quarter fiscal 2013 earnings will be released this Wednesday and all eyes will be glued to their screens as the largest publicly traded company looks to break its bear market spiral. Other tech heavyweights such as Netflix (NFLX) and Google (GOOG) also report this week but Apple is clearly the main attraction. After a solid initial start to 2013 Apple has now dropped six percent this year and has declined 23% in the past quarter. The stock closed at exactly $500 and has faced difficulty finding traction recently. There has been an uptick in media reports and rumors, generally with bearish commentary. A perfect example was the rumor that iPhone demand was contracting but if you read with a critical eye you saw that the rumor was illogical. Finally Apple will report earnings and put the speculation to rest, at least temporarily.
I recently completed my forecast for Q1 2013 and I wanted to "open the black box" to my readers for the first time. To predict Apple's financial performance I focus on the last twelve months of reported performance, new products, reported trends, and any other available information that I can access to refine my prediction. All of the below predictions are merely that - my best educated guess at what Apple will report. I make no guarantees about these predictions and as any good analyst will say, material deviations are to be expected. I specifically try to exercise caution with my forecasts and always will side with the more conservative option when given a choice. If you compare my forecasts to those of other analysts you will see that they are fairly conservative, especially given the number of analysts who predict 50M+ iPhones sold. My fearless predictions are as follows:
Revenue: $54.8B
Profit: $15.0B
Gross Margins: 37.6%
EPS (Diluted): $15.60
Dividend per Share: $2.65
iPhone: 47.79M Units; $30.66B Sales
iPad: 22.84M Units; $11.45B Sales
Mac: 5.32M Units; $6.81B Sales
iPod: 10.78M Units; $1.66B Sales
This is summarized below.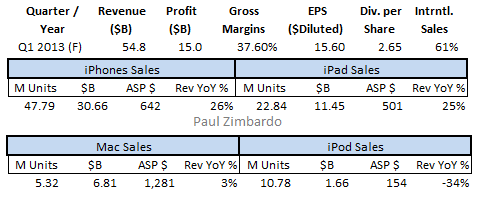 I foresee Apple's first quarter revenue rising by approximately eighteen percent to a record $55B fueled by strong unit sales of both the iPhone 5 and iPad. Margins will likely contract notably this quarter as the iPad Mini sales appear robust. The average selling price (ASP) for the iPad line could drop in the neighborhood of ten percent but robust unit sales should mask the decline. Last quarter the ASP for the iPad line was $535, down from $593 in Q1 2012, and I anticipate an ASP close to $500 in this quarter. Note that all ASPs are unadjusted for related product line accessories, as reported by Apple.
Mac sales should inch higher this quarter but not as much in previous holiday quarters due to continued PC market slowing. Having said that, an eight percent quarter-over-quarter sales improvement is respectable while competitors are still struggling to generate any growth. iPod unit sales will likely exhibit a nice rebound as they do every holiday season but will equate to less than five percent of total quarter revenue. In comparison, iTunes revenue will likely be twice as high as iPod revenue. In summary, I am projecting Apple's first $50B revenue quarter ever with over $15 in EPS but will it be enough to propel Apple higher? I am betting yes.
With Apple trading at $500, now is an excellent time to go long before earnings. Based on my forecast for Apple's first quarter, Apple will have $45.89 of TTM earnings per share, indicating a current P/E of 10.9. The forward P/E is even lower at 8.8 and the PEG ratio is a tiny 0.58. I continue to be bullish on Apple's prospects and I challenge investors to find another company with Apple's combination of growth and attractive valuation.
Below I present three possible scenarios and the potential returns for the Apple options. The first scenario represents a negative outlook for Apple while the final two scenarios are more reasonable. These scenarios are forecasts and there is no guarantee that they will come to fruition. Even if you are optimistic it is important to consider both positive and negative circumstances in order to stress your assumptions. As a general rule, selling calls with higher strike prices has greater potential return but additional risk of loss due to the lower (or lack of) downside protection. For more information on the fundamentals of covered calls, consult Investopedia.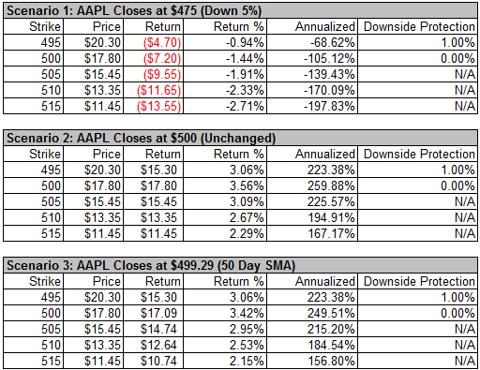 Additionally, if you would like even more information, I have prepared a sensitivity analysis for absolute return and percent returns, respectively. After studying the information above, these two charts make it easy to pick a strike price based on where you believe Apple will close at the end of the week. Estimate where you believe Apple will close and select the strike price with the highest return.

With this information, executing a buy-write on AAPL January 25 $500s is the optimal risk-return strategy as an opening Apple transaction. This is a more conservative covered call than I typically recommend as it is at-the-money but the 3.56% time value ratio is difficult to ignore. The option has a potential return of 17.80 (time value) and should provide adequate coverage against a moderate drop. Specifically, if Apple drops five percent, you would lose only 1.44%.
A more aggressive approach would be to sell the slightly out-the-money $505 calls for $15.45. This would ordinarily be my preferred call but I want to exercise caution with the recent weakness in Apple's stock. This strategy is excellent for long-term Apple investors who want to generate income while still staying long the stock. If you want to take a pure positive directional bet on Apple's earnings then I would refrain for writing a call this week. An alternative approach is to sell out-of-the-money $495 puts and collect the premium without having to purchase the stock outright. The $495s are currently trading around $15.30 and appear to offer the best risk-reward profile for the week. Note that if the stock declines to the strike price, you are obligated to buy the stock (or closeout the position). You should always consider the risks (particularly with naked calls or puts) raised in this article in light of your personal circumstances (including financial and taxation issues) in consultation with your professional financial adviser.
Please refer to profile page for disclaimers.
Disclosure: I am long AAPL, GOOG, as well as AAPL Jan 25 $580 Calls. I wrote this article myself, and it expresses my own opinions. I am not receiving compensation for it (other than from Seeking Alpha). I have no business relationship with any company whose stock is mentioned in this article.