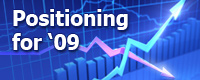 As the world says goodbye to one of the worst years ever (for the markets), 2009 will be starting out with plenty of unknowns and fear.
I recently wrote a post in which I said the probability of a huge decline is a lot less right after a huge decline. That is where the world is now. The world is wading through the aftermath of a huge decline, trying to sort it all out. The way markets work, by the time it is all sorted out the market will be much higher.
The S&P 500 went below its 200 day moving average (DMA) which is an important indicator for me, over a year ago (click to enlarge):

When this happened, very few people heeded that warning. In fact, most were explaining to us why there would be no bear market or recession and selling stock was difficult for most folks. Now, buying stock has become difficult. More often than not, the difficult thing turns out to be the best thing to do.
In the last couple of months I have added a Chinese telecom stock, one of the publicly traded U.S. exchanges, a consumer discretionary ETF and some short-term corporate debt (highly rated from the healthcare sector). It is not too late for any of those market segments.
Over the next few weeks, I expect to add an industrial stock, a tech stock, longer dated corporate debt (from the consumer sector) and some foreign sovereign debt.
I think we are setting up for a massive rally - much more than the 20% rallies we have had. The quicker a massive rally were to occur, the more likely I would expect it to turn out to be a bear market rally and I would look to add an inverse ETF as a hedge if the rally was very fast. 30% in a couple of months would be a scenario that I would fade. If the market rallied 30% over 12-15 months, I'd be less likely to fade that one - but that is a long time off.
While 30-40% might seem laughable, the biggest up years for U.S. markets that I know of occurred during the 1930s.
I'd like to wish everyone a happy and healthy new year.