SanDisk (SNDK) is one of the leaders in flash storage technology, a market that has extensive untapped potential as the computing market transitions away from PC's and laptops to tablets and other mobile devices such as smartphones. Because of this incredible growth potential, as well as the very cheap valuation of the company's shares, I believe SanDisk is worth a serious look.
SanDisk's shareholders have been rewarded nicely since the 2008 lows resulting from the general panic in the market. When any company that had any weakness whatsoever was trading at a ridiculous price, SanDisk was no exception, hitting a low of $5.07, which was less than half of the net asset value at the time. Since then, shares have rebounded over 855% to the current level of $48.46 as of this writing.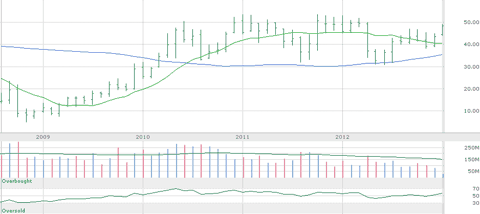 SanDisk focuses its efforts in three categories: mobile phones, consumer and computing. The company's microSD and Memory Stick Micro product lines are top selling removable storage devices for mobile phones, and storage demands continue to increase as video storage and downloading becomes more prevalent on smartphones. The consumer segment focuses on flash products for gaming systems, cameras, and GPS systems.
The computing segment is possibly the most recognizable, with SanDisk's line of USB flash drives. Additionally, the company is developing Solid State Drives (SSDs) for the computing market. While I believe it is unlikely that SSDs will replace traditional hard disk drives in PCs and traditional laptops on a wide scale, with the trend toward tablet computing (tablets use solid state storage), ultrabooks and smartphones; demand for SSDs should grow accordingly.
Combined with all of the growth potential for SSD devices, my most compelling reason to be bullish on SNDK is simple valuation. SanDisk currently trades at a relatively high 23.9 times the consensus of $2.03. The company is expected to report on Wednesday that it earned in 2012, however this valuation is more than justified. First, the same consensus estimates call for earnings to grow to $3.51 and $4.16 in 2013 and 2014, respectively, more than doubling in the next two years. So, SNDK trades at 11.6 times 2014 earnings, which sounds a lot better. To make the stock look even more attractive, SanDisk has over $15 in net cash per share, including long-term securities. When you back this out of the share price, SanDisk trades at 16.5 times current earnings and just eight times 2014's earnings, a great valuation for the amount of growth projected.
So, what should investors hope SNDK should do over the next few years? The company has traded at an average multiple of 13.5 times forward earnings over the past four years. So, using the 2014 consensus (which I actually consider a bit conservative), that gives me a one-year target price of $56.16, or 15.9% upside over current levels.
As my frequent readers know, my favorite way to play undervalued stocks is with conservative LEAPS spreads, so I'll suggest one here. Using the January 2014 leaps, I want to buy the $45 call for $8.75 and sell the $55 call for $4.10 for a net cost of $4.65. Maximum profit on this trade is $5.35, or 115% is achieved if SNDK is over $55 at expiration, which is less than our target price. One of my favorite aspects of this trade is that it makes money as long as SNDK is over $49.65 at expiration, just 2.5% above the current share price. Given the extreme growth potential for solid state and flash devices, I believe this trade has a very favorable risk/reward ratio that could reward an ambitious investor. If you are a bit more conservative, the $40/50 spread costs $5.85, and provides much more downside protection, making money with SNDK anywhere above $45.85.
Regardless of which spread you use, or even if you simply buy shares, SanDisk investors should be handsomely rewarded as the tablet and smartphone markets grow and demand for its products explodes right along with it.
Disclosure: I have no positions in any stocks mentioned, and no plans to initiate any positions within the next 72 hours. I wrote this article myself, and it expresses my own opinions. I am not receiving compensation for it (other than from Seeking Alpha). I have no business relationship with any company whose stock is mentioned in this article.