Intel's (NASDAQ:INTC) bread and butter PC market is shrinking thanks to smartphone and tablet devices, but the company is working on transitioning to new market segments. However, the transition will take some time. In the quarter, Intel announced its new 22 nanometer manufacturing process using tri-gate three-dimensional transistor technology, and in its Q4 2012 earnings call, the company indicated it will begin delivery of the industry's first 22 nanometer tablet and smartphone SoC (Silicon-on-Chip) products to its customers in 2013. In wireless, the company is now shipping single mode LTE to its customers and plans to deliver multimode data and voice modems to its customers over the course of the next year. Intel's products are currently in seven smartphone devices across 20 countries. While seven devices is nothing to write home to mother about, it does show Intel's seriousness. Intel claims its smartphone product is comparative to ARM's (NASDAQ:ARMH) best designs with regards to performance--and superior with respect to power consumption and battery life. .
Paul Otellini, President, CEO and Director, noted that Intel generated almost $1 billion of net income every month during the quarter, even amid relatively soft PC demand and a weak macroeconomic environment. Stacy Smith, CFO and Executive Vice President, presented Intel's 2012 revenue as $53.3 billion with a gross margin of 62%. The company's operating income was $14.6 billion, net income was $11 billion and earnings per share came in at $2.13. Additionally, for the year, Intel generated $19 billion of cash from operations. Mr. Smith noted these results were realized even with a worldwide GDP which was significantly less than expected at the start of the year and with the PC market segment negatively impacted by sales of tablet devices.
Intel has also been busy in its other market segments. In the Ultrabook market segment Intel has grown its number of designs from 20 to more than 140. Additionally, for its high-end products, Intel noted its Centerton offering provides the industry's only low power micro-server SoC that delivers enterprise features such as 64-bit, ECC (Error-correcting Code) and virtualization.
Intel's customer began shipping tablet devices with Microsoft's (NASDAQ:MSFT) Windows 8 with ten hours of battery life and three weeks of connected standby. Intel plans to introduce its Haswell product in the first half of the year which Intel claims will have the largest generation-to-generation battery life improvement in the company's history and claims will inspire a whole new wave of ultra-sleek, convertible, touch-based designs.
Intel also indicated it is a foundry for some selective customers for market segments which would not enable a competitor such as programmable logic. Additionally, an analyst participating in Intel's conference call, David Wong with Wells Fargo (NYSE:WFC), indicated that there were some reports that Intel may be manufacturing some ASIC (Application Specific Integrated Circuits) for networking company Cisco (NASDAQ:CSCO). Also of note, Intel plans to transition to its 14 nanometer manufacturing process toward the end of the year.
On a negative note, Intel announced its PC client revenue was down 3% and is planning for revenue growth in the low single digits for 2013. However, the company indicated there appears to be consensus that there was significant strengthening in the worldwide economy over the last half of last year and the company is seeing a fairly large amount of server build-outs in China.
Intel's stock price has taken a hit over the last year and over the last few days as well, as shown below: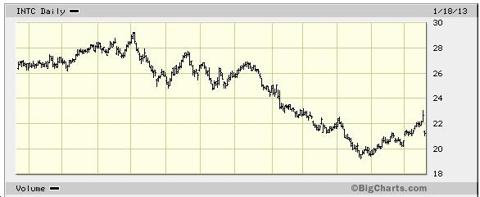 Apparently, the recent stock price dip indicates Intel's investors were not satisfied with the low single digit revenue growth which was presented. However, Intel's Price-to-Earnings ratio of 10 is very low for a high-technology company. And, while not a value company, Intel's Price-to-Sales ratio of 2.2 is respectable.
With the recent release of Windows 8, Intel's potential for expanding into new market segments and Intel's manufacturing prowess, an investor might consider an investment in the company. However, with Intel's poor 2013 outlook, a protected investment such as a married put option strategy might be considered. A married put can be entered by purchasing a put option against a long stock position. The married put strategy provides unlimited upside with limited downside, so an investor can take advantage of a stock price increase, but not get bit too badly with a decrease in stock price. The put option for the married put strategy is typically selected several months in the future in order to reduce the per-day cost of the put "insurance".
Using PowerOptions, a variety of married put positions were found for Intel with expiration in July 2013 as shown below: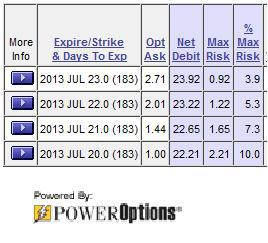 The married put using the 2013 Jul 22 put option looks attractive with a maximum potential loss of 5.3%, however, this does not include expected dividend payments received during the holding time period. When including expected dividend payments, the maximum potential loss is reduced to 3.4%. So, even if the stock price drops to zero, the maximum loss which can be sustained is 3.4%. The details for entering the Intel married put position are shown below:
Intel Married Put Position
Buy INTC (existing or purchased)
Buy INTC 2013 Jul 22 put option for $2.01
A profit/loss graph for one contract of the Intel married put position is shown below: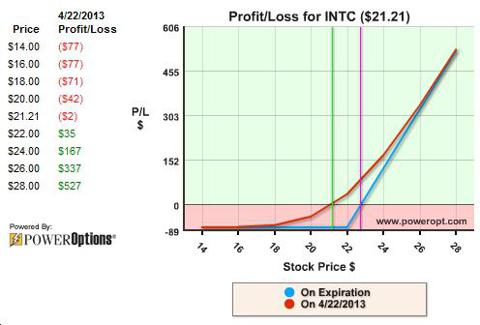 For a stock price below the $22 strike price of the put option, the value of the married put position remains unchanged, and for an increasing stock price, value of the married put also increases. And, if the price of the stock increases to above the $22 strike price of the put option, income methods may be applied in order to reduce risk and receive income as taught by RadioActiveTrading.com.
Look forward to hearing your comments below!
Disclosure: I have no positions in any stocks mentioned, and no plans to initiate any positions within the next 72 hours. I wrote this article myself, and it expresses my own opinions. I am not receiving compensation for it (other than from Seeking Alpha). I have no business relationship with any company whose stock is mentioned in this article.