As an admirer of EnerNOC's (ENOC) innovative business model, I'm encouraged to see that the market has continued to favorably respond to the company's outlook as witnessed by the 66.74% rise in stock price over the last year. EnerNOC has developed applications for energy management and has created a tangible grid of on-call energy surplus that could be reduced at a moment's notice. By selling energy back to the power companies during periods of emergency load response, the company profits through the use of a distributed network of power savers.
Yet in light of its recent stock price pop on January 15, the company appears to be readying itself for a possible pullback in the imminent future. As of January 21, the company is now priced near a 52-week high at $15.49. Rising well off its 52-week low of $5.41, the company's stock has quickly risen over 186% in the last 8 months alone. In a most telling sign of being overvalued, management has begun to sell off some of their shares.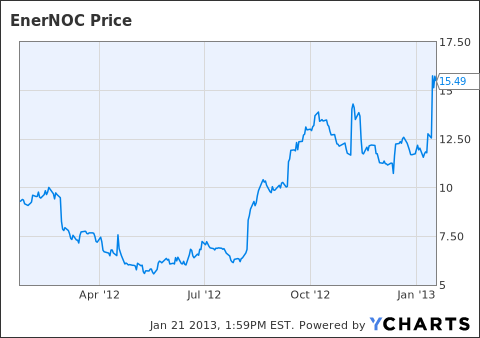 data by YCharts
What makes these shares sales particularly worthy of notice is that they were conducted by key officers of the company. Mr. Timothy Healy serves as the CEO and Co-Founder while Mr. David Brewster serves as the President and Co-Founder of the company. Interestingly enough, both officers had previously purchased shares on the open market at more opportune levels. Their closing of these positions can be seen in the table seen below.
| Name | Officer | Transaction Date | Transaction Details | Market Value |
| --- | --- | --- | --- | --- |
| Timothy Healy | CEO | 2013-01-18 | Sell 12,500 @ $15.36 | $192,000 |
| Timothy Healy | CEO | 2011-09-30 | Buy 10,000 @ $10.00 | $100,000 |
| Timothy Healy | CEO | 2011-09-16 | Buy 10,000 @ $11.28 | $112,800 |
| David Brewster | President | 2013-01-15 | Sell 10,000 @ $15.00 | $150,000 |
| David Brewster | President | 2012-06-15 | Buy 4,000 @ $6.16 | $24,640 |
| David Brewster | President | 2011-08-18 | Buy 5,000 @ $9.98 | $49,900 |
| David Brewster | President | 2011-08-11 | Buy 5,500 @ $9.17 | $50,435 |
The fact that these officers both felt it was ideal to take profits on the open market after previously speculating on the undervaluation of their company remains a suggestive action in itself. While neither officer is necessarily dumping their positions in the company, their actions suggest that the company has reached a new price level that is more than adequate. With these relatively small sales, they project the idea that the company is no longer a speculative buy.
The fundamentals of the company also fail to justify a continued rise in the company's stock. At a $413 million market capitalization, EnerNOC now carries a price-to-book ratio of 1.60 and a price-to-sales ratio of 1.60. The company is far from a rapidly growing company as the quarterly revenue growth rate was only 5.2% year-over-year. Looking forward, analysts expect earnings to swing from a loss back into a profit for 2013 and beyond. Yet even based on the consensus analyst forecast for fiscal year end in 2014, EnerNOC would still be trading at a price-to-earnings ratio of 20.12. This can be seen in the table below found on the Nasdaq website shown here.

Over the long run, one also has to wonder if EnerNOC is even on the right side of the energy efficiency trend. The company provides services that exploit the excess use of energy in emergency situations. It therefore capitalizes upon wasteful energy use. Yet as the world becomes more conscious of its energy usage and greater conservation methods go into effect, EnerNOC may feel more of the squeeze from a supply-side point of view.
One company to consider that could be on the right side of the train tracks when it comes to efficient energy use may be World Energy Solutions (XWES). World Energy Solutions helps clients to lower their total cost of energy thereby reducing the amount of "peak load" energy they would even have in the first place. The company provides a more complete analysis of a company's energy use that include everything from project planning to energy procurement services.
Yet before the world reinvents the way it effectively uses energy, EnerNOC remains a viable solution that exploits the waste in the present. By utilizing the collective energy inefficiency of the businesses under its management, EnerNOC provides an effective solution for mitigating demand volatility on power providers. In the same sense, it provides an incentive for business owners with a drop-in solution to recapture some of their lost value due to inefficiency.
Therefore, while EnerNOC appears to be leaving the point of being undervalued, the company's future still remains on course in light of a progressive trend towards a smart energy grid. Investors ought to be on the lookout for a pullback in the near future if management's own suggestive analysis serves to be correct. The company offers a unique solution in a niche field of energy efficiency, but its approach is far from being the only one on the market.
Disclosure: I have no positions in any stocks mentioned, and no plans to initiate any positions within the next 72 hours. I wrote this article myself, and it expresses my own opinions. I am not receiving compensation for it (other than from Seeking Alpha). I have no business relationship with any company whose stock is mentioned in this article.