*Please note that this article serves as the second of three on current intermarket trends, and I advise readers to view the first article prior to this one. (Part 3 is here.)

Any thorough analysis on commodities should consider the role of China as it is the world's largest consumer of commodities. For example, China is poised to consume over 50% of the world's metals by 2020.
China has recently gone from one of the weakest markets to one of the strongest markets; the FXI is up over 30% from the September lows. Accordingly, this article, in examining coal, copper and oil, will often draw on comparisons to Chinese equities.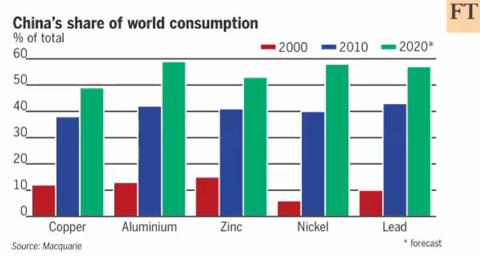 First, notice the strong correlation between the China 25 Index Fund (NYSEARCA:FXI) and the coal sector ETF (NYSEARCA:KOL) in the bottom half of the chart below. 20, 50, and 100 day correlations have remained positive for two years now.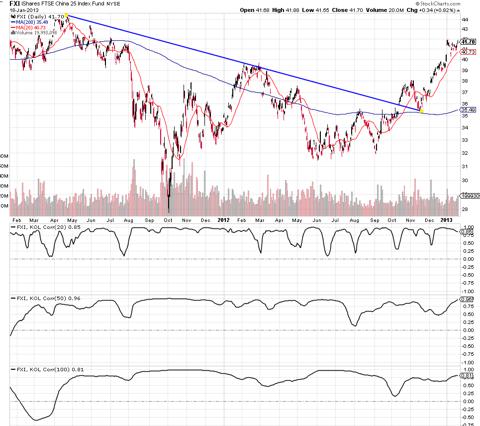 This bodes very well for KOL, and given the 6 month basing pattern that has taken place, a pop could be expected. Notice again the tight relationship between the FXI and KOL in the overlay chart below and how well each ETF tracks movement in the other - only a matter of time until KOL catches up. One can look more specifically within the coal sector for positions; Alpha Natural Resources (ANR), Arch Coal (ACI), Walter Energy (WLT), Joy Global (NYSE:JOY), and Peabody (NYSE:BTU) area a few of the more heavily traded coal stocks (I am long ACI and ANR as of Thursday). Do note however that this is a highly volatile sector to be involved in.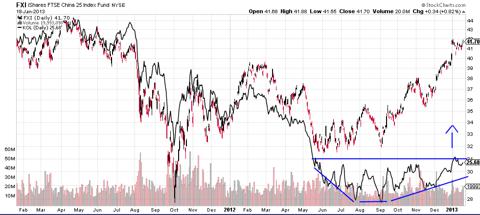 Last week I noted the importance of energy (NYSEARCA:XLE), specifically oil approaching a breakout, and the implications for equity markets that it carried with it. Not surprisingly we saw both the XLE and oil make constructive breakouts in absolute and relative terms last week.
First note the ratio chart of energy to the S&P 500 (NYSEARCA:SPY). While in the long term this is only a small move, this is a decisive break to the upside that looks likely to precede further outperformance in the energy sector.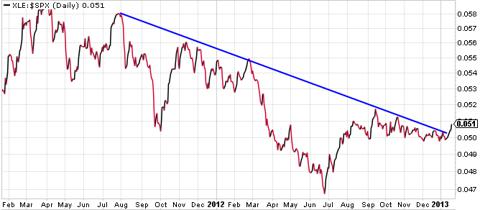 Oil (NYSEARCA:USO) was obviously significant in the relative outperformance of the XLE, and notice the breakout after significant consolidation in the below chart. Next target in oil, which could be realised very soon, is $100. Shorter term technical analysis shows oil to be flagging sideways, and could be ripe for another near term bounce.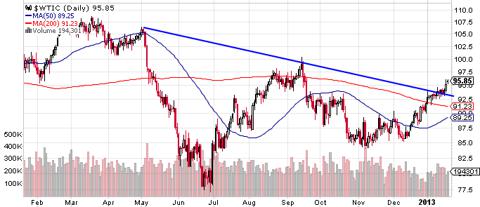 Canada is also a commodity driven economy; note the long term positive (200 day) correlation between the TSX (NYSEARCA:EWC) and the CRB Index (NYSEARCA:CRBQ) below. The shorter term (100 day) correlation has dropped, but one should expect the relationship to return. This means continued strength in the TSX has positive implications for commodities. The TSX however is brushing up against the key resistance level of 12,800. A close above this will be positive for commodities as well as global intermarket equity relationships.
The inverse relationship between commodities and the $USD (NYSEARCA:UUP) is one of the longest standing relationship; note the long term negative correlation in the bottom of the chart below. Short term deviations can happen, and last week both the $USD and the CRB closed up. Given the breakout of energy, oil and strength in many commodities, it appears the $USD will reverse and likely complete the head and shoulders pattern that has developed over the last year.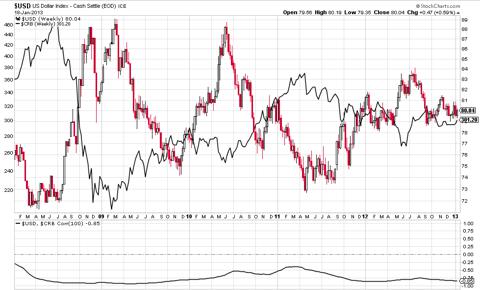 If one looks at a ratio chart of copper (NYSEARCA:JJC) and the S&P 500, one can see a very high positive long term correlation. Copper is often referred to as "Dr.Copper," as it is highly sensitive to the state of the economy. In the below chart one can note that the S&P and copper track price movements quite consistently, and when they diverge, it is typically for short periods of time. Since the beginning of 2013 there has been a significant divergence, with equities experiencing gains while copper has been down. Whether equities experience a long overdue pullback, or copper breaks out of its three year consolidation, one should expect the two to converge to some degree.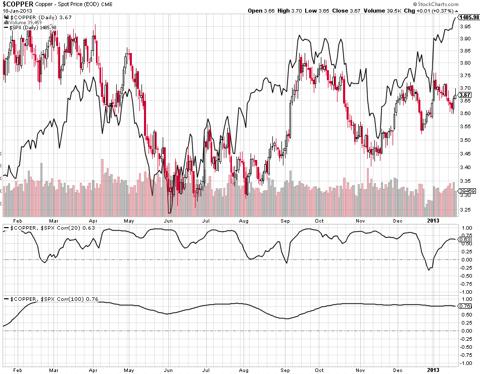 Given all the current intermarket relationships at play, I would expect copper to breakout to the upside of the multi-year consolidation seen below.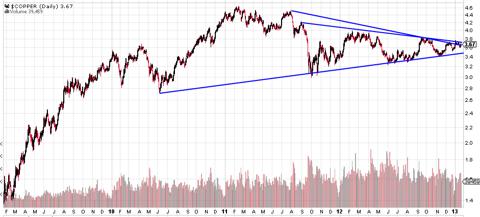 If you agree that oil has broken out and will continue to experience gains, however are nervous of an inevitable equities pullback that will eventually happen, your best trade may be a short in airline stocks. Airline stocks are highly sensitive to the price in oil, and gains in oil typically come at the expense of airline stocks. (NYSEARCA:FAA) is the ETF, and United (UAL), Delta (DAL), and Southwest (LUV) are major components. Note the overextension in the ETF since December and the bearish reversals on Thursday and Friday of last week.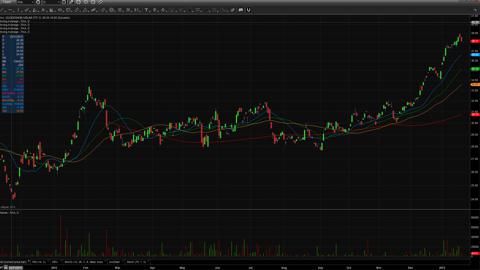 In the below chart one can note that since the bottom was put in place in equities in 2009, stock and commodities have been very highly positively correlated. This relationship weekend in 2012, but appears to be regaining strength, and could be indicative of an impending breakout in commodities.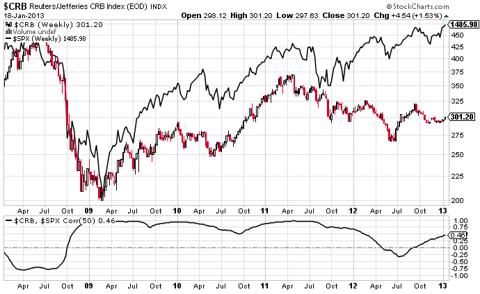 China is the world's biggest importer and user of copper, and must be paid particular attention to when analyzing this metal. Again note how well copper and the FXI track each other's price movement up until fall 2012. Since then the FXI has surged to the upside while copper has continued to consolidate.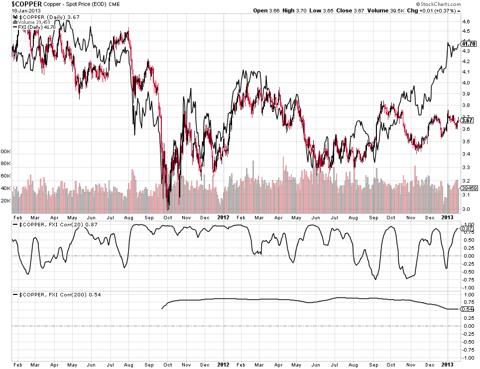 The same divergence in the chart above is currently seen in the HSI (NYSEARCA:EWH) and CRB overlay below. This particular chart makes the divergence since September very obvious.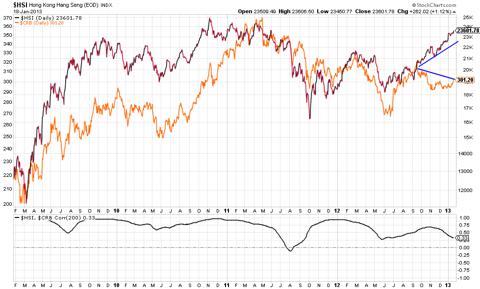 To sum up, there appears to be ample evidence that the CRB is likely going to break out to the upside. Oil has already started a breakout, and one can expect other commodities to follow.
Copper has consolidated for a couple years now, and is bound to break out in the near term. It looks like this move will be to the upside, and this would confirm gains experienced in global equity markets. Failure however to break out to the upside would have bearish implications.
Coal has been in a downtrend since 2011, however appears to have put in a base in the second half of 2012. More detailed technical analysis show that there has been significant stock accumulation in coal stocks, and such analysis can be viewed in my instablog.
Please see article three of three for equities, bonds and currency analysis.
I'd like to thank John Murphy for publishing his recent book "Trading with Intermarket Analysis" where most of these relationships are more thoroughly discussed. I would also suggest to anyone investing in any markets whatsoever to read it. I have no professional relationship with John, and I am simply acknowledging him as his work is the best I have read in all my years of studying and research.
I'd also like to thank Chris Vermeulen at The Technical Traders for sharing thoughts on current market conditions.
Disclosure: I am long ACI, ANR, CLF, HAL, HOV, LOW, NIHD, RDN. I wrote this article myself, and it expresses my own opinions. I am not receiving compensation for it (other than from Seeking Alpha). I have no business relationship with any company whose stock is mentioned in this article.
Additional disclosure: I may get long JJC and other commodity related stocks this week. I may short airline stocks. I am currently short LNKD. My time frame is typically shorter term, from a couple hours to a couple weeks