Syntroleum Corp (NASDAQ:SYNM) was prominently featured by Forbes this weekend in an article that has been missed by most traders. This upcoming Saturday Mazda will be using Syntroleum diesel at Dayton Speedway in a demonstration of their new vehicles. This is a really big deal for Syntroleum.
The fuel being used is a synthetic diesel fuel produced by Dynamic Fuels, a 50/50 venture formed with Tyson Foods, (NYSE:TSN) the world's largest processor and marketer of chicken, beef, and pork. Utilizing fats and oils feedstock from Tyson, coupled with Syntroleum's Bio-Synfining™ technology, the Dynamic Fuels' plant is designed to produce 75,000,000 gallons per year of ultra-clean and high performing renewable synthetic fuels. The first facility of its kind in the United States began commercial operations in November of 2010. The diesel meets ASTM D975 standards, including higher cetane levels, near zero sulfur and superior stability. The unblended diesel fuel can be used in existing conventional fuel infrastructure and engines. The synthetic fuel can also be blended with petroleum diesel to help those fuels achieve superior environmental and performance characteristics. In 2011, Syntroleum contracted with the U.S. Navy to provide fuel for a new fleet of green ships. The fuel is also being tested in shuttle buses operated by Alamo and National Car Rental.
Syntroleum develops the Synfining Process technology for the conversion of Fischer-Tropsch wax into a various products, including diesel fuels, jet fuels, lubricants, naphtha, and other materials. In addition, it offers the Bio-Synfining technology, a second generation renewable fuels technology that processes oils, fats, fatty acids, and grease to make renewable synthetic products. Syntroleum as of the most recent earnings report had $17m in cash. The recent Fiscal Cliff deal was a boon for Syntroleum. In their December 13, 2012 SEC filing the company stated they would receive $23m for 2012 production. The Tax Extenders Bill passed and will give the company $40m approximately once the monies are received.
A look at the Syntroleum chart shows a breakout at 45c leading to a move to the 200-day moving average at 67c. Support lies at 33-35c.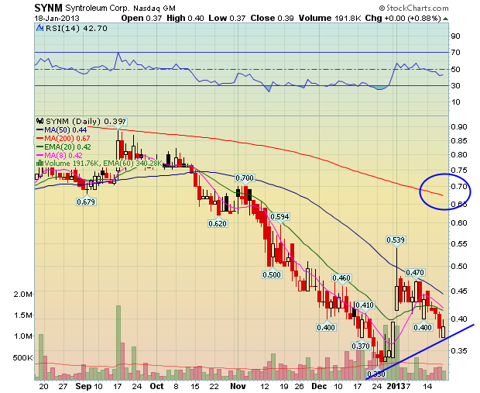 Rentech Inc (NYSEMKT:RTK) could also see some renewed interest on this news with Syntroleum and Tyson Foods. Rentech, Inc. (www.rentechinc.com) owns and develops technologies that enable the production of certified synthetic fuels and renewable power when integrated with certain other third-party technologies. Rentech has been in a solid uptrend over the last year and is attempting a double-top breakout at $3.10. Rentech is in the midst of a multi-year chart breakout.
On Friday Pacific Ethanol (NASDAQ:PEIX) announced it had purchased a larger stake in its ethanol plants and refinanced its debt. The willingness of lenders here and the aggressive stance by the company could indicate a positive outlook for the sector in 2013. This biofuels stock has a chart breakout at 40c with potential to 47c, the 200 day moving average.
The Daytona Race this weekend should bring attention back to biofuels and that in turn should help push Syntroleum back into the focus of traders. With $40m in cash (including the monies from the Tax Bill) Syntroleum is trading under its cash value leaving substantial upside potential in the near term. After an early pop in price in January the stock has consolidated but appears poised to continue its January pop. For value traders looking for a high risk, high reward play in the alternative fuels sector, Syntroleum looks very attractive!
Disclosure: I am long SYNM. I wrote this article myself, and it expresses my own opinions. I am not receiving compensation for it (other than from Seeking Alpha). I have no business relationship with any company whose stock is mentioned in this article.