By: John J. Critchley, Jr.
Google (NASDAQ:GOOG) is poised to report Q4 2012 earnings after the bell on Tuesday, January 22. The search engine giant hopes to avoid a repeat of the debacle of the last earnings release. The last earnings release was indeed a shocker as a weak report sent the company shares tumbling nearly 8% that day. The company also suffered a black eye when these disappointing earnings leaked out before the scheduled release time, causing an unexpected mid day halt in the underlying. All in all, not a shining day for Page, Brin & Co.
GOOG is expected to report net income jumped 12 percent to $3.50 billion, or $10.58 a share, compared with prior year net income of $3.13 billion, or $9.50 a share. GOOG's revenue for the quarter is expected to be a record $12.33 billion, compared with $8.13 billion a year ago, according to the Thomson Reuters survey of 38 analysts. (Source here)
The stock price has been treading water since the last earnings report. After falling nearly 8% following Q3 results, GOOG has risen ever so slightly over the last three months, up only 1% to $700 since October 18th, 2012.
The sentiment remains bullish in the analyst community. Currently, 45 analysts have a rating on GOOG with 13 maintaining Buy ratings, 21 Outperform and 11 Holds. This positive outlook on GOOG is not surprising, given the fact that over the past year the stock has also outperformed both the NASDAQ 100 (NASDAQ:QQQ) and the S&P 500.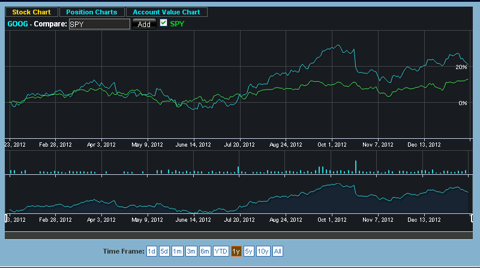 Source: sogotrade.com
However, more importantly than beating estimates and what ratings the analyst community has on the underlying, of course, is how the underlying reacts after reporting. In this area, GOOG has a completely mixed record in the last 6 quarters. The shares have gone higher in the following day in three of the last six reports and lower in the other three quarters. This doesn't leave the investor with much directional guidance.
The average non-directional based percentage move has been 6.14%.

Options Play
What makes playing GOOG's earnings through the use of options quite tricky is that the company has a mixed history in the underlying movement post earnings.
Confused on what to do with the earnings? Long or short? How about playing both ways?
With earnings approaching, the implied volatility of the options is quite a distance from its 52 week highs. The 30 day implied volatility is trading around 29.76%, significantly less from the 52 week implied volatility high of 39.13% hit in July of last year.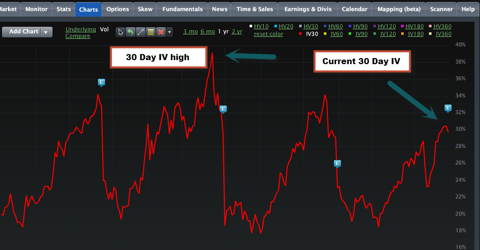 Source: Livevol(R) Pro (livevol.com)

We noticed a quite attractive way to play the earnings release from an implied volatility standpoint.
Trade idea-A Medium Term Long Options Volatility/Premium Play
One could go out to the February 22 '12 options, which present some enticing medium term value.
This is not a specific trade recommendation, but a trade analysis.
The play:
a) Buy February 22 '12 700 straddle for $ 47.35. The implied volatility of this straddle is reasonably priced at 28.52% IV (Implied Volatility).
Net debit: $47.35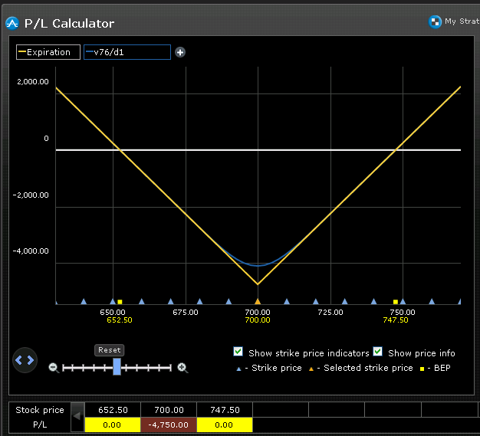 Source: sogotrade.com
Why is the February '25 700 line considered a good value trade? There are a few reasons:
1) The weekly Jan '25 700 strike straddle (buying the 700 strike calls and puts) in GOOG is trading at $38.50. This is implying a nearly 5.6% move in GOOG. As mentioned above, the average non-directional based percentage move has been 6.14%. The weekly straddle seems to be very fairly priced. If GOOG happens to moves less than expected, you will lose a significant portion of the premium you have paid for this straddle. Let's look elsewhere for an earnings play.
2) If you are wary of buying options that expire in a few days and would like to have more time for your "bet" to play out, you have 30 days left before these February '22 options expire. This time period incorporates not only GOOG's earnings, but a slew of other potentially market moving technology earnings (AAPL, AMZN, and NFLX).
3) If we look at the decline in 30 day Implied Volatility post-earnings over the following weeks, the average decline over the past four earnings periods has been approximately 15.362%.

The current 30 day Implied Volatility is around 28.52 %. There will be a normal and expected downward move post earnings in Implied Volatility, but the move should not be as severe as in the past 4 quarters. If the 30 day IV drops as much as it has in the past 5 quarters, then we would see 30 day IV go to 13.25%. We don't expect that sharp a decline and a more reasonable expectation would be IV to mean revert and contract anywhere from 7% to 9 % (just an educated guess). This would take IV to nearly 20%, but nowhere near other historical post earnings IV drops.
4) The average 30 day Implied Volatility going into an earnings release over the past four quarters has been 37.788%. In the chart below, the red line represents 30 Day IV and the E (blue) represents a marker of the 30 day IV going into earnings releases over the past two years. As the chart illustrates, the current 30 day IV of approximately 28%, is at or below historical pre-earnings IV calculations.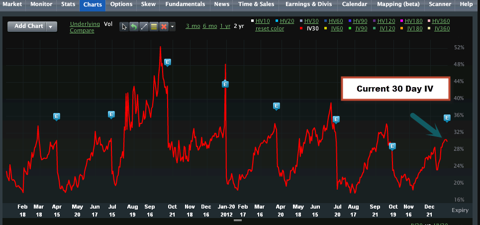 Source: Livevol(R) Pro (livevol.com)

Risk: The earnings report does not cause the expected movement in the underlying. The vega of the November 750 options are approximately $.842 If the underlying does not move and IV contracts as expected (7%-9%) you can expect to lose anywhere from $11.00 to $13.00 on the straddle purchase. This is a significant amount of premium to lose. Be forewarned. This play is for speculative monies only.
Notes: Prices quoted where the prices at time of submission and do not reflect current market prices.
Disclaimer
We are not liable for any trading decisions made by any reader. NO advice is given or implied. The information offered in this article is for demonstration purposes ONLY and should not to be either construed as an offer or considered to be a recommendation to buy or sell any options.
Your use of this information is entirely at your own risk. It is your sole responsibility to evaluate the accuracy, completeness and usefulness of the information. You must assess the risk of any trade with a professional broker, or financial planner, and make your own independent decisions regarding any trades mentioned herein. This is not a solicitation to buy or sell any options, or to purchase or sell any credit spreads. Trading options only carries a high degree of risk, is not suitable for all traders/investors, and you may lose all of your premium money invested in the options. If you have never traded options before, we strongly recommend that you read a little background information made available by the government. Only you can determine what level of risk is appropriate for you. Also, prior to buying or selling an option, a person must receive a copy of Characteristics and Risks of Standardized Options.
Past performances DO NOT guarantee future results. Please consult with your own independent tax, business and financial advisors with respect to any trade. We will NOT be responsible for the consequences of anyone acting on this purely demonstration material.
Disclosure: I have no positions in any stocks mentioned, and no plans to initiate any positions within the next 72 hours. I wrote this article myself, and it expresses my own opinions. I am not receiving compensation for it (other than from Seeking Alpha). I have no business relationship with any company whose stock is mentioned in this article.