What if I told you that over 4 million Americans are living with a disease they may not even know they have? You'd be pretty shocked. According to the Centers for Disease Control, "More than 4 million Americans are living with chronic Hepatitis B or chronic Hepatitis C in the United States, but most do not know they are infected." If that wasn't shocking enough, Hepatitis B and Hepatitis C act as the leading causes for an even uglier disease known as liver cancer, which kills approximately 15,000 Americans each year. In this article I wanted to examine one company that has made many very significant strides in its battle against Liver Cancer, and that company is Celsion (NASDAQ:CLSN).
Before we begin examining what it is Celsion does, we need to first examine the disease in question. What exactly is Liver Cancer? Liver Cancer is broken down into two categories, primary and secondary. According to a featured article on WebMD.com, "Most liver cancer is secondary or metastatic, meaning it started elsewhere in the body. Primary liver cancer, which starts in the liver, accounts for about 2% of cancers in the U.S., but up to half of all cancers in some undeveloped countries. This is mainly due to the prevalence of hepatitis, caused by contagious viruses, that predisposes a person to liver cancer."
Company Overview
Celsion Corp. is an oncology drug development company based in Lawrenceville, New Jersey, which "engages in the development and commercialization of targeted chemotherapeutic oncology drugs based on its proprietary heat-activated liposomal technology."
As of January 22nd shares of CLSN currently carry a market cap of $265 million, have traded up 136.70% since August 1st and trade at about a 4.50% premium to their 50-DMA and at an 67.19% premium to their 200-DMA. As of September 30th, 2012 and from a balance sheet perspective, Celsion has $22.55 million in cash, or $0.61/share. Investors should note that shares of Celsion also carry a book value per share of $0.37/share.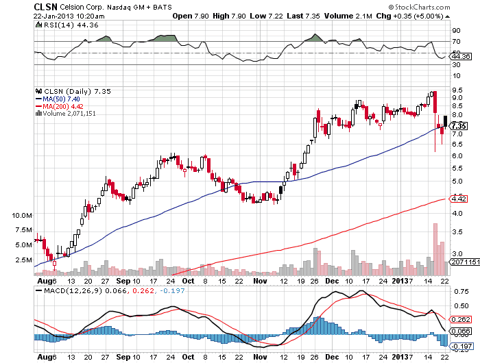 Recent Developments
On Tuesday January 22nd, it was announced that Celsion had signed a technology development agreement with a Chinese company by the name of Hisun in an effort to manufacture and market its lead-drug candidate better known as ThermoDox in China, Hong Kong and Macau. According to the terms of the deal there are several milestone payments that will be paid to Celsion from Hisun over the next few years and beyond.
A credit of $10 million from the two payments ($5 million for the technology development agreement and $5 million for the exclusive option) toward a non-refundable upfront license payment of $25 million due to Celsion at signing of the definitive license agreement.
An approximate 10 year total value to Celsion of well over several

hundred million

, which includes: $55 million in upfront milestone and regulatory milestone payments within the next 18 months, $45 million in milestone payments for reaching certain sales targets, and Escalating double-digit royalties on net sales of ThermoDox

in

the Greater China Territory.
Hisun will serve as both the manufacturer and distributor of the ThermoDox® drug product for the Greater China Territory, and also take responsibility for local regulatory activities including submitting approvals in China to the state Food and Drug Administration (sFDA)
Thermodox Overview
What exactly is ThermoDox and how is it applied? According to its website, "ThermoDox, delivered by IV infusion, is designed to be used in combination with hyperthermic (heat-based) treatments, such as radiofrequency thermal ablation, better known as RFA, microwave hyperthermia and high intensity focused ultrasound (HIFU). The goal of the ThermoDox approach is to expand the effective treatment zone of these technologies to capture micro-metastases which are most commonly responsible for post-treatment disease recurrence." In the photo below we can see how the application of ThermoDox has been demonstrated in vivo or more specifically in animal models, and as a result has been shown "to deliver 25 times more doxorubicin than IV doxorubicin into tumors, and five times more doxorubicin than standard liposomal formulations of the drug."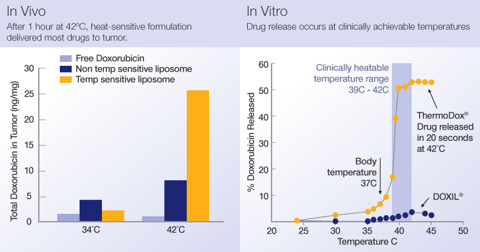 The company's goes on to note that ThermoDox leverages two mechanisms of tumor biology to deliver higher concentrations of drug directly to the targeted tumor site. "First, tumors have leaky vasculature, which is permeable to liposomes and enables their accumulation within tumors. Second, when heated, blood vessels in tumors become even more permeable, further increasing the accumulation of liposomes in tumors before releasing the drug payload." If Celsion can demonstrate that ThermoDox has successfully leveraged both mechanisms within its patient pool when Phase III trial results are announced before the end of January, I think potential long-term investors may have the positive catalyst they need in order to establish a position.
Are there any potentially negative catalysts to consider when it comes to Celsion? In my opinion there are two things to consider. First and foremost, what if Hisun is wrong and Phase III trials fail to achieve any number of their primary endpoints? If that becomes the case, and such endpoints aren't met, then I think we could see a significant selloff in the stock. The second thing investors need to consider is the deal between Celsion and Hisun. If at any point Hisun is unable to pay or fails to pay Celsion with regard to revenue generation through its Chinese manufacturing and marketing efforts shareholders could be in for a very rocky ride over the next few years.
Final Analysis
For potential investors looking to establish a position in Celsion, I'd take a closer look at the fundamentals and keep a close eye on the company's recently announced agreement with Hisun. Given the fact that Celsion has made considerable strides in terms of ThermoDox, I'd look to establish a small-to-midsized position prior to the announcement of Phase III clinical trials which are due out by the end of January.
Disclosure: I have no positions in any stocks mentioned, and no plans to initiate any positions within the next 72 hours. I wrote this article myself, and it expresses my own opinions. I am not receiving compensation for it (other than from Seeking Alpha). I have no business relationship with any company whose stock is mentioned in this article.