Apple (NASDAQ:AAPL) is facing its most challenging quarter in years in terms of expectations.
Philip Elmer-Dewitt of Fortune notes that mainstream analysts have revenue/EPS estimates ranging from $51.7B/$11.53 to $59.6B/$15.50. Independent analysts take that up to a high of $62.8B for revenue and EPS estimate of $16.85 (cutting the outlier which is another dollar higher yet).
In an post elsewhere back on Dec. 3, I laid a plan of what I thought were reasonable expectation. The Christmas data is in, and it appears sales were somewhat restrained (partly due to the "fiscal cliff" uncertainty), so I would like to temper my outlook a bit.
First a look at historic sales trends for what I call the iDevices as presented in this chart.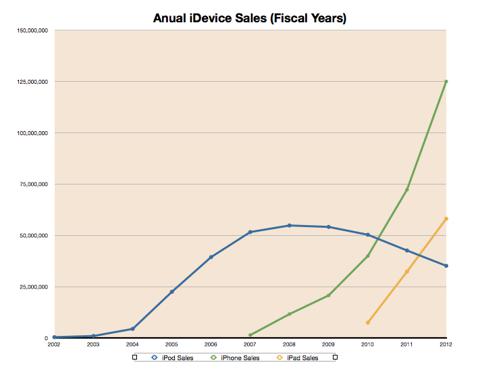 Some people argue that Apple now faces steeper competition from a growing number of system than it did in its earlier days. Google's (NASDAQ:GOOG) Android is now leading in the smartphone marketshare. Microsoft (NASDAQ:MSFT) Windows Phone 8 is coming on strong (see Android Dead? WP 8), and RIM (RIMM) may be coming on strong, especially with the well received phones from Nokia (NYSE:NOK).
1 - Macs
I reduced my Macs estimates from 5.6M to 5.2, as the limited availability of the new iMacs, plus macro factors will have tempered sale..
Macs

Units

(millions)

ASP

Revenue

(millions $)

yoy

units

yoy

revenue

Q1 2012:

5.2

$1,269

6,598

+26%

+22%

Dec 3:

5.6

$1,360

7,616

+8%

+15%

Projection:

5.2

$1,360

7,072

+0%

+0.7%
2 - iPods
I have left my projection here the same.
iPods

Units

(millions)

ASP

Revenue

(millions $)

yoy

units

yoy

revenue

Q1 2012:

15.4

$164

2,528

-21%

-26%

Projection:

12.3

$170

2,094

-20%

-17%
3 - iPhones
I will not go into detail on my argument here from the previous article, but I will make a few points.
In that article I wrote:
We do know a few things:

The historic growth
It will be available in China next month
Apple knows all this as well - so they have been planning for it
The iPhone 5 has met with great sales
The introduction the iPhone 5 in China is now history, and it went very well, with over 2 million units sold the first weekend. I am thinking that with that sales for the introduction, most likely they sold a total of 5 - 6 million before the year was out. This figure should be incremental to what people projected earlier, as both the intro itself and the success thereof were unforeseen.
Still, given the malaise in the USA and Europe, I will temper my results somewhat, reducing from 56 million units to 52.
iPhones

Units

(millions)

ASP

Revenue

(millions $)

yoy

units

yoy

revenue

Q1 2012:

37

659

24,417

228%

217%

Dec. 3:

56

650

36,400

151%

149%

Projection:

52

650

33,800

141%

138%
In Part 2 of my earlier report, I took on the challenge of trying to estimate the number of iPads to be sold. I used projections from previous growth curves (chart 1, above) tempered by a stiffer competition scenario to figure out how many iPad grandes should have been sold if not for the new iPad Mini. I then worked in a figure for the Mini, and hypothesized a cannibalization rate of 40%.
Here is the old chart:
iPads

Units

(millions)

ASP

Revenue

(millions $)

yoy

units

yoy

revenue

Q1 2012:

15.4

593

9,153

+111%

+99%

Projection iPad 4:

20.0

610

12,200

+30

+33%

Projection Mini:

10.0

390

3,900

-

-

Total:

30.0

536

16,100

-

-
----
Here I am reducing my overall iPad grande numbers, but recent reports indicate the mini numbers need to be increased.
So here are the new projections:
iPads

Units

(millions)

ASP

Revenue

(millions $)

yoy

units

yoy

revenue

Q1 2012:

15.4

593

9,153

+111%

+99%

Projection iPad 4:

16.0

610

9,760

+4

+7%

Projection Mini:

12.0

390

4,680

-

-

Total:

28.0

536

14,440

+82%

+58%
This shows a total yoy unit increase of 82% which seems very high until you remember that the Mini is a brand new product. At its lower price point, it is bound to bring in new customers.
Others
Finally, the others category contains a few of items of revenue. For these I just rounded up from last year, as the amounts are not large (relative to the other products).
| | |
| --- | --- |
| Category | Revenue |
| Other Music Related Products / Services | 2,200 |
| Peripherals and Other Hardware | 800 |
| Software, Service and Other Sales | 900 |
---------------------
TOTALS
---------------------
Total Revenue
The total revenue is summarized in the table below. It contains the income from each of the units discussed in the previous sections. The projection for total revenue comes to $61,306.
Apple Inc.

Q1 2012 ESTIMATED Summary Data

Units

Revenue

ASP ($)

(Units in thousands, Revenue in millions)

Subtotal Mac

5,200

7,072

1,360

iPod

12,300

2,094

170

Other Music Related Products / Services

2,200

iPhone + Related Products / Services

52,000

33,800

650

iPad 10" + Related Products / Services

16,000

9,760

610

iPad MINI + Related Products / Services

12,000

4,680

390

Peripherals and Other Hardware

800

Software, Service and Other Sales

900

Total

$ 61,306
The Bottom Line
I have also come down significantly on the gross margin. While Apple typically beats here, I probably was a little generous. I do think that many people holler that the iPad Mini will bring down margins, but in fact it seems to have higher margins than it larger sibling. The figure I saw was about 40%. In the end, I am reducing gross margin by 1% from my earlier estimates to 40%.
So…
The bottom line is shown in the table below. The computations are as follows. We start with the projected total revenue of $61,306 million. We give a gross margin of 40%. The net margin has been running 17 points below the gross margin, which gives us 23%. Applying this we get the a net income of $14,100 M. Dividing by the number of shares give the EPS of $14.99.
FQ1 2012

FQ1 2011

FQ1 2013

Apple Projection

FQ1 2013

My Estimate

Net sales

46,333

26,741

52,000

$61,306

Cost of sales

25,630

16,433

32,240

36,784

Gross margin

20,703

10,298

19,760

24,522

Gross margin %

45%

39%

36%

40%

Net Margin %

28%

22%

21%

23%

Net Income

13,064

6,004

11,053

14,100

EPS

$13.87

$6.43

$11.75

$14.99
Shares Outstanding (FQ4-2012): 940.69M
Note: Apple Projection: Bold = from Apple, Italics = calculated (based on share count)
FQ4: Peter Oppenheimer, Apple's CFO. "Looking ahead to the first fiscal quarter of 2013, we expect revenue of about $52 billion and diluted earnings per share of about $11.75."
Conclusion
The numbers give a projected EPS of $14.99, a figure well above Apple's estimate. Apple, however, is notorious for its low estimates. My figure is only 8% over the year ago quarter. Given Apple's history, this seems to be a rather conservative number.
Let me know what you think.
Disclosure: I am long AAPL. I wrote this article myself, and it expresses my own opinions. I am not receiving compensation for it (other than from Seeking Alpha). I have no business relationship with any company whose stock is mentioned in this article.
Additional disclosure: I may take long/short options position in any of the mentioned stocks within the next 72 hours.