Much has been made over the last several months of the fact that quantitative easing from the U.S. Federal Reserve may no longer be working to artificially lift asset prices. Such conclusions were premature, however, as the Fed's latest stimulus program had not truly gotten underway in earnest despite being first announced in mid-September. That is, of course, until the start of the New Year when U.S. Treasury purchases were added to the mix. This already appears to be changing how the stock market is responding on a day-to-day basis in a positive way. This does not necessarily mean, however, that stocks are set to continuously rise forever and to infinity.
The liquidity flowing into the market from QE3 had been sluggish and sporadic for the first several months of the program. This was due to the fact that QE3 only focused on the purchase of mortgage-backed securities (MBS) at a rate of $40 billion per month. Although the Fed was actively purchasing these securities along the way, the settlement of these transactions only occurs on three selected days each month. Moreover, it can take a few months before these purchases reach settlement. For example, the Fed's purchase of a block of 30-year GNMA securities all the way back on November 7, 2012 just now reached settlement over two months later on Tuesday of this week. As a result, the cash from this program had previously been flowing into the system in big chunks, with the stream of liquidity otherwise running dry on most days.
This all changed on January 4 with the launch of the U.S. Treasury purchase program by the Fed at a rate of $45 billion per month as an additional QE3 component along with ongoing MBS purchases. Now, instead of just $40 billion of asset purchases each month that are only sporadically flowing through to the financial system, the Fed is buying $85 billion in securities per month. And unlike the MBS purchases that only settle on a small handful of days each month, Treasury purchases settle nearly every trading days. As a result, the flow of liquidity being injected into the market is now coming at a rate of $2.5 billion on average each and every trading day. In other words, the stream that was normally running dry outside of the periodic flood is now flowing steadily on a daily basis.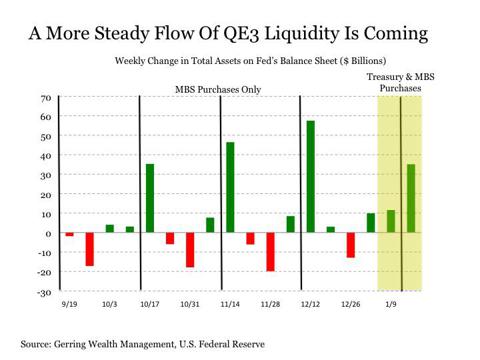 The change in the composition of QE3 is particularly important for the following reason. For when the Fed's balance sheet has entered into periods where it was sustainability increasing week after week, the stock market has shown the propensity to drift higher regardless of the economic and market realities festering underneath the surface.
A look back at the Fed's last major round of asset purchases under QE2 highlights this point. Over the entire duration of QE2 from mid November 2010 to the end of June 2011 when the Fed was purchasing Treasuries at a rate of $80 billion per month, the Fed's balance sheet expanded in 35 out of the 37 weeks over this time period. And after the stock market started this stretch flat for a few weeks to close out November 2010, it entered into a period over the next few months through mid February 2011 where it registered a +14% gain and increased on a remarkable 71% of trading days, which is over +3 standard deviations above the long-term historical average at roughly 52% of all trading days. Of course, this seemingly relentless rally came at a time when the economic recovery remained sluggish at best, the rate of corporate earnings growth was starting to stall and the crisis in Europe was continuing to unravel, which is hardly the backdrop of a resoundingly bullish stock market.
Thus, it would not be surprising to see stocks continue their drift higher in the coming weeks. This may even occur despite the fact that the market is already technically overbought, as past rounds of QE also saw the stock market push endlessly higher along the high end of these readings for an extended period of time.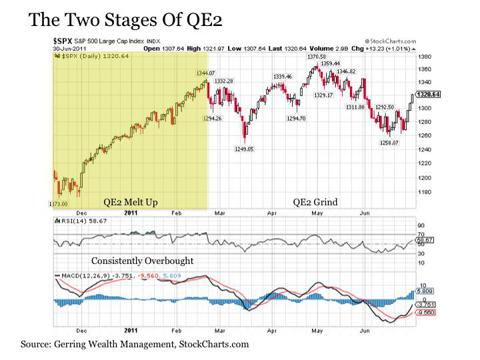 This does not mean, however, that the melt up in stocks will necessarily continue forever under QE3. For stocks have also shown the propensity to eventually run out of steam under the influence of balance sheet expanding monetary stimulus. Returning to QE2 as a past example, once stocks had completed their remarkable push higher from the end of November 2010 through the middle of February 2011, they suddenly fell flat for the remainder of the QE2 program through the end of June 2011. This included gains in a far less noteworthy 54% of trading days. Moreover, stocks declined by -2% over the entirety of this second phase that included swings of as much as -8% lower and +10% higher. Therefore, what had once been a placidly rising market during the early stages of QE2 eventually became a wildly chopping trading market over the latter stages.
So as we move forward in this newest phase of QE3, it is very possible that we may see stocks continue to drift higher for an extended period of time. More specifically, this is likely to not only include U.S. stocks (NYSEARCA:SPY) but also mid-cap stocks (NYSEARCA:MDY), developed international stocks (NYSEARCA:EFA), emerging market stocks (NYSEARCA:EEM), high yield bonds (NYSEARCA:HYG), real estate (NYSEARCA:VNQ) and emerging market debt (NYSEARCA:EMB). And these gains may occur no matter what the economy spews out along the way. But it is important to not become complacent during any extended rally, for such gains are not likely to continue forever. At some point, the marketplace will become exhausted even under the influence of QE3, particularly if valuations begin to stretch beyond reason in an environment where economic and market data are repeatedly disappointing and/or a new geopolitical event rises to the forefront.
Unfortunately, a bell will not ring when the market transitions into its next phase. Thus, maintaining portfolio hedges in other asset class categories that can consistently rise under the influence of Fed stimulus but perhaps for different reasons also remains worthwhile. Leading among these is gold (NYSEARCA:GLD) and silver (NYSEARCA:SLV), both of which stand to be direct beneficiaries of the currency debasement associated with the Fed along with other global central banks continuously increasing the supply of their currencies. In establishing these exposures, the Central GoldTrust (NYSEMKT:GTU), the Central Fund of Canada (NYSEMKT:CEF) or the Sprott Physical Silver Trust (NYSEARCA:PSLV) are all preferred vehicles. Other more defensive categories that are negatively correlated to stocks such as U.S. TIPS (NYSEARCA:TIP) and Build America Bonds (NYSEARCA:BAB) also stand to benefit with more consistency from the Fed's latest program and provide a diversification benefit over time.
This post is for information purposes only. There are risks involved with investing including loss of principal. Gerring Wealth Management (GWM) makes no explicit or implicit guarantee with respect to performance or the outcome of any investment or projections made by GWM. There is no guarantee that the goals of the strategies discussed by GWM will be met.
Disclosure: I am long BAB, CEF, EEM, GTU, HYG, MDY, PSLV, TIP. I wrote this article myself, and it expresses my own opinions. I am not receiving compensation for it (other than from Seeking Alpha). I have no business relationship with any company whose stock is mentioned in this article.