Despite the economic, political, economic, and currency crisis faced over the years, Southeast Asia has become a favourite investment destination, drawing an influx of private-equity firms and other ETF sponsors. The region has a population of 532 million and GDP of at $2.9 trillion in 2011 (growing at about 8% annually). Southeast Asia is also home to an expanding middle class, creating investment opportunities in industries such as organized retail, consumer products, health care, education, transportation, and telecommunications. Southeast Asia also benefits from its rich endowment of natural resources, which include oil and gas, minerals, palm oil, and agro-commodities. Strong demand is increasing wealth and powering the growth of adjacent industries such as oil services and logistics and transportation.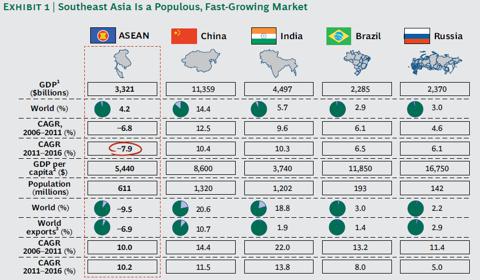 Source: BCG
Southeast Asian economies are expected to show resilience through 2017, maintaining the same level of growth momentum as during the pre-crisis period, although real GDP growth in the rest of Emerging Asia, in particular China, will begin to slow gradually. As the economic outlook remains subdued for the developed world in 2013, investors should look at Southeast Asia for superior returns.
Real GDP growth of Southeast Asia, China and India (annual % change)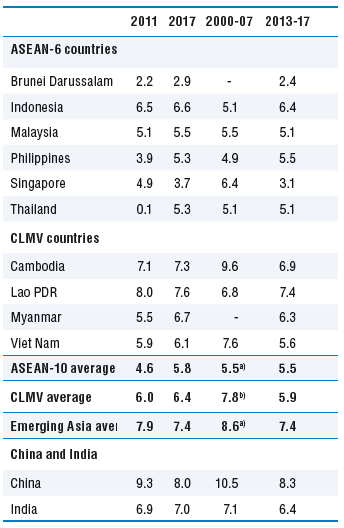 Source: OECD Development Centre, MPF-2013.
BCG's report "Private Equity in Southeast Asia: Increasing Success, Rising Competition" cites the following five reasons as the major driver behind the region's growth.
1. Large Labour Pool: Southeast Asia's growth engine was initially export driven, with multinationals from industrialized countries looking at the region as a low cost option. The region (half the land mass of U.S.) has about 2x U.S. population or 40% of China's population. According to PWC research, Indonesia alone has a labour force that is on par with that of the U.S. or all of Europe; and the combined labour force of the 'fastest five' eclipses the United States and all of Europe and totals about one-third of China's sizable workforce. During 2005-2009, the labour force for the 'fastest five' grew 7.4% to 255 million (vs. 3.2% for China).
Globally competitive labour has led to developing countries exploit the region as a hub for global manufacturing and to access the Asian markets. For example, Thailand has showcased itself as an auto manufacturing hub of the region with operations across the value chain.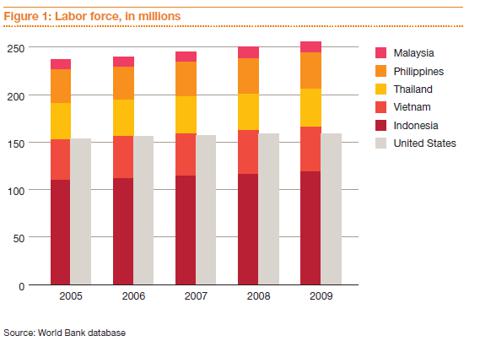 According to UNESCO data, Indonesia, Thailand, and Vietnam have witnessed steady increases in adult literacy rates averaging at around 95% with knowledge of English as well. The regions governments on average spend 18% of their government expenditure towards education (Vs.14% in U.S.)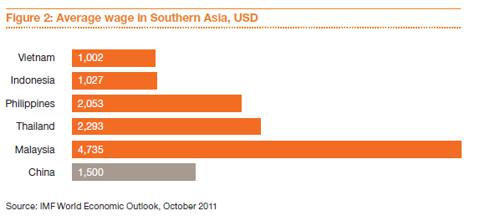 Source: PWC
As a result, manufacturing in Southeast Asia would benefit from the increasing movement by companies away from China and into other markets-reversing the trend of the past 15 years, when manufacturing migrated northward from Southeast Asia to China.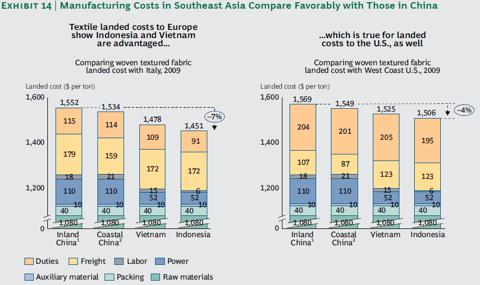 Source: BCG
As inflation has eroded China's cost advantage, companies across multiple sectors are flocking to Southeast Asia, drawn by its competitive costs and its potential to serve as a hedge against new Western curbs on Chinese goods.
2. Urbanization and a Swelling Middle Class: Southeast Asia's largest economies, Indonesia, Malaysia, the Philippines, and Thailand, along with Vietnam and Singapore, had a 2010 combined gross domestic product (NYSEMKT:GDP) at purchasing power parity of approximately USD 3 trillion, equivalent to nearly three-fourths of Japan's and one-third of China's economies. Despite this large market base, the region remains relatively untapped and underserved. For example, in Indonesia, which is the fourth most populous country in the world after China, India, and the United States, industries such as automotive and banking still have low penetration; most people do not own a car, nor can it be assumed that they maintain bank accounts or use credit cards.
As fast as Southeast Asia's GDP is growing, its consumer class is growing even faster. Approximately 102 million households in the region are projected to achieve middle-class status (that is, an annual income of more than $3,000) by 2015, up from about 75 million today, and consumer expenditures are expected to grow rapidly. That creates investment opportunities in industries such as organized retail, consumer products, health care, education, transportation, and telecommunications.
3. Economic Liberalization: Economic reform has spread across the region. Indonesia is breaking down restrictions on foreign ownership, and Malaysia has actively focused on the creation of a PE sector. More recently, Myanmar appears to be embarking on a dramatic, if fitful, shift toward greater political openness and a market economy. Chastened by the 1997 Asian crisis, central banks in the region have upped their game. Monetary policy across the region has stabilized, and interest rates and currency movements, with the exception of those in Vietnam, have been relatively stable. The banks have also strengthened their management of excess capital, which was such a significant driver of the currency disruptions of 1997.
4. Rising Regionalization and Intraregional Trade: Although Southeast Asia encompasses ten very different countries, each with its own distinct business culture, economic integration is rising. Trade within the region is again on the upswing after faltering during the global financial crisis. The Association of Southeast Asian Nations (ASEAN) is formally targeting 2015 as a date to establish a common single market with a freer flow of labor and reduced tariffs. It remains an open question whether the alliance can fully implement its agenda, but the possibility alone is already fueling rising cross-country competition in multiple sectors. A growing number of more nimble business groups, such as AirAsia, Maybank, and CIMB, are establishing footholds in multiple countries in the region.
5. Rising Demand for Resources: Southeast Asia is benefiting disproportionately from its rich endowment of natural resources, which include oil and gas, minerals, palm oil, and agro-commodities, among others. Strong demand is increasing wealth while powering the growth of adjacent industries such as oil services and logistics and transportation. In Indonesia, for example, the oil and gas services sector grew at a CAGR of 12.3% from 2005 to 2012, tracking the rise in oil prices from about $55 per barrel in 2005 to around $100 per barrel today. The oil and gas sector currently accounts for 8.5 percent of Indonesia's GDP, 25 percent of budget tax and nontax revenues, $10 billion of annual expenditures on exploration and development and production, and $30 million per year of community development investment.
According to this WSJ article, the region has seen increased interest from some of the world's biggest private-equity firms. Blackstone Group LP (NYSE:BX) and Kohlberg Kravis Roberts (NYSE:KKR) opened their Singapore offices in 2012, while Carlyle Group (NASDAQ:CG) recently closed its first Southeast Asia deal (investment in Indonesian telecom towers operator PT Solusi Tunas Pratama). But even as the value of transactions surges, the region remains a tough place to make a deal. The main reason, high competition leading to rocket high valuations. Companies, particularly those in Japan and Korea, are looking there for growth, more so as growth stalls in India and China and are of happy to pay more than private-equity investors.
Investors can gain exposure to these regions using the following ETFs.
Disclosure: I have no positions in any stocks mentioned, and no plans to initiate any positions within the next 72 hours. I wrote this article myself, and it expresses my own opinions. I am not receiving compensation for it (other than from Seeking Alpha). I have no business relationship with any company whose stock is mentioned in this article.