Going into Thursday's earnings announcement (after the close), Starbucks (NASDAQ:SBUX) has been doing quite well lately, consistently growing sales at about 11% (with 14% projected for next year). Earnings have shown similar results. The total number of stores increased by 415 (2.4%) last quarter, a larger number than any of the past eight quarters.
The stock has shot up by about 10% since November, and analysts seem to like the company, with 12 rating it a "strong buy," 11 rating it a "buy" and 7 a "hold" according to Yahoo! Finance.
The company has a good record of increasing dividends, doubling quarterly payments from $.10 in March 2010 to $.21 today. They have raised the dividend every year since initiating them in the July quarter, so we should not expect to hear about another increase this week. The payout ratio is about 38%, a little on the high side, at least until a couple of more quarters of increased earnings takes place. The yield is only 1.52% at this time, but if they continue increase it each year, it may become more significant over time.
The stock is selling well above its 50-day and 200-day moving averages, so there does not seem to be a potential problem on those technical indicator scores, and the 14-day RSI is 55, a neutral reading.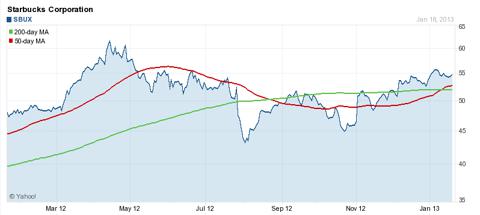 In the anecdotal department, on January 14th, Jim Cramer called SBUX a "buy" on CNBC's Mad Money and my favorite Seeking Alpha author, George Acs, likes the company.
On the other hand, there are some concerns about valuation. The trailing 30.6 p/e ratio is high (earnings $1.79/current $54.80 price). This compares to a growth rate of about 11%. This makes the company quite pricey compared to a company like Apple (NASDAQ:AAPL), (cash-adjusted 8.7 trailing p/e) or less than half its growth rate (24% historical, 18% projected). By this comparison, SBUX looks quite expensive right now.
Analysts expect SBUX to earn $2.16 per share for 2013 which would result in a p/e ratio of 25, still high compared to the average of 14 times earnings for the S&P 500 index.
The recent 2% payroll tax hike might cause some problems at Starbucks - "a specialty drink that costs $4 or $5 might be one of the first discretionary expenses that middle class consumers reduce or eliminate. If so, Starbucks could be a likely candidate to announce weak guidance for the first quarter." - Why Target, Wal-Mart, And Starbucks Shares Could Take A Hit Soon.
There has been a great deal of publicity about Starbucks' home-brewing coffee system "Verismo" released late last fall. With this new device, Starbucks entered the profitable single serve coffee market which has been controlled by Green Mountain Coffee Roasters (NASDAQ:GMCR) with its "Keurig" machines. I consider this to be a negative for the company. Every cup of Starbucks coffee that is brewed at home or in an office represents the sale of a commodity-priced (i.e., low margin) cup rather than a high-margin fresh cup of coffee at a Starbucks store. This is cannibalization at its worst.
The thing that scares me most about SBUX going into the earnings announcement is how the market has responded to recent earnings announcements. SBUX rarely misses or exceeds expectations by a large margin. In three of the last four quarters it exceeded expectations by a penny, and in the other quarter it came up two cents short. So while these differences were minimal, the market's reaction was huge. Twice in the last four quarters, the price moved more than 10% after the earnings announcement (down in July 2012 and up in October 2012) in spite of the small differences between actual and expected earnings.
Compare these two 10% swings in the stock with Apple which is considered to be a more volatile stock and quite dependent on sales of new products rather than an ongoing business of providing an expensive coffee service. New product sales can fluctuate all over the place and AAPL is unusually secretive about what those sales might be, causing all sorts of uncertainties leading up to earnings announcements.
In spite of these uncertainties, and AAPL exceeding or disappointing by large margins, AAPL stock has not fluctuated by 10% after the announcement once in the last four quarters. The largest change (up 8.9%) took place after the April 2012 announcement. I recently wrote an article on the AAPL earnings situation that might be of interest here - A Remarkably Safe Way To Play The Apple Earnings Announcement.
In summary, while SBUX has a lot of things going for it, the high current stock valuation, the recent run-up in price, and some possible adverse external issues (e.g., lower demand due to payroll tax rise and increased single-cup do-it-yourself coffee consumption) makes it a little dangerous to invest in the stock right now, at least before the earnings announcement.
On the other hand, it might be a good time to consider an options investment. As is usually the case just prior to an earnings announcement, there is a huge implied volatility (IV) difference between the various option series:
| | | | |
| --- | --- | --- | --- |
| SBUX |   | Implied |   |
| Option Series | Expiration Date | Volatility | Theta |
| Jan4-13 | 1/25/2013 | 60 | $16 |
| Feb-13 | 2/15/2013 | 29 | $3 |
| Mar-13 | 3/15/2013 | 25 | $2 |
| Apr-13 | 4/19/2013 | 24 | $1 |
| Jul-13 | 7/19/2013 | 25 | $1 |
IV for the Jan4-13 options that expire the day after the SBUX earnings announcement is more than double any other monthly options series. A promising investment would be to sell as many of those "expensive" options as possible if you could figure out how to protect yourself against a big move in the stock. Calendar spreads at strikes both above and below the stock price would be my preference here as long as you attended to two possible adverse possibilities - an implosion of IV after the announcement and an exceptionally large stock price move (10% or so). Both possibilities are quite likely, unfortunately.
You can protect against the IV implosion by buying longer-term options to use as collateral for selling the highly-priced Jan4-13 options. My preference would be the Apr-13 series which has a lower IV than any other month - those options are far less likely to implode after the announcement.
Second, I would tie up some capital by buying some longer-term puts and calls (straddles or strangles) as protection against a big price move. If the stock remains flat (as you hope it would do with calendar spreads in place), the straddles or strangles should fall in value only by the theta amount for a couple of days, a minimal concern. Of course, they might fall in value if IV implodes, but I think that is unlikely if you use the Apr-13 series for these long purchases.
If the stock moves big-time after the announcement (as it has done twice in the last year), the extra puts and calls should hopefully increase in value by enough to cover the loss in the calendar spreads.
Here is the risk profile graph for the option purchases I think offer the best chance of success going into SBUX's earnings announcement after the close on Thursday:

Here are the positions I used to create the above graph:

These positions would require about $7700 to place, and the expected gains range from about 15% - 20% after commissions. I like to think that most of the initial investment is really not at risk because the value of the 15 extra puts and calls should remain about the same for the two days regardless of what the stock does. (Of course, IV may fall and push these values down, but since we are dealing in the lowest-IV month out there, I don't believe there will be much of an implosion.)
As I said in my earlier AAPL article, since the options market is supposedly totally efficient, a strategy like this that shows a gain no matter what happens to the stock should not be a possibility. But as long as IV of the April options does not plummet after the earnings announcement, these positions should result in a decent profit for the week. It might be "only" 5% or 10%, but annualized, those kinds of gains can add up nicely.
Disclosure: I am long AAPL. I wrote this article myself, and it expresses my own opinions. I am not receiving compensation for it (other than from Seeking Alpha). I have no business relationship with any company whose stock is mentioned in this article.
Additional disclosure: I own long and short option positions in SBUX as indicated in the article.