By David Urani
The December existing-home sales report from the National Association of Realtors is in and it wasn't necessarily an encouraging result for the market, having posted a 1.0% decline month to month to 4.94 million units annually. That was also below the 5.1 million consensus estimate. Breaking out single-family units it was the same story, with a decline of 1.4% month to month to 4.35 million units. Regionally, sales were down modestly in the Midwest and South, and up modestly in the Northeast and West.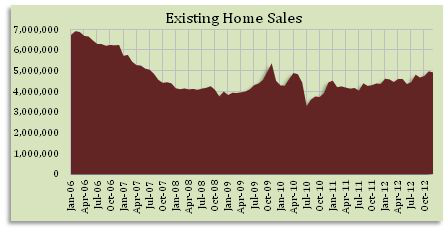 Despite the slight lull for the month, recall that this December result is down from a strong November number that, aside from a tax credit fueled 5.4 million unit reading in late 2009, was the best result since mid-2007.
I am actually somewhat encouraged by the data, as even though the demand side was flat, the supply side remains bullish. Total inventory of existing homes went down by another 8.5% month to month, a fourth month in a row of declines. That puts the supply of homes at 1.8 million, or just a 4.4-month supply. Supply hasn't been this short since mid-2005, when the housing boom had huge momentum.
Consequentially, the supply/demand picture may continue to give prices upward pressure. And in the meantime, it may be a bullish omen for homebuilders, who may help to make up for shortfalls in supply. In fact, the flat headline result for existing home sales may partially be a function of a lack of available homes for sale in some regions.