Google (NASDAQ:GOOG) reported fourth quarter earnings and completed yet another successful year characterized by continued revenue and earnings growth. In the release, CEO Larry Page stated:
We ended 2012 with a strong quarter. Revenues were up 36% year-on-year, and 8% quarter-on-quarter. And we hit $50 billion in revenues for the first time last year - not a bad achievement in just a decade and a half. In today's multi-screen world we face tremendous opportunities as a technology company focused on user benefit. It's an incredibly exciting time to be at Google.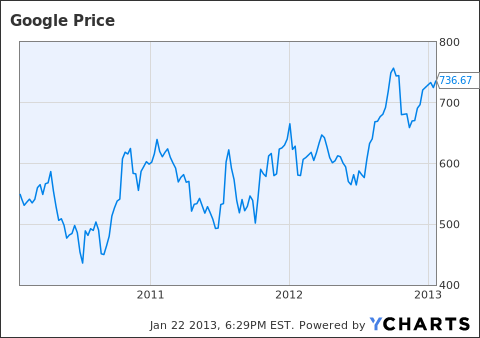 data by YCharts
These words about a "multi-screen world" place Google in a current position to take advantage of the coming opportunities in search, social, and mobile. The brilliance of the Google's business model is that it lends itself to providing a service and is not necessarily reliant on consumers to buy "new" products. I spoke of this concept in an article entitled "Google: With Or Without The 'X-Phone' Has A More Sustainable Business Model Than Apple". The fourth-quarter and full year earnings (below) not only illustrate that the company is strategically placed in the market to benefit from the continued operations of the internet, but also that the company is expanding its "non-core" business through an expansion of Android, Google+, and other products that complete the circle of growth that has been extraordinary.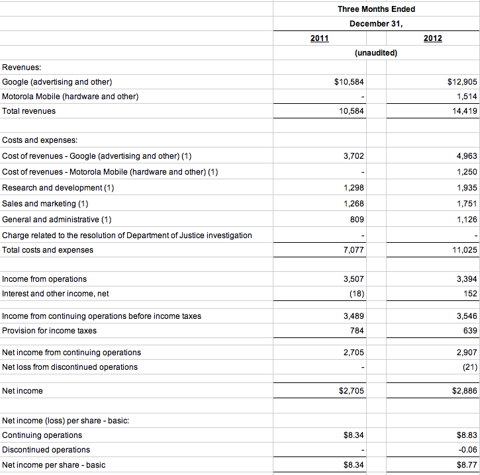 (Google Earnings Release)
Though revenue fell slightly short of analysts' expectations, earnings beat expectations and show a fundamental strength to the Google model and strategy. The data everyone was waiting for was the paid clicks and cost per click. This data shows strength in Google's continued ability to build market share and expand with the growing internet. A 24% increase in paid-clicks shows the true understanding Google has of its business and its customers -- a recipe for continued success.
Paid Clicks - Aggregate paid clicks, which include clicks related to ads served on Google sites and the sites of our Network members, increased approximately 24% over the fourth quarter of 2011 and increased approximately 9% over the third quarter of 2012.

Cost-Per-Click - Average cost-per-click, which includes clicks related to ads served on Google sites and the sites of our Network members, decreased approximately 6% over the fourth quarter of 2011 and increased approximately 2% over the third quarter of 2012.
For investors, Google's past quarter and fiscal year show continued strength and a strategy for growth into the future. The beauty of Google as an investor is that the company's valuation is low. The combination of its low valuation (below) and its stellar earnings makes it a safe trade (relative to others) in the short-term time horizon.
Forward Earnings: 15.32
PEG Ratio: 1.22
EV/EBIDA: 12.29
Though the future is uncertain and changes in the market (and especially the internet) can happen quickly, Google is currently in a position to continue to drive revenue and profitable growth through its dominance in the search space, increased presence in the mobile space, and ventures into social media. The close of FY12 marks another successful year for Google where growth came from continuing to expand upon the Google brand, which is stable and shows few signs of loosing its edge in the expanding market search, mobile, and social.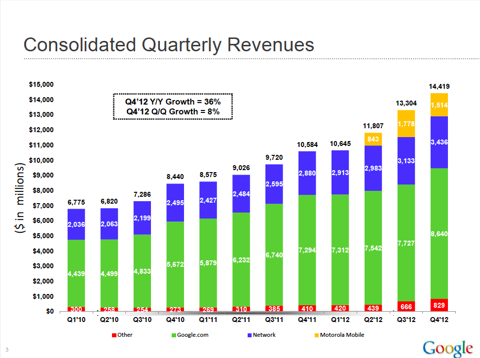 (Google Earnings Slideshow)
Disclosure: I have no positions in any stocks mentioned, and no plans to initiate any positions within the next 72 hours. I wrote this article myself, and it expresses my own opinions. I am not receiving compensation for it (other than from Seeking Alpha). I have no business relationship with any company whose stock is mentioned in this article.