The Rural Mainstreet Index (RMI) remains above growth neutral for the fourth straight month. The farmland price index decreased in January but remains above growth neutral for a record 36th consecutive month.
The RMI dropped to 55.6 from 60.6 in December. According to Creighton University economist Ernie Goss, "Our survey results indicate that the Rural Mainstreet economy continues to expand at a moderate pace. Rural, agriculturally dependent communities in the region appear to have shed the negative impacts of the 2012 drought."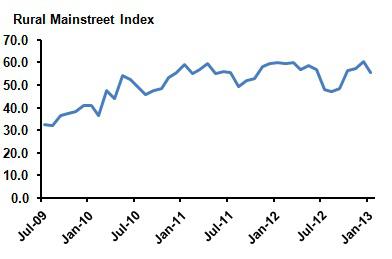 Agriculture
The farmland price index decreased to 71.5 from 82.5 the previous month. This marks the 36th consecutive month the index has been above growth neutral. The farm equipment sales index dropped to 63.8 vs. 67.0 last month. Goss commented, "Despite continuing drought conditions in much of the region, growth in farmland prices, cash rents and farm equipment sales remains strong."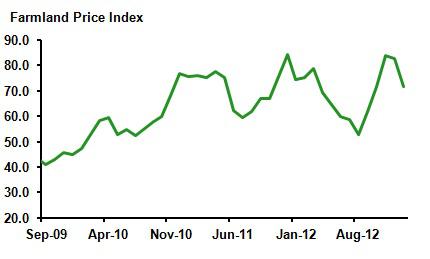 Bankers were asked this month how the drought has affected farmland prices. Over three fourths, 80%, reported that the drought has had no impact on farmland prices. The majority of bankers believe that livestock producers will be the most negatively affected group if the drought continues into 2013.
Banking
The loan volume index decreased dramatically to 39.0 from 62.1 in December. The check deposit index increased to 78.1 from 75.8 last month and the certificate of deposit and savings instruments increased to 42.2 from 40.2 in December. "Banking data appears to indicate that the 2012 drought did not weaken, to any great extent, the financial positions of farms and businesses in the region," explained Goss.
January's hiring index dropped slightly to 52.4 compared to 53.5 last month. The economic confidence index, which reflects expectations of the economy in the next six months, was unchanged from December at 55.5.
Survey
This survey represents an early snapshot of the economy of rural, agriculturally and energy-dependent portions of the nation. The RMI is a unique index covering 10 regional states, focusing on approximately 200 rural communities with an average population of 1,300. It gives the most current real-time analysis of the rural economy.
Disclosure: I have no positions in any stocks mentioned, and no plans to initiate any positions within the next 72 hours. I wrote this article myself, and it expresses my own opinions. I am not receiving compensation for it. I have no business relationship with any company whose stock is mentioned in this article.