When searching for dividend paying stocks, a lot of times I will use stock screeners and read news articles to find out about companies I had not previously researched. In many of my previous articles, I have presented some of my findings from stock screens. In this article, I would like to highlight four dividend paying large cap stocks that I personally think are good investments. I found these stocks from several years of research as I have owned each of these stocks for at least one year. I not only recommend them, but own all four of them in my personal portfolio. Out of all of the stocks in the universe, these are at the top of the list in my opinion. I originally found them before I invested in them by looking for stocks that paid a dividend that I felt would increase in price while also being solid companies that are relatively safe investments. Now, I am picking them to discuss in this article as they currently are top holdings in my personal stock portfolio. In this article I will discuss some attributes of these stocks that explain why I think they are winners and why I think they will pay off for long-term investors.
In analyzing these stocks, there are different reasons why I think they are worth a look at the moment. One of the common characteristics I believe they all share is that they are dominant market players in their respective industries and that they are poised for growth in the years to come. Without further adieu, here are the stocks.
China Mobile Limited (NYSE:CHL) is the first stock on this list. I first became familiar with the company in 2007 and bought my first shares of the company around that time. By doing so, I remember well how high the shares were priced at back then. My initial purchase of shares was a small lot for nearly $90 per share. The price at that time shows the potential of where this stock can go in the future if things go right. The following chart shows a price performance of the company from 1/19/2007 through 1/18/2013.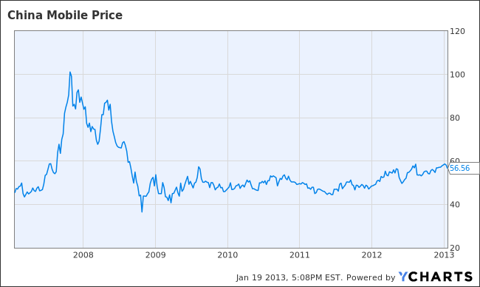 data by YCharts
Luckily for me, I purchased a larger lot of shares last year at a price significantly lower than what it is currently trading at now. The company pays a healthy dividend semi-annually, giving it a yield of upwards of 3.4%. The yield quoted there on Yahoo! Finance is a little bit understated and I know that based on the dividends I have received. I would estimate the current dividend yield to be closer to 3.76% based on $2.13 per share in total yearly dividends. With the dividend this stock pays, the large market share the company has in China, and the potential this company has if China continues to grow, I believe this is a great stock.
The largest potential catalyst for China Mobile in my mind is the chance that the company may land the iPhone. As this article shows, analysts are buzzing about the excitement that this development could bring. As this article states, China Mobile had 1.05 billion mobile subscribers as of June 2012. With this kind of market share, the company is in a unique position to be able to negotiate with Apple (NASDAQ:AAPL) for a potential iPhone deal. This could create a large win-win situation for both companies. With this potential catalyst, coupled with the immense untapped potential of the Chinese market, China Mobile is poised for growth in the years to come.
The next stocks on this list are ConocoPhillips (NYSE:COP) and Phillips 66 (NYSE:PSX). I group these stocks together because for me, I acquired all of the shares that I have in Phillips 66 when ConocoPhillips spun it off to existing shareholders. This spin off occured on April 30, 2012. One share of Phillips 66 was distributed to ConocoPhillips shareholders for every two shares of ConocoPhillips that they owned.
Here are some key recent performance facts about ConocoPhillips and Phillips 66 that have been great news for shareholders. In looking at a 52 week price range for ConocoPhillips, it is noted that the 52 week high is $78.29. This high was reached before the spin off. As of the market close on January 18, 2013, the market price of ConocoPhillips was $59.27 and the market price for Phillips 66 was $55.07. If you owned the stock before the spin off occurred, your original shares of both companies combined are worth ($59.27 + ($55.07/2)) $86.805 per share. This has eclipsed the previous 52 week high of ConocoPhillips pre-split substantially regardless of what price you got in at. Additionally, the dividend of ConocoPhillips as it stands now, is $2.64 per share per year. The company did not cut the dividend when the spin off occurred, it kept it the same. Phillips 66 now pays a current dividend of $1.00 per share per year. This has increased the yield of original shares of ConocoPhillips pre-split for shareholders and when adding that return to the share price increases, (particularly from Phillips 66 which has had amazing returns since the spin off) it is clear to see that things are going right for investors in the companies. Warren Buffett's Berkshire Hathaway (NYSE:BRK.B) sold shares of ConocoPhillips to buy more shares of Phillips 66. This moved has paid off so far as Phillips 66's stock price has outperformed ConocoPhillips.
Potential catalysts for ConocoPhillips and Phillips 66 going forward include attracting other high profile investors such as Warren Buffet. Also, the companies stand to gain further in their markets if they can increase margins. Furthermore, increasing dividends and maintaining those increases by growing earnings will keep shareholders happy and may attract more investors as well.
The following is a price chart for ConocoPhillips and Phillips 66 from May 1, 2012 (right around when the spin off occurred) through January 18, 2013.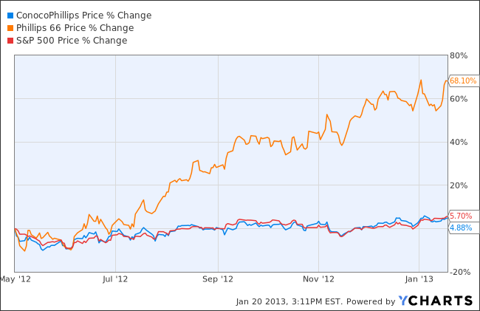 data by YCharts
As the price chart shows, the combined performance of these two companies has outpaced the return of the S&P500. When including dividends, this performance is even better. If the two companies can continue this great performance, which I believe they can, these are great investments for both long-term and short-term investors.
The final stock I would like to highlight today is Lorillard, Inc. (NYSE:LO). This manufacturer of Newport cigarettes and other cigarettes is a great choice for dividend investors. The current dividend yield for the stock is 5.2%. In a previous article on here on December 13, 2012, I discussed more about why I think Lorillard is a great stock and how to implement a basic covered call strategy with it. I feel the stock is worth another look here because it just completed a 3 for 1 stock split on January 16, 2013. After the split, the stock is now trading at $39.51 as of the market close on January 18, 2013. The stock price now trades at a price that is comparable to other major tobacco companies Altria (NYSE:MO) and Reynolds American (NYSE:RAI).
Two potential stock price catalysts that I see for Lorillard are as follows. First, the lowering of the stock price because of the 3 for 1 split creates an opportunity for more investors to flock to the stock. It now is much cheaper to own 100 shares and this type of stock price has been a long time coming for potential shareholders because the stock had been trading at over $100 for a long time before the split. Also, on February 9, 2012, Lorillard announced its most recent dividend increase. This is of importance right now because we are nearing that time in 2013. A dividend increase, as long as the company plans on it, is imminent here in early to mid February. With analysts expecting the company's earnings to grow 9% in 2013, the company can raise the dividend while maintaining the same payout ratio. Based on these factors and because Lorillard has carved out a dominant niche in menthol cigarettes, I believe the stock is a winner for long-term dividend investors.
The following is a price chart for all of the companies versus the S&P 500 year-to-date so far in 2013. Lorillard is not included in this chart because the 3 for 1 split makes it looks like the stock has dropped in price tremendously when it hasn't.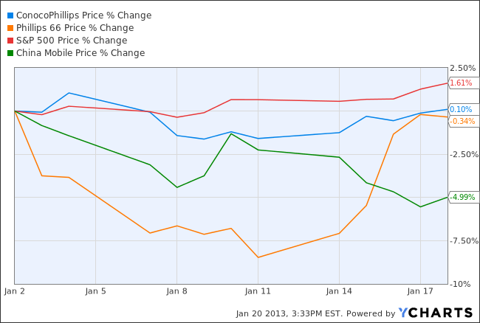 data by YCharts
While the performance of these stocks thus far in 2013 has lagged the S&P 500, I do not expect this trend to continue. I believe these stocks are long-term winners for investors and I encourage anyone interested in them to conduct further research on them to determine if they are suitable for your portfolio.
Disclosure: I am long COP, PSX, LO, CHL, MO, RAI, BRK.B. I wrote this article myself, and it expresses my own opinions. I am not receiving compensation for it (other than from Seeking Alpha). I have no business relationship with any company whose stock is mentioned in this article.
Additional disclosure: This article is for eductational and informative purposes only and is not a solicitation to purchase securities.