Steel Dynamics (NASDAQ:STLD) has plenty of things going in its favor. It's one of the best managed steel companies in the United States; it has a low, highly variable cost structure, which has helped it post superior margins throughout the last two challenging years for the steel markers. It has a diversified product mix, a secure supply of recycled ferrous metals, and an experienced senior management team.
Steel dynamics has one of the lowest operating cost structures in the North American steel industry. The company's low operating costs are driven by high labor efficiency as well as a transportation cost advantage in the upper Midwest.
STLD is also well positioned to benefit from improving steel demand, with end-markets including construction, automotive, machinery all showing signs of improvement. For dividend seeking investors STLD also has a very attractive dividend yield of 2.6%.
The Company
Steel Dynamics was co-founded in 1993 by three former Nucor (NYSE:NUE) employees. A mini-mill steel producer, STLD is one of the largest steelmakers in the United States, with annual capacity of approximately 6.4 million tons.
The company has three main reporting segments: steel operations, metals recycling and ferrous resources operations ("MRFR"), and steel fabrication operations. Steel operations segment includes a flat-roll division, structural and rail division, and engineered bar products division among others. Metals recycling and ferrous resources segment supplies feedstock internally and to third parties. Steel operations with 62% provided the biggest share of 2011 revenue, followed by MRFR with 35%.

Source: Company Documents
The Performance
STLD has been one of the best performing steel companies in the last few years, operating efficiently throughout the cycle. It's no secret that steel companies are operating in difficult times, as their performance is closely tied to economy and macro outlook. Despite these challenging times STLD has been able to maintain excellent margins. After declining to 10% in 3Q11, STLD's gross profit margin has been steady in the range of 9-10% and is expected to increase sequentially in 4Q12. While in comparison, both X's and AKS's gross profit margins have been fluctuating. Both these companies reported wide ranges of gross profit margins. Nucor on the other hand performed similarly to STLD throughout the cycle; however, gross margins have been slightly lower than STLD.
Similarly, operating margins for STLD have been steady at the level of 5-6% in the past two years, after declining sequentially in 3Q11. Whereas operating margins for both X and AKS have been all over the place and both companies are projected to report negative operating profits for the last quarter of 2012.
If we look at the net profit margins, they don't present a much different picture either. Both STLD and NUE have been managing their profit margins well, whereas margins for X and AKS have been fluctuating in the past 7 quarters and both these companies are expected to report negative net profits for 4Q12.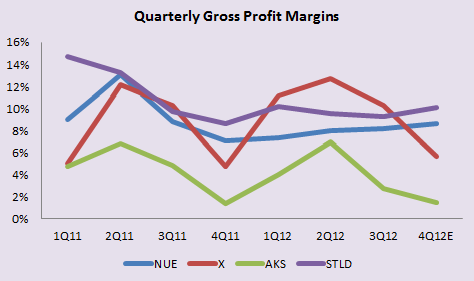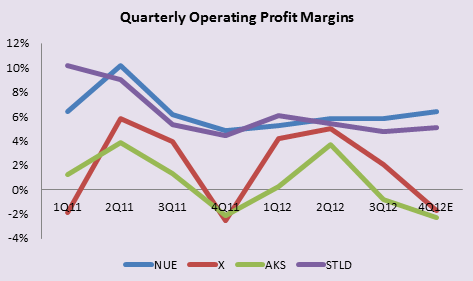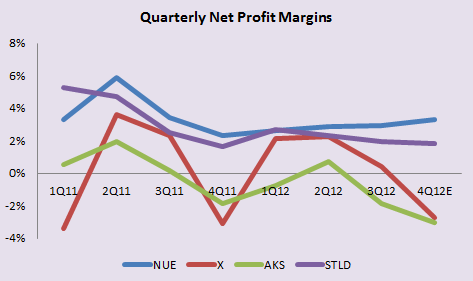 Demand Outlook
STLD has a great deal of exposure to construction, automotive, and machinery end markets and all these markets are showing signs of improvements indicating towards a much better demand outlook in 2013 than the last couple of years.
Construction - According to the U.S. Census Bureau of the Department of Commerce, U.S. construction spending was estimated at a seasonally adjusted annual rate of $866 billion in November, a Y/Y increase of 7.7% from November 2011 estimate of $804 billion. During the first 11 months of 2012 construction spending was up 9.2% from the same period last year. Residential construction increased 0.4% sequentially, and nonresidential construction 0.8%.
In the public sector educational construction was flat sequentially; however, highway construction was 0.5% above the revised October estimate of $77.4 billion.
Similarly, the Architectural Billing Index (ABI) is also showing improvements. The American Institute of Architects (AIA) reported the November ABI score of 53.2, up from 52.8 in October (any score above 50 indicates an increase in billings). The new projects inquiry index was 59.6, up slightly from the October score of 59.4. Through November, the ABI had exceeded 50 for four consecutive months while the last two new project inquiries figures have exceeded 59.
"These are the strongest business conditions we have seen since the end of 2007 before the construction market collapse," commented AIA Chief Economist, Kermit Baker.
Almost 30% of STLD's end market exposure is to construction, and STLD is well positioned to benefit from improving demand.
Auto Market - 2013 SAAR is expected to be 15.5 to 16 million units, a significant increase from its 2012 estimated total of 14.5 million units. STLD has a considerable exposure to auto market and is expected to benefit from the increasing demand in this end-market.
Machinery - Machinery orders have also been increasing, adding to the improving steel demand. US machinery shipments totaled $33.65 billion in November, up from $32.62 billion a month earlier. This represents a monthly annualized growth rate of 37.93%, compared to a long term average annualized growth rate of 4.69%.

Source: Y-Charts
Financials
STLD has a price to earnings ratio of 26.8 vs. the industry average of 30.5. It has a forward P/E of 10.5 and a PEG ratio of only 0.8. It has price to book ratio of 1.4 and price to sales ratio of 0.5, which is the same as the industry average.
Over the last few years the company has reduced its debt to equity ratio significantly. STLD had a debt to equity ratio of 1.62 in 2008, which it reduced down to only 1.0 in 2011. The ratio further dropped to 0.9 in 2012. Over the same the company also reduced its debt to total capital ratio from 62% in 2008 to 50% in 2011. On the other hand current ratio has also been improving over the years it has increased from only 1.8 in 2008 to 4.0 in 2012E, way better than the industry average of 1.9.
Moody's has a Ba1 credit rating on STLD's debt and a stable outlook. Standard and Poor's rates STLD's debt BB+ rating and a positive outlook.
Compared to its peers STLD performed exceptionally well last year. The stock was up 4.4% last year; in comparison AK Steel (NYSE:AKS) dropped 44%, United States Steel (NYSE:X) 10%. NUE's stock gained 9% in 2012. YTD the stock is up 1%, it has a 50 day moving average of $13.57 and 200 day moving average of $12.37.
Not just its peers, as you can see from the second graph below, in the last 1 year STLD has also outperformed, Standard and Poor's 500 Steel Index, a capitalization-weighted S&P 500 steel index.

Source: Google Finance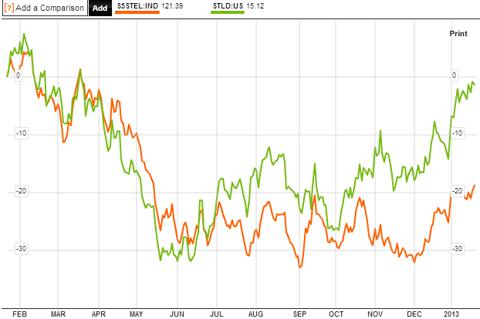 Source: Bloomberg
Dividend
STLD first started paying a dividend in 2004 and since then has increased its dividend by 400%. STLD pays a quarterly dividend of $0.10 per share. It has a dividend yield of 2.6%, one of the most attractive among its peers. In comparison, AKS, NUE, and X have dividend yields of 0%, 3.2%, and 0.8%, respectively. Steel Dynamics has been a good stock for dividend seeking investors and its dividend yield is one of the many reasons we recommend STLD to investors.
Last Quarter Earnings
Excluding one-timers, STLD reported third quarter adjusted EPS of $0.15, beating consensus estimates of $0.12 per share by 25%. The reported results were also better than the company's mid-September guidance of $0.09-$0.14 per share.
Steel operations operating profit declined by $30 million QoQ; however, the margin of $458 per ton declined only by 1$ per ton, as a $45/ton decline in realized pricing was offset by a $44/ton fall in scrap costs. Shipments also declined sequentially to 1.41 million tons, driven by lower sheet and engineer bar volumes. The recycling segment's results improved QoQ and the fabrication segment generated the second consecutive quarterly profit.
Fourth Quarter Guidance
The company expects fourth quarter EPS of $0.12-$0.16 (excluding an expected favorable tax adjustment of approximately $0.06 per share) vs. revised consensus estimates of $0.14. Before the company announced its better than expected 4Q guidance in December, consensus estimates were of 11 cents per share. The company expects overall steel shipments in Q4 to be flat sequentially, as lower bar and SBQ shipments are expected to offset increasing sheet volumes. However, metals recycling results are expected to improve sequentially, as improved margins are expected to offset lower volumes. Fabrication operations are expected to remain slightly above breakeven, but lower sequentially.
Conclusion
We believe STLD is positioned to benefit from being one of the most vertically integrated steel producers in the U.S. Its cost structure is one of the lowest in the North America, helping it post superior margins throughout the cycle. STLD has a team of experienced professionals and the company performed exceptionally well in the last two challenging years. Several of STLD's end markets are showing signs of improvement and we believe STLD is well positioned to benefit from improving demand. STLD also has a very attractive dividend yield of 2.6%. Our DCF model has a price target of $18, representing a considerable upside to current price. We believe STLD is well positioned to outperform and improve margins further in 2013.
Risks To Our Analysis
Steel stocks are cyclical in nature and the performance of the industry depends on the health of the economy. A sharp decline in the global and in particular the North American economy can negatively impact STLD's earnings and our analysis on this North American steelmaker. Moreover, the volatile nature of the raw materials, finished products prices, operational difficulties, steel imports and scrap steel prices all present risk to our analysis on STLD. Europe is the largest market for U.S. exports and a stronger dollar against the euro will make prices of imported steel and related products more expensive in Europe.
Have a good day!
Disclosure: I have no positions in any stocks mentioned, and no plans to initiate any positions within the next 72 hours. I wrote this article myself, and it expresses my own opinions. I am not receiving compensation for it (other than from Seeking Alpha). I have no business relationship with any company whose stock is mentioned in this article.