The shale plays continue to crank out production which grows not only annually but sequentially too. Yesterday the preliminary numbers from the Texas Railroad Commission were released discussing the Eagle Ford production (that article can be found here) and we have to admit we were a bit impressed by the 70% headline figure, especially when one has the data going back to the start like we do and can see that the production numbers have been growing exponentially before now. It will take even more in terms of capital expenditures in the 2013 year to post another increase in production in the 70% neighborhood, but on paper it is possible so long as the drillers want to drill upfront and not let technology catch up with them and maybe increase future wells' production simply by waiting a year or two.
We found this chart to be interesting and hope our readers do to. It shows the price of crude from the Bakken as compared to WTI and Brent and as of right now this will be the great equalizer…quite literally. Keep in mind that the Eagle Ford continues to grow (as discussed above) and the Utica will be ramping up in the next few years.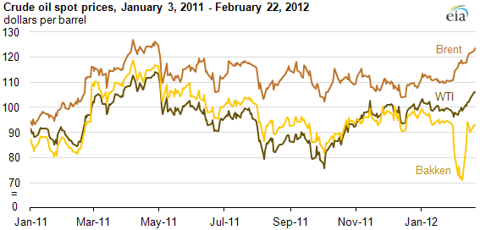 Chart courtesy of the EIA.
Commodity prices this morning are as follows:
Gold: $1692.00/ounce down by $1.20/ounce
Silver: $32.21/ounce up by $0.033/ounce
Oil: $96.74/barrel up by $0.06/barrel
RBOB Gas: $2.8377/gallon up by $0.0078/gallon
Natural Gas: $3.571/MMbtu up by $0.013/MMbtu
Oil & Natural Gas
After we submitted our article yesterday Gulfport Energy (NASDAQ:GPOR) released more drilling results from the Utica, which continue to indicate that they have been successful in their exploration and that they are moving to test different areas of the play with various techniques. They are still in the laboratory phase right now but even so the company is trading at a 52-week and all-time high, not bad if you can get it. The two wells reported were the Clay 1-4H which had a 12-hr rate of 747 barrels of condensate, 5.9 MMCF of natural gas/day and 761 barrels of NGLs and the Stutzman 1-14H which had a 4-hr rate of 21 MMCF natural gas and at full recovery a further 945 barrels of NGLs would also be produced. The company had the Clay 1-4H well rest for 75 days and it had a 7,806 vertical with a horizontal length of 7.372 while the Stutzman 1-14H rested for 12 days and had a vertical of 9,020 and a 8,634 horizontal. Shares initially opened lower, however the shares finished higher by $1.20 (2.92%) to close at $42.30/share on above average volume. The full press release is available here.
Magnum Hunter Resources (MHR) also had news regarding the Utica yesterday as the company announced that they will drill 4 Utica test wells at a minimum. If these wells return similar results to those which other players in the area have had, the company will then plan for further Utica exploration/development in the second half of the year. Shares continue to move off of their recent lows, and the Utica wells might very well be what the doctor ordered to cure the ills which plague the company. Encouraging results from the Utica paired with their other successes and that would be enough firepower to chase off some of the naysayers. You can read the entire company release here.
While discussing companies having success on the exploration side and plans, let us point out the news released after the market regarding WPX Energy (NYSE:WPX), which yesterday reported that they drilled a well in the Niobrara which returned a very strong natural gas well which they eventually had to choke back in order to optimize long-term recoveries and protect the well. The entire release is located here. The IP rate was 16 MMCF and after 30 days the average daily production was 12 MMCF. This could be good news for some of the other names we follow, however the first question which comes to our mind is what this will mean in terms of capacity usage on the midstream assets. Even though it is dry natural gas, look for investors to cheer the discovery.
Cannacord Genuity already released their top picks for 2013 and we are but a few weeks into the new year and they are already revising estimates upwards on one of their favorite plays, Halcon Resources (NYSE:HK). Their thinking is that 90% of the company's expenditures for the year are planned to be spent within the Eagle Ford, Bakken and Utica liquids-rich plays which puts them ahead of many of their competitors in regards to the production mix they will be able to derive from those properties should what the market already knows about those properties not change significantly moving forward. Our belief is that one has to like the story here based on the properties within the portfolio but also, and probably above all else, the management team that is in place.
Copper & Gold
We felt the need to point out Freeport-McMoRan (NYSE:FCX) which reported strong quarterly results where the company beat on both the top and bottom lines and then discussed some of their plans for the upcoming three-way merger whereby the company will take over two oil companies. Management confirmed that shareholders will not be getting the chance to vote on the deal, however this was not so much new news but rather their reiterating their previous plan. We like the oil and natural gas exposure, but wish that the company would gain some exposure in the more oily plays within the lower 48. That is just our opinion, but we believe it would be an effective hedging strategy for Freeport and with the acquisition they just did it is probably needed and warranted, however management probably used up all of their political capital getting this deal done and a $1-3 billion deal for undrilled land probably would not help them in the short-term.
Disclosure: I am long GPOR. I wrote this article myself, and it expresses my own opinions. I am not receiving compensation for it (other than from Seeking Alpha). I have no business relationship with any company whose stock is mentioned in this article.