As reported by the AP's Adam Schreck, Exxon Mobil's (NYSE:XOM) CEO Rex Tillerson met with Iraqi Prime Minister Nouri al-Maliki in Baghdad on Monday. A statement released by the Iraqi government was short on specifics, saying the two men discussed the company's activities and working conditions in Iraq. Oh to have been a fly-on-the-wall in that meeting! Let's take a look at Exxon's big project in Iraq: West Qurna-1.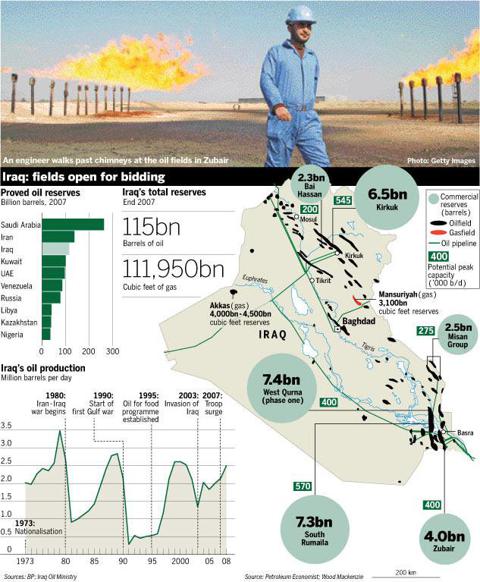 West Qurna-1
Back in 2009, Exxon and minority partner Royal Dutch Shell (NYSE:RDS.A) signed a $50 billion dollar deal with Iraq to develop the 8.6 billion-barrel West Qurna-1 oilfield. Under the terms of the contract, Exxon was to increase production to 2.25 million barrels per day within seven years. The Iraqi government, in turn, would pay $1.90 per barrel (over the 244,000 bpd baseline) produced by the Exxon-Shell alliance. The alliance has raised output to nearly 400,000 bpd. That is progress, but it is a long way from the contract's 2.25 million bpd target.
The relationship between the Iraqi government and Exxon turned sour in late 2011 when Exxon surprised everyone by signing a separate deal with Iraq's Kurds to explore for oil in the largely autonomous Kurdish region of northern Iraq. This infuriated the Iraqi government in Baghdad who believes it should manage all of the country's oil policy and wants all exports to travel through state run pipelines.
In November 2012, Exxon notified Iraq it wanted out of the West Qurna-1 contract and intended to sell its stake in the field. Some industry sources have said Baghdad is keen to replace Exxon with companies from Russia or China as invasion payback for western countries. But it is unclear what companies would have the financial heft to follow Exxon into Iraq. Lukoil (OTCPK:LUKOY) has already decided not to participate. After all Lukoil already has a 75% stake in the West Qurna-2 project (see below). Many analysts feel this paves the way for a Chinese company to buy Exxon's stake in West Qurna-1.
The move by Exxon to quit the West Qurna-1 oilfield in south Iraq has further exacerbated tensions between Baghdad and the autonomous Iraqi Kurdistan region. The deal signed by Exxon with the ethnic Kurds are seen as more lucrative but dismissed by the central government in Baghdad as illegal.
Exxon would not be the first western oil company to quit a major Iraqi oilfield. In March 2012, Statoil (NYSE:STO) sold its 18.75% state in the massive West Qurna-2 oilfield to Lukoil, giving the Russian firm a 75% stake, and leaving the Iraqi state oil company with 25%. West Qurna-2 is a nearly 13 billion barrel oilfield whose 20 year service contract was issued for $1.15/barrel and a promise to eventually raise production to 1.8 million bpd.
The Kurdish Regional Government (KRG)
The Kurdish Regional Government ("KRG") has their own armed forces and has run its own regional administration in northern Iraq since 1991. The KRG has signed dozens of deals with other large foreign oil companies. Along with XOM, U.S. oil giant Chevron (NYSE:CVX) is also poised to start drilling in Iraqi Kurdistan during 2013.
So Exxon, and to a lessor extent Chevron, is now at the heart of a long-running dispute over oil reserves and territory between the Arab-led central Iraq government and Kurdish Regional Government . This will be a fascinating storyline to watch in 2013. Indeed, recently more trouble is brewing as the Kurds have rejected Baghdad's recent Kirkuk deal with BP (NYSE:BP) as "illegal and unconstitutional."
However, there is one seldom reported technicality: the lack of a functioning pipeline for Iraqi Kurdistan's oil exports. The Economist magazine recently published an article on this issue, which is depicted in the picture shown below.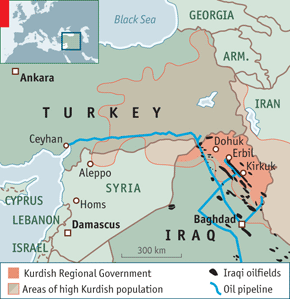 You see, the main pipeline for Iraqi Kurdish oil is north through Turkey to the Mediterranean port of Ceyhan. This pipeline used to carry 1.6 million bpd of Iraqi oil to the global market, earning nice transit fees for Turkey. But wars and saboteurs have left the Iraqi section of the pipeline in shambles. One of the two parallel pipelines is totally empty and the other is running at a small fraction of capacity. Worse, the giant Kirkuk oilfield that once fed the twin pipelines is falling apart.
Turkey To The Rescue
But the author of the article in the Economist believes Turkey's sinking relationship with the Baghdad government will spur them to make a deal with the KRG and western big-oil companies. The energy deal will see money surging into Iraqi Kurdistan to build pipelines and oil fields and connect them to Turkey, the Mediterranean Sea, and the world beyond. The deal could also go along way in restraining the militant Kurds in Turkey. After all, Iraqi oil would be good for Kurds in both countries and the transit solution must be north through Turkey as Baghdad would never allow Kurdish oil to head south.
In a way, the Iraqi government has no one to blame but itself. The financial terms given in the West Qurna oilfields were lousy (at best) for the western oil companies. No doubt the government did this in response for the almost total destruction of the country by mostly U.S. armed forces. But it seems they shot themselves in the foot in their quest for payback. It's a shame, for the oil fields are so prolific there was plenty of money to share for everyone. An extra few dollars/barrel to the western oil companies was all that was needed.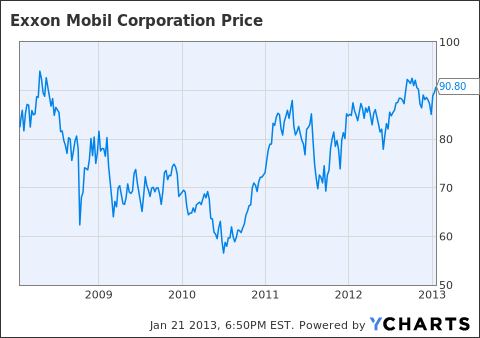 data by YCharts
XOM = $90.80
Mkt Cap = $414 Billion
P/E ((ttm)) = 9.6
EPS ((ttm)) = $9.46
Div (Yield) = $2.28 (2.5%)
So keep your eye on news of a big Turkey/KRG/Western_Oil_Cos energy infrastructure deal. If this deal gets made, a pipeline built, and oil moving from Iraqi Kurdistan through Turkey to the rest of the world, it could be huge for Exxon Mobil. Iraqi Kurdistan is estimated to have potential oil reserves of 45 billion barrels, one-third of Iraq's total. And Exxon will be receiving much more lucrative terms from the KRG. The KRG knows which side their bread is buttered on.
And don't forget Chevron, who has also signed contracts with the KRG.
Wouldn't it be ironic, if, after all the war in Iraq, principally conducted by the U.S. and its western allies, Russia and China got the bulk of the oil deals in Iraq (2/3 of all Iraqi oil reserves), and western oil majors got the bulk of the deals in Iraqi Kurdistan (1/3 of all Iraqi oil reserves)? That said, in true capitalistic style, the return on investment in the north will certainly be better if existing contracts remain unmodified.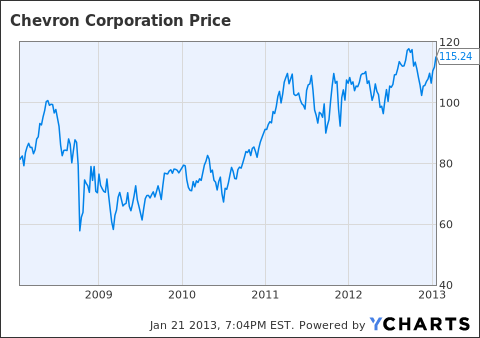 data by YCharts
CVX = $115.24
Mkt Cap = $226 Billion
P/E ((ttm)) = 9.5
EPS ((ttm)) = $12.19
Div (Yield) = $3.60 (3.1%)
Financial data courtesy of Yahoo! Finance.
Disclosure: I am long CVX, STO, XOM. I wrote this article myself, and it expresses my own opinions. I am not receiving compensation for it (other than from Seeking Alpha). I have no business relationship with any company whose stock is mentioned in this article.
Additional disclosure: I am an engineer, not a CFA. Please do your own research and contact your investment adviser. I am not responsible for investment decisions you make. Thanks for reading and good luck!