Recently companies with a focus on specialty foods appear to be faring well as consumers are taking an increased interest in their health. Nowadays specialty foods represent 13.7 percent of all food sales at retail. The specialty food industry continues to enjoy rapid growth outpacing most sectors within the U.S. economy. From 2009 through 2011, sales of specialty foods rocketed by 19.1 percent. Total sales of specialty foods in 2011 were $75.14 billion, with $59.74 billion retail sales.
These developments are reflected in the growth of the Specialty Eateries Sector Index that rose by 15% in the last three months.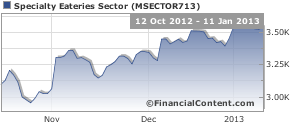 In a 2008 Health magazine study, Panera Bread (NASDAQ:PNRA) was judged North America's healthiest fast casual restaurant. In 2009, the restaurant review service Zagat named Panera one of the most popular restaurants for eating on the go. Panera was also rated #1 for Best Healthy Option. Panera uses these ratings to press for market advantages. For example, at Panera Bread Co. the cheapest lunch item is $4.99, and hits a high of $8.79. Add a drink and an $11 meal is easily within reach.
At Yahoo! Finance analysts estimate earnings per share for the third quarter of 2012 at $1.22 in comparison with last year results of $0.97. The stock has a price/earnings ratio of 32.74 and company's stock pays no dividend. In order to increase that valuation, it needs to grow. The company opened 29 net new cafes in the second quarter, a 1.8% increase whereas sales increased 5.9%. For investors, finding growth in 2013 may be the largest challenge considering the problems the economy faces.
One of the companies that used 2012 to position itself for great potential growth in 2013 is Starbucks (NASDAQ:SBUX). Starbucks in 2012 made key strategic moves that can result in rapid growth in 2013. The year 2012 was one where Starbucks saw the growth and continuation of some of its new products. At the Biennial conference Starbucks made emphasis on continued growth in its K-cups and VIA instant coffee whose sales grew 50% in 2012. These expansion plans will go ahead even though disposable consumer income was flat since 2007 on an "inflation-adjusted" basis. Thus, Starbucks is a business whose main revenue source is customers using discretionary income to purchase a cup of coffee for over 12 times the cost of whole bean home brewed coffee. This business model is not very sustainable in long run. This is a main reason behind the acquisition of Teavana (TEA). This acquisition should help shore up the planned expansion into Asia and India. Tea is an extremely popular beverage in these two regions. In 2010, China consumed 2.4 billion pounds of tea, more tea than the any other country in the world. The average Chinese citizen consumes 400 cups of tea per year.
In other branches of specialty eateries industry, away-from-home soup and salad purchases are on the rise, as consumers seek light, healthy and affordable fare. A variety of portion sizes featuring soup/salad options on different areas of the menu allows consumers to tailor their meal specifically to their needs. Whether it's a cup or bowl, side or entrée, 61 percent of consumers now order soup at least occasionally during restaurant visits, up from 52 percent just two years ago.
Soup and salad are the two most common appetizers at both limited-service restaurants and full-service restaurants. Appetizer salads remained fairly steady in both sectors since 2009, while soup grew 22 percent to surpass salad as the leading appetizer at limited-service restaurants. Soups, appetizers, and small plates are a proven way for restaurant operators to increase average check size and profit margins. Combo meals that provide soup with a salad or sandwich are especially popular among women. The appeal of sampling and sharing appetizers and small plates can help build traffic during challenging economic times. Consumers' craving for new flavors has sparked greater interest in soups. In addition, they also perceive soup as a healthy food. In the USA in soup purchases already reached $6 billion. The largest company in this field is Campbell Soup Co. (NYSE:CPB). But its products: canned soup, sauces, and simple packaged foods do not excite customers nowadays and company's revenues remain stagnant for three years.
Into this niche came SoupMan Inc. (OTCQB:SOUP). In 1984, The Original SoupMan opened its doors at 55th Street & 8th Avenue in Manhattan. The tiny storefront quickly became a worldwide destination. Its product - the Original SoupMan - was source of the inspiration for the famous Seinfeld "No Soup for You!" episode and is number 1 in Zagat-rated, best-tasting soup in the world - announced that Nash-Finch (NAFC) the second largest publicly-traded wholesale food distributor in the United States servicing thousands of food retailers, includes The Original SoupMan into its portfolio of brands. Nash-Finch, based in Minneapolis, is a Fortune 500 company and one of the leading food distribution companies in 36 states, the District of Columbia, Europe, Cuba, Puerto Rico, the Azores, Egypt and Bahrain. Nash-Finch also owns and operates a base of retail stores, primarily supermarkets under the Econofoods, Family Thrift Center, AVANZA, Family Fresh Market, No Frills, Bag 'N Save and Sun Mart trade names.
For SoupMan this is a welcome addition to recent expansion in more than 200 supermarkets in the Midwest at Schnucks Markets in Illinois, Indiana, Iowa, Missouri and Wisconsin, as well as in New York, New Jersey and Pennsylvania at D'Agostino's, Foodtown, Thriftway and Shop 'n Bag stores. The Original SoupMan is now available in the soup aisle of thousands of food retailers across the country. SoupMan expansion in last year saw doubling of sales in the 12 month before August 31 2012.
Disclosure: I have no positions in any stocks mentioned, and no plans to initiate any positions within the next 72 hours. I wrote this article myself, and it expresses my own opinions. I am not receiving compensation for it. I have no business relationship with any company whose stock is mentioned in this article.