On December 10, 2012, I published this article on General Mills (NYSE:GIS). In the article, I wanted to give investors an insight into GIS before they released earnings. My conclusion from my original analysis on it was that GIS was ahead of itself. It turns out that my analysis was correct, as the market pulled back on GIS after earnings (Source: Capital IQ):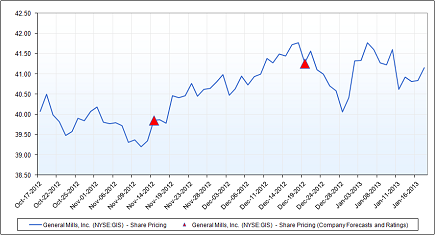 The stock price tumbled about 5% after the earnings release. The only real reason it has rallied is the general overall market. It has lagged both the S&P 500 and the S&P 500 Consumer Staples Indices. Part of this reason is due to the trade towards riskier securities following the resolve of the federal government. However, it can also be attributable to GIS's stock price being ahead of itself given the lack of increased guidance (Source: Capital IQ):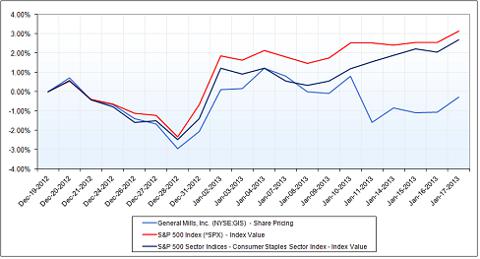 Here are some of the highlights from the Q2 earnings call on December 19, 2012 (Source: Capital IQ):
Net sales grew 6% Y/Y to $4.88B, with pound volume contributing 7% Y/Y growth and price realization and mix reducing growth by 1% Y/Y
Acquisitions of Yoki and Yoplait were drivers for earnings
EPS was $0.82 v $0.67 last year, or a 22.4% increase Y/Y. Estimates were for $0.79 on a GAAP basis.
Through the first half of the year, sales in FY13 have grown 5% Y/Y, with pound volume attributing 8%, price realization and mix subtracting 2%, and forex reducing net sales by 1% Y/Y
Cash flow from operating activities through the first 2 quarters of FY13 is $1.32B, which is up 14% Y/Y
Guidance for FY13 is for $2.65-$2.67 in EPS, comparable capex, mid-single digit growth in net sales, and operating profit to grow mid-single digits
These were all items that were discussed in the previous article, especially in regards to GIS's yogurt plays. GIS has been gaining market share due to the healthy perception of Greek yogurt over other foods. Nothing materially changed as a result of the earnings release as management stuck to its guidance. One thing that is starting to be taken notice of is the rising food costs throughout the industry. Chipotle Mexican Grill (NYSE:CMG) pre-released some estimated results. This included the fact that food costs have increased for them but management is optimistic costs will subside in 2013. The CPI results were released, which includes food inflation. The annualized values are shown below (SOURCE: CPI):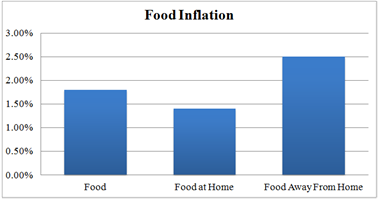 With lower consumer income due to an increase in the payroll tax, it can be expected that consumers will not eat out as much. Instead, they will continue to eat at home, much like they did over the last few years. This bodes well for GIS. The 'Catch-22' though is if consumers lower their cupboard inventory and delay purchasing new products. This would be a way for them to save money and something that has been done in the past. Investors should be wary of this trend but it is only visible through each company's commentary on eating trends. Also, another problem that GIS may face is private-label competition. Private-labels have been increasing their market share across the Food Manufacturing industry. Private-labels are cheaper for consumers but lack brand recognition, and are a value play for cost-conscious consumers. With an approximate 2% increase in the Social Security tax on all working citizens, lowering costs will be a priority for consumers. This is part of the reason that ConAgra (NYSE:CAG) acquired Ralcorp (RAH). Investors should look for companies that have private-label exposure. This includes companies like B&G Foods (NYSE:BGS), McCormick (NYSE:MKC), and CAG.
Valuation
Based on the updated results, I will reiterate my price targets as follows: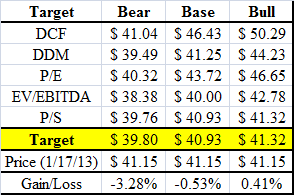 The growth rates are 4%, 5%, and 6% for the Bear, Base, and Bull cases, respectively. This is in-line with management's expectations. In other words, including a ~3.5% dividend yield, GIS should return only 12.58%. This would assume the best case scenario. Given that the consumer staples sector as a whole appears inflated due to the uncertainty of the market and the flight to yield, GIS will most likely be range-bound over the next year. Investors would be better suited in other consumer staples over GIS. Long-term, GIS is a solid pick for investors looking to sleep at night and reinvest the dividends.
Disclosure: I am long MKC. I wrote this article myself, and it expresses my own opinions. I am not receiving compensation for it (other than from Seeking Alpha). I have no business relationship with any company whose stock is mentioned in this article.
Additional disclosure: In some of my recent posts, I have considered selling my MKC position as I believe it may be overvalued at this point. I may initiate a sell on my MKC position before earnings, and then buyback post-earnings. I have owned GIS before in my portfolio.