Last week I made it clear that I felt the gold market was in the process of breaking out from range. Tuesday's action to begin the week was extremely bullish on a weekly basis. I have already laid out a number of points in previous articles as to why I think gold is ready for this move higher fundamentally. I will review them before getting to the charts. They all tie into the world's central banks inflating like mad in a fugue of competitive devaluations. We are looking for evidence of a market expecting higher short-term inflation due to Federal Reserve action.
1 - The Euro
While the Euro (AMEX:FXE) is having trouble best $1.34 it is continuing to resist breaking back below $1.32. At this point it is trading in a very tight range and consolidating between the previous level of $1.33 and $1.34 before deciding where to go next. It looks to me that the correlative move by Gold and the EUR/USD that happened with the ECB's policy statement and followed through by the successful Spanish and Italian bond auctions has continued. Gold is leaking higher towards resistance at $1696 and intra-day Euro strength is not sending gold bulls to the hills. A rising Euro is also indicative of short-term inflation expectations by the market which is consistent with the fundamentals for a higher gold price.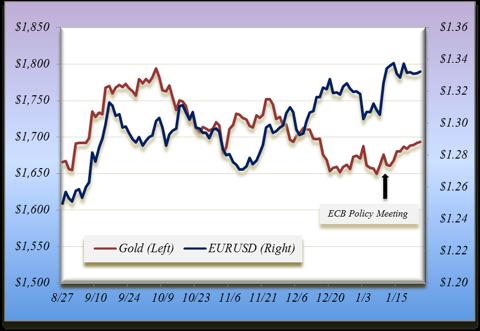 2 - Brent Crude
Like the Euro Brent Crude (AMEX:BNO) has been in a complete holding pattern for the past two weeks trading around $111.50 +/- $2.00. It refuses to break down but resistance around $112.00 is very strong. A weekly chart shows no less than 6 candles where the price was pushed back below $112 by the close. A break of $113 on a weekly basis is still needed for Brent to push higher. Its lack of movement along with the Euro is what is holding gold back from the $1696 level right now.
Before I leave oil behind I'd like to point out something else. I am tempted to put this chart up and not say anything because sometimes a picture truly is worth a thousand words but that's just not my style. The chart is the Gold to Brent Ratio and I believe that since I first discussed this it literally has not budged. So far in January the relationship of gold to Brent Crude has been unnaturally correlated. To give you an idea how correlated the 20 day standard deviation has dropped from 0.397 to 0.038 since December 31st - the day the fiscal cliff deal was announced and the can of the U.S. budget problems kicked even farther down the road. For the past 20 days gold and Brent Crude have been literally locked together. For all intents and purposes, in 2013, Brent Crude is being priced in terms of Gold.
This is a major development in the markets and indicates very strongly that gold is being re-monetized on a global basis.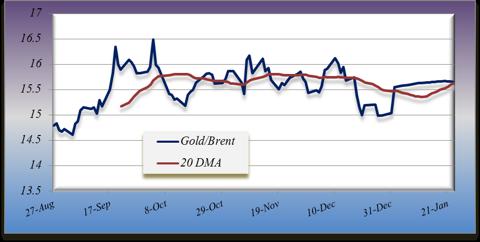 3 - TIPS Yields
I have mentioned in previous articles the strong correlation between the 5/30 TIPS (AMEX:TIP) spread and gold (R2= ~0.6). A widening 5/30 TIPS spread is indicative of rising short-term inflation expectations - the market fears an imminent rise in inflation especially if this is coupled with an overall drop in TIPS yields. The 5/30TIPS yield spread contracted to 1.83% on 1/22 after blowing out to 1.89% last week. Given the tenuous position that the bear case for gold is in right now, a strong move back to that spread along with an across the board drop in TIPS yields should be enough to propel gold, the Euro and Brent higher. The market has called the Fed's bluff about ending unsterilized QE since TIPS yields across the board are back at similar levels to before the FOMC minutes sent the markets for a loop at the beginning of the month.
4 - Increasing Physical Demand
According to the World gold Council's latest release central banks added 57.9 tons of Gold to their vaults. This is a 700 ton per year demand that excludes the known demand for physical gold from China, which has totaled 463 tons net through November. Russia has raised its reserves to 895.75 tons, adding 100 tons in 2012 alone. Turkey needed another 11.55 tons to keep its gold for oil trade with Iran going. Mexico continues to add.
Where Are You Going?
Below is the chart of the SPDR Gold Trust ETF (AMEX:GLD) which clearly shows two important things.
The true breakout point that gold needs to close over this week to confirm the 2 bar reversal pattern from last week - arrow.
The fact that GLD opened above the high for last week putting it in a very high probability position to best that resistance level.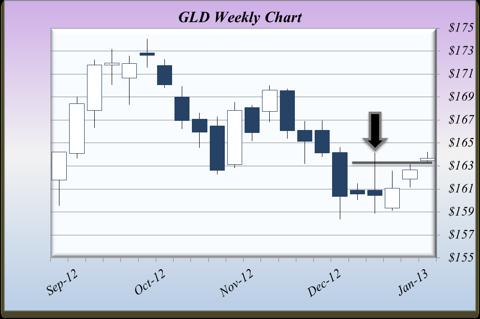 Once these short-term signals confirm themselves they will have spillover effects into longer time frames, i.e.. weekly and monthly charts. Gold and silver both are exhibiting a lot of strength coming into the end of January and are continuing to create potentially powerful trading setups for February. The key word, of course, is potentially.
A number of markets are continuing to push up against major decision points. The setup you see on the weekly gold chart above holds a very high probability of the breakout in gold occurring this week. The fundamentals are as strong as they ever were because gold ultimately responds to excessive money and credit creation and gold's price action is indicative of a market responding very positively to those fundamentals.
Disclosure: I have no positions in any stocks mentioned, and no plans to initiate any positions within the next 72 hours. I wrote this article myself, and it expresses my own opinions. I am not receiving compensation for it (other than from Seeking Alpha). I have no business relationship with any company whose stock is mentioned in this article.
Additional disclosure: I own physical gold and silver and a few dairy goats