Joy Global (NYSE:JOY) is a relatively cheap stock, with a current P/E of 9.6. Its business model is currently heavily leveraged to continued growth in the Chinese economy, especially in the mining sector. Joy Global has rebounded quite strongly since it released Q4 earnings on December 12. The stock is currently trading for $67.49, up 15% since releasing earnings. Joy Global offers a quarterly dividend of $0.175 per share. At current prices, the yield for Joy Global is 1.03%.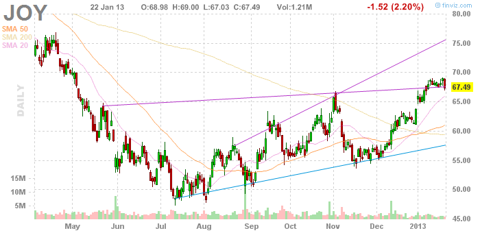 Joy Global manufactures and services high productivity mining equipment for the extraction of coal, iron, copper, oil sands and other minerals and ores. Demand for the equipment Joy Global provides has risen along side the prices for these raw materials. However, in 2012 the prices for raw material, especially coal and iron ore, had declined and so did Joy Global's stock price.
Joy Global should see increased demand for its equipment in 2013 as the Chinese economy recovers from its recent slowdown. China is shifting towards domestic coal sources to replace more expensive imported coal. Joy Global, as a leading manufacturer of coal extraction equipment, should see a benefit from this shift.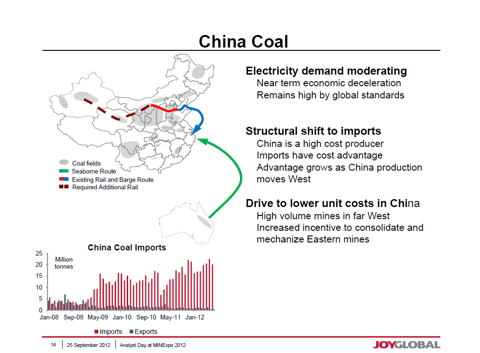 Joy Global has an attractive valuation, with only a TTM P/E of 9.6. FY 2013 EPS is estimated to decline to $6.23. At current prices, this would indicate a forward P/E of 10.8.
Joy Global reported it Q4 results on December 12. EPS for Q4 2012 came in at $1.99, an increase of 7.5% from the year ago. Q4 2012 revenues also increased 21%, to $1.6B, compared with the year ago. For FY 2012, EPS for Joy Global came increased 24% to $7.13 and revenues increased 27% to $5.7B.
A direct competitor to Joy Global would be equipment juggernaut Caterpillar (NYSE:CAT). Caterpillar has had its fair share of trouble in China, with a recently announced $580M noncash impairment charge related to an accounting scandal with its recently acquired company Siwei Mechanical & Electrical Manufacturing Co. Like Caterpillar, Joy Global also acquired a Chinese manufacturer of mining equipment, International Mining Machinery Holdings Ltd, in 2012. Similar accounting issues should be consider as a risk factor for Joy Global. In 2011, Joy Global announced the sale of its drilling and offshore assets to Cameron International for $375M.
Conclusion
The market had punished Joy Global for its rather tepid 2013 outlook, with the stock trading below $60 for much of December. However, with the recent market wide rally, Joy Global's stock has recovered, and is up nearly 20% in a few weeks. Joy Global may also continue to head lower and retest the lows of December as a result of the Caterpillar impairment charge. Joy Global stock is currently rather inexpensive, however, since Joy Global does not offer much of a dividend yield, income seekers will not come to the rescue if the stock heads lower.
Disclosure: I have no positions in any stocks mentioned, and no plans to initiate any positions within the next 72 hours. I wrote this article myself, and it expresses my own opinions. I am not receiving compensation for it (other than from Seeking Alpha). I have no business relationship with any company whose stock is mentioned in this article.