ARMOUR Residential REIT Inc. (NYSE:ARR) is a mortgage REIT. It has in the past invested primarily in Agency fixed rate, adjustable rate, and hybrid adjustable rate RMBS. On December 1, 2011, ARR's stockholders approved an amendment to its charter. This amendment allowed ARR to include non-Agency securities in its investment class restriction. One can only conclude that ARR's management team envisions buying non-Agency RMBS and possible CMBS in the near future. ARR is externally managed by ARMOUR Residential Management LLC.
As of January 14, 2013, ARR's portfolio still contained only Agency securities: Agency fixed rate, adjustable rate, and hybrid adjustable rate RMBS. In current value terms $2,097.4 million consisted of ARM and Hybrid Agency Securities; and $19,686.0 million consisted of different length fixed rate securities. The tables below give a more complete description.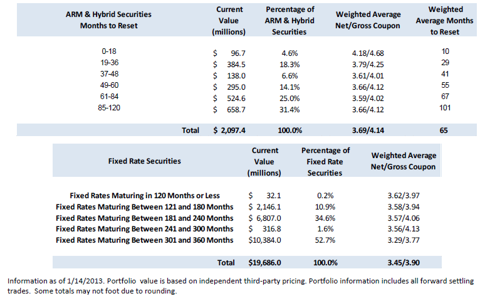 In Q3 2012 ARR did better than many of its peers with this kind of portfolio. It had an average yield on assets of 2.70% and an average net interest margin of 1.82%. It had a CPR (constant prepayment rate) of 13.0%. This too was lower than most peers. ARR had estimated Core Income of approximately $71.4 million. It had GAAP income of approximately $54.9 million. The difference was mostly due to unrealized losses on hedges. ARR had a book value of $7.77 as of September 30, 2012. These were good results given the market conditions at the time.
The Fed began QE4 (buying of $45B/month in long term Treasuries) in Q4 2012. This pushed the mortgage rates down a bit further. That had the effect you would expect on ARR's CPRs for Q4. The chart below shows ARR's CPRs.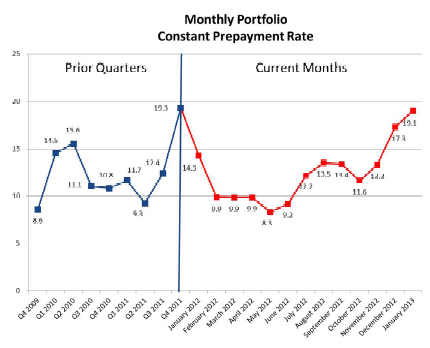 The chart shows a worrisome upward trend. The most recent CPR was 19.1%. This is significantly higher than the average CPR of 13.0% in Q3 2012. However, investors should not get too upset. The Fed's Operation Twist ended at the end of December 2012. This should allow mortgage rates to rise more easily. Also QE4, the outright buying of $45B/month in US long term Treasuries, is highly inflationary. We may not see inflation immediately, but it is expected to rear its ugly head by the end of 2013. This in turn will mean that mortgage rates will rise. Since most people, who could qualify, now have low fixed rate mortgages, the amount of refinancing is likely to go down in 2013 as the mortgage rates rise.
The first good effect from this will be that the CPRs will likely go down. The second good effect is that the interest rate spread that mortgage REITs can earn should go up. That will be countered by the likely negative effect of some loss of book value, especially in Agency RMBS, as the mortgage rates rise. This loss of book value will be lessened by ARR's hedges. Overall this process should leave ARR in a better position to earn good income on its Agency RMBS.
One remaining problem with Agency RMBS will be their dearth in 2013. The Fed will be buying $40B/month of Agency MBS (mostly if not all Agency RMBS). With a decreasing supply due to the likely higher mortgage rates (less refinancing), mortgage REITs such as ARR will have a lot of competition for any Agency RMBS that the Fed does not buy. This will put too much of a premium on these RMBS. That will lower the effective interest rate spreads for these RMBS. They will likely be bought at too high a premium to face value. This will tend to counter the expected interest rate spread increase for Agency RMBS mentioned above.
All this means that ARR will want to move into the non-Agency RMBS and CMBS markets in 2013 in order to make better profits. These items have been trading at a significant discount to face value (often 30%-40%). The non-Agency RMBS and CMBS also allow considerably wider interest rate spreads. This means there is a lot of room for profit. If the real estate market continues to improve as it has been, these items should allow both good interest rate spread profits and good price appreciation of the face values of the MBS. The CPRs should also go down, which should help the effective interest rate spreads. It is propitious that ARR has already amended its charter to allow such activities.
A recent article about expert forecasts of mortgage rates in 2013 had many opinions. However, the majority seemed to agree that mortgage rates would move higher to a range of 3.9% to 4.4% by the end of 2013. Of course, austerity may bring on a recession. Then mortgage rates might stay where they are or even go lower. We will have to see.
All told, ARR has performed well in its space. It appears to be ready to adjust to changing market conditions; and it is small enough that it should be able to do that effectively. It is a buy with the caveat that averaging in is a good policy. There is a significant chance of a recession. An averaging in strategy over the course of 2013 should lessen any negative results from such an eventuality. ARR appears to be a well run company that should bounce back from any short term downturn.
The two year chart of ARR gives some technical direction to this trade.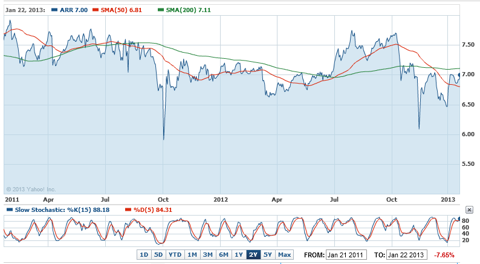 The slow stochastic sub chart shows that ARR is overbought in the short term. The main chart shows that ARR has essentially been in a consolidation mode for most of the last two years. There does not appear to be a significant incentive for ARR to go up or down in the near term. However, keep in mind that the Q4 results may be disappointing due to the higher CPRs. Plus the $0.10 per month dividend has been decreased to $0.08 per month for the first three months of 2013. This is still an excellent 13.71% annual dividend. ARR is still a buy. If you think you might want to own this stock for its dividend alone, it is likely a good selection. The average analysts' recommendation is 1.9 (a buy). CAPS gives it a four star rating.
There are some worries, but the real estate market is being strongly supported by the Fed. This means the likelihood of good profits in this area is probably higher than in most of the rest of the market. The old adage, "Don't fight the Fed", is doubly valid when the Fed is specifically supporting an industry. ARR is not perfect, but it will likely do well.
NOTE: Some of the fundamental financial data is from Yahoo Finance.
Good Luck Trading.
Disclosure: I have no positions in any stocks mentioned, but may initiate a long position in ARR over the next 72 hours. I wrote this article myself, and it expresses my own opinions. I am not receiving compensation for it (other than from Seeking Alpha). I have no business relationship with any company whose stock is mentioned in this article.