Thorsten Heins continues to do the right thing for Research In Motion (RIMM) and its shareholders. He recently announced a new policy allowing enterprises using popular and secure BlackBerry email servers to be able to manage their competitors, Apple (NASDAQ:AAPL) and Google (NASDAQ:GOOG), smartphones. This makes it easier for companies to use Blackberry Enterprise Service 10 managing their email with BYOD (bring your own device) policies for employees. It looks to us as his versatile QNX operating system and his new policy of being more open is a breath of fresh air for RIMM. And the stock's rise of nearly 53% this year reflects it.
As we have written in the past, we think Research In Motion is poised for a comeback with the new BB10 phone scheduled for launch at the end of this month. They have changed the whole philosophy with respect to the significance of apps. Here is a quote from a recent article in Canada's The Globe And Mail:
"... client requests for mobile apps to run on BlackBerry 10 began to pile up at Macadamian, which works with huge companies such as Microsoft Corp. and Cisco Systems Inc."
We have also reported that the short interest continues to increase in the face of this launch despite the promising reports from techies around the globe. Our check with our sources shows that the negative rebate (the interest rate charged to borrow hard to locate stock for short sellers) has increased from 1.5% annual to a cost depending on the "Wire Houses" availability between 3% to 6% annual. This rate is still relatively low as we have seen some highly shorted stocks with rates that exceed 100% annual rates. A controversial stock here on Seeking Alpha, Vringo (VRNG), is currently sporting a 30% negative rebate with limited or no availability to borrow for short sellers. However, RIMM's negative rebate may soon surge to VRNG levels because new shares to borrow are getting very difficult to locate and some institutions have begun "recalling" shares that have been lent out to existing short sellers who have already sold the stock.
The recalling process forces the short seller to either close out their short position by buying back the shares short or finding shares elsewhere that are available to borrow. Investors should keep a close eye on the SEC's Reg SHO Threshold List which reports "fail to deliver" securities from short sales. The 137 million shares which are reported as short at first glance may seem to be a relatively small ratio to the 525 million shares outstanding. To be fair, there are still many pessimists about RIMM's prospects. On January 16, RIMM made the Market Maker Friction Factor Report from buyins.net which reports "the top companies with the highest net sell volume on Tuesday and lowest negative price Friction (bearish)." The site seems to be disseminating information that is bearish but at the same time looks erroneous. Articles like these could be a contra indicator as it seems that RIMM is getting closer to a squeeze as we near the launch of its BB10.
Accumulation of the stock in recent weeks could be institutions buying with cash from the sale of Apple (AAPL) shares. What we may soon be witnessing is known as a short squeeze which happens when there are no more shares to borrow for short sellers. This can happen from share owners refusing to lend them out by holding their shares in cash accounts and not holding them in margin accounts where they are held in "street name." Looking at the ownership base picture from shortsqueeze.com for RIMM can show us a path to a squeeze. Insider ownership is reported at roughly 15% and institutional ownership is 65.6%, leaving 19.4% for the retail investor. If institutions are indeed buying as reported and they are most "low turnover" shops like the current roster of RIMM holders and they are reluctant to lend shares to short sellers, then you have a perfect scenario for a squeeze. Furthermore, these institutions rarely buy shares on margin which means they can choose to hold these shares in cash accounts where they can't be lent out without their permission. If they grant permission, they can set the price they want for the negative rebate described above. As you can see, the pool of shares to short in RIMM can freeze up like a case of Jack Frost.
To add fuel on the fire, analysts en-masse have started upgrading the stock to a buy. Charter Equity's Ed Snyder on January 15th upgraded RIMM to a buy from underperform. An upgrade for RIMM was issued on January 18th from Jeffries analyst Peter Misek, who we have quoted in our previous articles for highlighting app emulation by RIMM. Misek upgraded RIMM to a buy from a hold with a target of $19.50 because of RIMM's new revenue potential from enabling Blackberry email security on iPhones and Android phones. One of the oldest followers of RIMM, Scotia Capital raised its rating from Sector Perform to Sector Outperform. Let's look at the possibilities on why this could happen to RIMM. And RBC Capital just raised its price target for RIMM to $19 because it expects carriers to promote the new BB10 device.
Next, we look at who has been rumored with interest in RIMM in the past. Carl Icahn in September 2011 was rumored to be gathering shares in RIMM when it was trading at in the low $20s after dropping from $30s earlier in the month. But on April 3rd, 2012, Icahn put an end to that rumor on a cnbc interview when he proclaimed he couldn't even spell the name of the company. We think he can spell it now. Moreover, he knows his way around the mobile device manufacturer (Motorola,which split into two companies) business especially when they are rich in patents and other intellectual property. And Icahn is private about his strategies and has no SEC disclosure requirements outside of standard 13D filings of beneficial ownership over 5% in a specific security. Icahn likes to focus on big deals because of time efficiency and risk reward factors. Taking a sub-5% stake in RIMM at this price would equate to roughly a $400 million position, which might be too small for Icahn. But it would add to the tightening float available to short sellers to keep selling pressure on the stock and depress the price. Of course, there are many other billionaire investors like Carlos Slim and Charlie Ergen who also know the wireless business landscape very well and wouldn't mind being a beneficiary of a legitimate short squeeze with a respected company like RIMM.
Many commenters have explained that the international popularity of RIMM devices has helped its sales and cash flow despite the iPhone and Android dominance. Indonesia is the subject of a recent BusinessWeek article where strength remains for Blackberry devices. This picture taken in Armenia this month shows RIMM's far reaching international marketing efforts: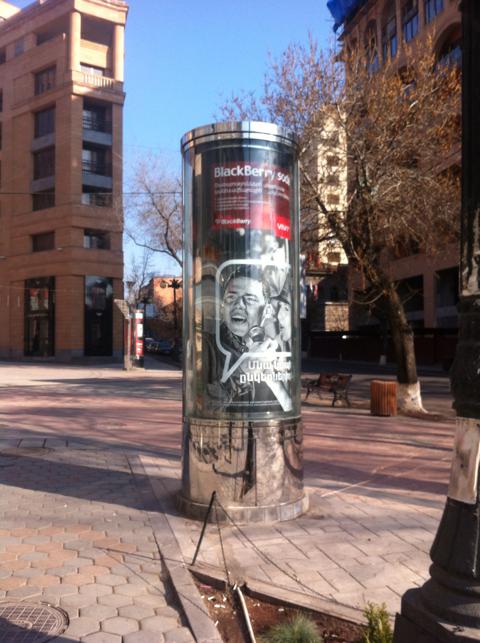 The most famous short squeeze in recent history was the 2008 Porsche Volkswagen story. Hedge funds sued Porsche in New York for the carmaker's adept move in trying to take control of Volkswagen. That case was thrown out in December 2012 for lack of jurisdiction. Last decade's Porsche squeeze could be trumped by a Blackberry squeeze. Like Porsche, Canada's RIMM is a foreign company subject to foreign securities rules. RIMM like Volkswagen has a loyal, aspiring affluent customer base that can easily own shares in their favorite product makers' company. Hypothetically, if only 525,000 of RIMM's 79 million customers bought the BB10 and were so impressed they then purchased 1,000 shares, they could hold RIMM's entire 525 million float. RIMM's clean balance sheet with no structured debt, strategic and rich IP portfolio, positive reviews on upcoming BB10 product launch, increasing short interest, relatively small insider/institutionally controlled small float and large legacy customer base which can buy both the phones and the stock are the highlights that make RIMM more susceptible today to a further "melt up."
Disclosure: I am long RIMM. I wrote this article myself, and it expresses my own opinions. I am not receiving compensation for it. I have no business relationship with any company whose stock is mentioned in this article.