Digital Realty Trust, Inc. (NYSE:DLR) has increased its dividend 10 times since its initial public offering in the fourth quarter of 2004, and currently pays a regular quarterly dividend that yields 4.1% annually. Furthermore, this Zacks Rank #2 (Buy) REIT reported impressive third-quarter results in October, leading to positive FFO (funds from operations) estimate revisions for 2012.
With its dividend return and an expected long-term FFO growth rate of around 8.1%, Digital Realty appears to be a promising pick for investors seeking both growth and income.
Impressive Earnings Story
Digital Realty is scheduled to release its fourth-quarter 2012 results on February 15. The Zacks Consensus Estimate is currently pegged at $1.16 per share.
On October 26, the company reported strong third-quarter FFO per share of $1.13, topping the Zacks Consensus Estimate by 15.3% and the year-ago FFO by 11.9%. The better-than-expected performance was primarily driven by increased revenues.
With an impressive global presence and a solid balance sheet, as well as an expertise in acquisition and development activity, the company remains well poised for augmenting its top line in the quarters ahead.
Total operating revenues increased 25.2% year over year to $342.5 million. Operating Income advanced 35.5% year over year to $97.1 million.
With strong results in the third quarter, Digital Realty now expects FFO per share between $4.40 and $4.44 for 2012, reflecting an expected growth of 8.4% to 9.4% year over year.
FFO Estimates Moving Higher
The Zacks Consensus Estimate for 2012 advanced 0.2% to $4.41 in the past 60 days, suggesting year-over-year growth of around 8.6%. Moreover, the Zacks Consensus Estimate for 2013 is currently $4.97, representing year-over-year growth of about 12.7%.
Dividend Payment
Digital Realty has been paying dividends regularly and hiked its quarterly dividend rate by 7.4% to 73 cents per share in the first quarter of 2012. Based on this rate, the annual yield comes to 4.1%.
Premium Valuation
Shares of Digital Realty currently trade at 14.4x 12-month forward earnings, a 3.4% discount to the peer group average of 14.9x. Its price to book ratio of 3.0 is at a 57.9% premium to the peer group average. Given its strong fundamentals, the premium valuation is justified.
Moreover, the company has a trailing 12-month ROE of 8.4%, compared with the peer group average of 3.0%. This implies that the company reinvests its earnings more efficiently than its peer group.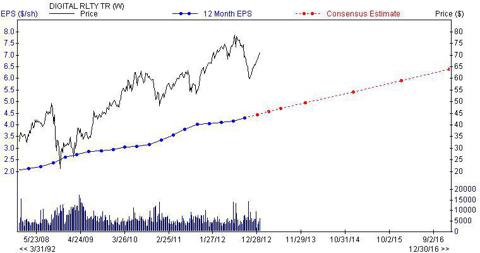 Headquartered in San Francisco, California, Digital Realty Trust, Inc. is a real estate investment trust and the sole general partner of Digital Realty Trust, L.P. The company owns, acquires, develops, redevelops and manages technology-related real estate. With a market cap of about $8.8 billion, this REIT has a global presence and its portfolio is located in 32 markets throughout Europe, North America, Asia and Australia. AmREIT, Inc. (NYSE:AMRE), Post Properties Inc. (NYSE:PPS) and Redwood Trust, Inc. (NYSE:RWT) are the other Zacks Rank #1 (Strong Buy) stocks in the same industry.
Read the full analyst report on DLR (email registration required)