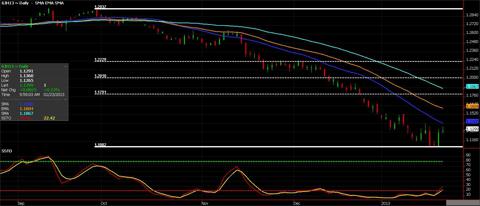 Trend followers have had a windfall, as the yen has moved one way virtually uninterrupted in recent months, shedding 13% since the beginning of October. While there have been a number of head fakes, my feeling is that we could get a considerable bounce from current levels. There appears to be a triple bottom established in recent sessions just under 1.1100 in March futures. As one can see on the chart, we are starting to see volatility pick up with wider ranges in the last week. On a trade above the 20 day MA -- identified by the dark blue line -- expect short covering to follow.
At this juncture, I would not rule out a trade to $1.1600/1.1800 in a hurry... like 2-4 sessions, once we get started. I do not suggest futures or selling options, as this could be very unforgiving if the recent lows give way. The only play, in my opinion, is to buy inexpensive out of the money options, looking for a considerable move and willing to lose the entire premium paid. If this happens, it should play out in the next 2-3 weeks, in my opinion.
One thing to consider is as the yen has depreciated, a number of risk markets, including many commodities and equities, have appreciated. In fact, if we see a sharp spike higher in the coming weeks, it would not surprise me to see a reversal, albeit temporarily, in risk markets. In other words, stocks, metals and energies could back off short term. To take it a step further, not to speak my trades, but I like bearish exposure in the aforementioned markets for a trade lower in the coming weeks.
Risk Disclaimer: The opinions contained herein are for general information only and not tailored to any specific investor's needs or investment goals. Any opinions expressed in this article are as of the date indicated. Trading futures, options, and Forex involves substantial risk of loss and is not suitable for all investors. Past performance is not necessarily indicative of future results.
Disclosure: I have no positions in any stocks mentioned, and no plans to initiate any positions within the next 72 hours. I wrote this article myself, and it expresses my own opinions. I am not receiving compensation for it. I have no business relationship with any company whose stock is mentioned in this article.