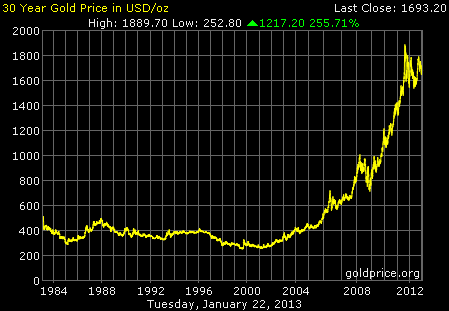 Any one watching CNBC yesterday could have seen the nice 4.6% jump from Freeport (NYSE:FCX). This $33.4 billion company -- long known for its copper and gold operations -- has been in the news lately for the recent steps management has taken to drive shareholder value. Investors, however, haven't been exactly pleased with these "steps".
First, there was the Grasberg mine fiasco. Grasberg is the largest gold mine -- and producer of some of the best grades -- in the world and contributes roughly 30% of Freeport's production. Labor went on strike, and management ended up making several concessions -- in my view, much too generous -- that included a 37% increase in wages, several bonuses, and a retirement plan. Basically, matters in Indonesia have gotten so out of hand that the company has planned an entire spin-off of the risky Indonesian operations.
Freeport has also tried to win support from Indonesian politicians. This includes an agreement in the recent planned IPO to provide a 51% stake to, yours truly, the Indonesian government. As one Seeking Alpha contributor rightfully noted: "To me, Freeport-McMoRan's labor problems and difficulties dealing with the Indonesian government are two sides of the same coin. Labor leaders in Indonesia are able to use political and military connections to force this company to make extreme concessions with few guarantees that future strikes and demands for additional wage increases and benefits won't continue" (emphasis added).
Then there was the decision by Freeport to move into the oil & gas business by acquiring Plains Exploration and McMoRan Exploration. This deal was plagued by a conflict of interest: The chairman of Freeport manages and also owns quite a bit of McMoRan. His shares were bought out at a 74% premium to the prevailing price at the time -- more than enough to offset the decline in value Freeport experienced from the deal.
Despite the 4.6% boost off of strong 4Q12 figures, the company is still down roughly 10% since the acquisition plan was announced. At around 7x forward earnings, shares look cheap. But, as the integration progresses, I believe investors will be glued to the downside and likely move to a peer investment sooner rather than later.
Barrick (NYSE:ABX) Is A Nice Alternative
As an alternative to Freeport, Barrick comes largely without the labor disruptions and portfolio ambiguity. While it has some oil & gas exposure in Canada, it is by and large a pure gold play. Here's what it has to offer:
Respective and forward earnings multiples of 10.4x and 7.1x. Excluding outliers, the firm's PE multiple has hovered around an average of 13x - 15x since 2008. This discount, in addition to the 2.3% dividend yield and 0.5 beta, helps keep downside low. Add in the intensive insider buying, and you can perhaps even sleep well at night.
Possibly the biggest concern about Barrick is in regard to upside. Third quarter results were ugly with revenue falling 13.5% y-o-y and 2012 cash costs being estimated up $15 per oz on the low- and high-ends. CEO Sokalsky is focused on increasing the return on invested capital through "shelving or deferring projects and disposing of others" -- basically by scaling back. I am, however, optimistic that the market reaction's has been overblown. Whereas Barrick has fallen 33% in value since releasing 3Q12 data, Freeport has fallen only 18.2% from more serious missteps over the same time. I believe there will be some sort of equilibration in coming months, which ultimately sets the tone to "Buy Barrick".
Junior Miners - The Way To Outperform?
But If you are looking to outperform gold ETFs, I recommend buying junior miners. Small cap stocks have had a history of outperforming their large cap peers. The reason? Since Wall Street has its eyes set on the Barricks and Freeports of the world, some of the most promising companies can go undiscovered and accumulate a large discount to intrinsic value just waiting to be closed. While it is true that these stocks carry more risk, value investors, like Warren Buffett, insist on a "buy-and-hold" strategy that will, overall, generate above-average market returns.
With this in mind, let's look at one small-cap miner: Southern USA Resources (OTC:SUSA-OLD). SUSA focuses its activity in the "Alabama Gold Belt". Since much of the exploration has already been accomplished in historic data mining and physical exploration, the risk profile is relatively a low concern at this point. Located in Clay County, Alabama, its main property is a 230 acre prospect 3.5 miles north of the Idaho Gold District. SUSA owns land and minerals right to this property in addition to mineral rights to an adjacent 230 acres and 770 more acres northeast. The State of Alabama Surface Mining Commission has already given the firm rights to explore and develop the property, "SUSAR No. 1".
And if you have had any experience working for a natural resource company, you know that finding a lucrative mine is not as simple as scanning a geological map: miners have to send out teams to prospective targets and drill cores to sample the resources. Well, sampling is exactly what SUSA has done, and they reported details this Tuesday: "New essay results evaluated by the Company" have indicated that "the belt of gold bearing ore is approximately the length of [SUSAR No. 1] and beyond and is approximately 6 ft. to 180 ft. wide/down" -- this suggests "several hundred thousand ounces of gold" within the property itself.
Now, what does this actually mean for investors? Natural resources companies can be valued based on their theoretical extraction value (keep in mind, this is a theory, and other -- in fact, many -- variables can and do come into play.) In any event, the average lifespan of a gold mine is around 10 to 30 years. Assuming there is around 275,000 ounces of gold ("several hundred thousand" suggests 300,000 or more) and peak resource extraction around the 7th year, my model indicates that ownership of just SUSAR No.1 warrants SUSA being worth $4 per share. Note this was the same price target assigned by Caprock Risk Management in a "strong buy" report released around 2 weeks ago. The analysts over at CRM got to their price target by projecting 2013 EPS and factoring in the exit multiple at the peer group average of 23.5x.
Theoretical Extraction Value of SUSAR No.1 for SUSA
But will the price of gold stay at around $1,700? Most analysts believe that the precious metal will appreciate from here -- and for good reason: With federal governments -- here and the abroad -- seemingly unwilling to commit themselves to balanced budgets, inflation appears to be the "new normal". Although the "resolution" of the fiscal cliff gave investors much relief, what will happen the next time the debt ceiling needs to be lifted? What will happen when entitlement programs become fully insolvent? It's clear, in my view, that there is momentum on the upside.
A second point to consider is the average cash cost of extracting gold. At the start of the 21st century, miners were getting sub-$180 cash costs; by 2005, this reached $250. According to a recent report by Thomson Reuters GFMS's Gold Survey 2012, average cash costs have risen to around $730. But the main point is that between 4Q05 and 2Q12, the rise in the price of gold exceeded the rise in cash costs: +270% over +187%, respectively. And higher margins, of course, provide miners with a windfall of cash flow that can then be directed into newer and better projects.
Source: Wealth Wire
So, with this in mind, I encourage investors to actively buy gold stocks. My personal recommendation would be to own a portfolio of established and junior miners. While the relative predictability of a company like Barrick can provide consistent streams of cash flow, the undervaluation of small-cap companies can provide superior market returns.
Disclosure: I have no positions in any stocks mentioned, but may initiate a long position in ABX, OTC:SUSA-OLD over the next 72 hours. I wrote this article myself, and it expresses my own opinions. I am not receiving compensation for it (other than from Seeking Alpha). I have no business relationship with any company whose stock is mentioned in this article. We seek business from all of the firms in our coverage, but research covered in this note is independent and for prospective clients, repeat or new, who may now or in the future have a position in any company mentioned herein. The distributor of this research report, Gould Partners, manages Takeover Analyst and is not a licensed investment adviser or broker dealer. Investors are cautioned to perform their own due diligence.