Semafo (SEMFF.PK) is a Canadian based gold mining company with three operating mines in West Africa. The company has two relatively small operations in Niger and Guinea and a large operation in Burkina Faso's prolific Hounde gold belt. After reporting disappointing third quarter results on November 7, 2012, the company's shares began a week of decline that amounted to roughly 20 percent. Most recently, the company reported its fourth quarter and annual production results in addition to 2013 production estimates and those are nothing to get excited about.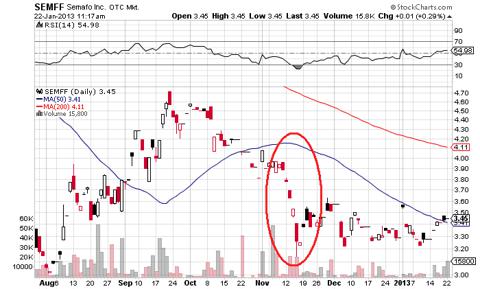 Starting with fourth quarter production that declined 3.7 percent from 64,800 in Q4-2011 to 62,400 in Q4-2012, investors can easily notice that the production growth Semafo has enjoyed in the past three years is quickly subsiding. This phenomenon is even more apparent when considering the company's guidance for 2013, which indicates that gold production is to be in the range of 215,000-240,000 ounces. To put it into perspective, 2012 total annual production amounted to 236,100 ounces, well into the upper range of the 2013 guidance. This means that even if all three of the company's operations function smoothly throughout 2013, total growth can only be as high as 1.7 percent on a year-over-year basis.
Of course those familiar with the mining sector (and Semafo for the most part), are well aware that smooth and mining are not mentioned in the same sentence often. Using Semafo's third quarter as a prime example, investors can simply notice that many factors influencing production are actually completely out of the hands of management.
For starters, head grade continues to decline across all of the company's operations including its crown gem, Mana in Burkina Faso. As the table below illustrates, third quarter head grade declined materially and going forward shareholders are warned to expect more of the same. As the company indicates in its 2013 outlook, 2013 head grade in Mana is "expected to be slightly lower than the average grade of the deposit" which is 2.31 g/t.

Lower grades usually mean fewer ounces produced as the mill goes through increasing amounts of worthless dirt to reach shrinking amounts of gold bearing ore. This increases the cost of production and the cash cost per ounce produced. It also shrinks the margins the company generates on sales. Given the company's estimated production range, the company can see its production drop by as much as 8.9 percent and still meet its annual guidance target.
From an investment perspective, a shareholder can either enjoy a 1.7 percent production growth, or an 8.9 percent production decline. Holding the price of gold as a constant (as all gold producers will enjoy share appreciation if bullion rises), shareholders can surely see that Semafo is not exactly the best investment option in 2013 and that better opportunities in companies that generate production growth (as opposed to declines, or no growth) are available.
Disclosure: I have no positions in any stocks mentioned, and no plans to initiate any positions within the next 72 hours. I wrote this article myself, and it expresses my own opinions. I am not receiving compensation for it (other than from Seeking Alpha). I have no business relationship with any company whose stock is mentioned in this article.