I recently made a comment about my assumptions of valuation in Todd Johnson's article about Tessera Technologies (TSRA).
Following a detailed analysis, I think Tessera is worth around $1400MM - $26/27 per share, including a free call option: Digital Optics Segment.
Business
Tessera Technologies is divided into two segments:
Intellectual Property (IP), which manages a portfolio of semiconductor patents (chips, memories, xFD…). IP is highly profitable. It represents 80% of sales and an average 70% operating margin.
Digital Optics (DOC), which provides camera modules for mobile devices. DOC is finalizing a brand new camera module based on an MEMS autofocus actuator. The market is expected to be important, but it is not accretive yet. DOC hence represents 20% of sales and an operating loss of $100MM in 2011.
The management studies the possibilities of a spin-off of Digital Optics. It is clearly written in the last 10-K:
10-K extract:
[…]For example, in April 2011, we announced that we are exploring a possible separation of our DigitalOptics business.
More, the CEO is now incentivized, with a bunch 550,000 options ($14 exercise price) in case of spin-off until March 2015:
8-K extract
The stock option will vest and become exercisable as to 100% of the shares subject thereto on the date of completion of a spin-off by the Company of a business segment [...]
If the stock option so vests, then the option will remain exercisable until March 31, 2016. If the spin-off does not occur by March 31, 2015, then the stock option will expire on such date.
Valuation
My valuation is based on an adjusted net assets value.
Cash and equivalents, accounts receivable, deferred taxes
I think the risk of downside is quite limited: Tessera has $465MM in cash & equivalents, almost $9 per share. Tessera recently won a claim against Spansion, adding $24MM more or $0.5 per share.
There's also a catalyst with AMKOR final arbitration. Tessera and AMKOR had a patent license agreement. Tessera accused AMKOR of failing to pay Tessera full royalties on products Amkor sold. Tessera terminated Amkor's patent license agreement in 2011.
Then Tessera claimed $400MM. AMKOR already paid $20MM in summer 2012. But Tessera expects to get at least $125MM, $2.5 per share.
Richard Chernicoff, president of Tessera Intellectual Property Corp
As previously announced, we intend to seek an amount in excess of $125 million in connection with the ICC's interim award.
The $400MM scenario is highly improbable, because the panel did not took into account all the claim.
Amkor Announces Interim Ruling in Tessera Arbitration
The panel found that no royalties are due to Tessera on seven of the ten asserted U.S. patents. The panel also found that royalties are due on four foreign patents related to U.S. patents that the panel previously found to be royalty bearing.
A more probable scenario would certainly be in a $20 - 125MM range.
This would lead to get around $12 by buying one single share. At $17 / share, it means the business can be bought for only $5.
I also count accounts receivable, deferred taxes (R&D) with a slight discount. I add $20MM more.
Finally, without considering AMKOR final arbitration, i add :
Cash : $465MM
Accounts receivable, deferred taxes $20MM
Spansion arbitration : $24MM
AMKOR arbitration (initial payment) : $20MM
This leads to more than $500 MM in current assets.
Considering AMKOR final arbitration ($125 or 400MM), this leads to a $630 - 900MM range.
I consider $600MM for the next steps.
Portfolio of patents
In 2011, Tessera started to extend its major IP contracts (Samsung, Micron, Powertech, Hynix…). Tessera is deeply concerned because several customers are very significant (Powertech and Micron respectively 25 and 19% of revenues).
To assess the value of patents, I took an average after tax operating profit for IP segment.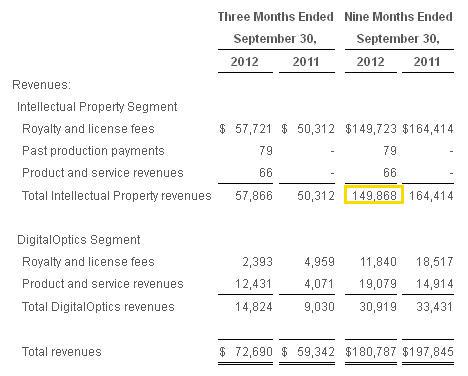 Revenues for the last nine months were $150MM. I counted $200MM for the trailing year.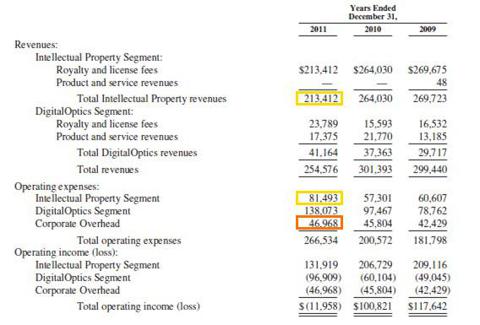 A conservative 62% operating margin (the average is closer to 70%) and a 35% tax rate amounted to $80MM profit.
I used the same method to get an average profit for the last 4 years (2009, 2010, 2011 and 2012).
My calculation resulted in $110MM profit per year; then I choose to discount it by 20% considering:
The "customer concentration" risk.
The corporate overhead expenses (20% of IP revenues, including DOC corporate overhead expenses).
Finally this leads me to an average $90MM profit per year (almost $2 per share). Now, I have to assess a profit multiple. I believe a 10 multiple is quite conservative.
I estimate patents are worth around $900MM.
I adjust assets value to $1500MM ($900MM patents and $600MM current assets).
Liabilities
I took out all liabilities, plus a $50MM investment made in 2012Q3 for MEMS manufacturing & shipping facilities. It is expected to be accretive in the near future because MEMS modules will soon be shipped to OEMs.
I took out $100MM to the assets value.
Conclusion
Finally, this leads to a $1400MM valuation, considering several catalysts:
AMKOR arbitration.
Realization of a spin-off.
Success of DOC MEMS autofocus actuator.
I counted all liabilities, including DOC liabilities. But I did not add any profit for DOC segment. DOC is hence a free call option.
Tessera is priced $17 per share ($900MM market capitalization). I estimate there is almost a 40% discount to its intrinsic value.
I believe the downside risk is limited considering the balance sheet (more than 50% of the market capitalization is cash). More, the management is significantly incentivized since 70% of stock-based compensation is options with a $16 or more exercise price.

Disclosure: I am long TSRA. I wrote this article myself, and it expresses my own opinions. I am not receiving compensation for it (other than from Seeking Alpha). I have no business relationship with any company whose stock is mentioned in this article.