Exposure and allocation are often considerable hurdles for the common retail investor when trying to gain access to emerging markets, especially from a cost perspective. Buying stocks not listed in the US is often impossible for John and Jane Q investor. Stock picking is a risky proposition with the limited resources and time most people have today and generally not a good idea related to diversification.
It's all about growth when it comes to emerging markets. Here are three ETF to consider for your IRA or retail account, two for growth and one for a hedge.
African Advance
Investors may be hesitant to jump in with both feet given the political unrest in Northern Africa. Van Eck's Market Vectors Africa Index ETF (AFK) has over 40% exposure combined in South Africa, often added to the end of the BRIC acronym as an "S", and Nigeria, both relatively stable countries. There is a definitely a heavy weighting to the financial sector, but this could be considered a positive these if institutions act as vehicles for this growth. Figure 1 shows the top 4 countries in AFK and real GDP growth for each over the past few years. While the trend is slightly down for all, there is more upside compared to the United States which I added for comparison. While the growth in Egypt maybe a political story more than anything else, the other three look promising, especially South Africa. (Note: 2012 GDP Rate is still forecast not actual)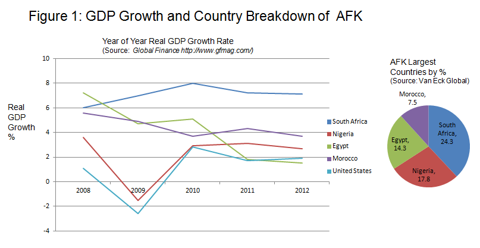 Building Brazil
While many economists argue the overall long-term economic benefit of having Olympic Games and World Cup for host nations, there is no doubt that the spending on infrastructure building up to the event can generate a huge boom. Brazil has both of these coming soon with the World Cup in 2014 and Olympics in 2016. Emerging Global Advisors, LLC has the EGShares Brazil Infrastructure ETF (BRXX) which is still a relatively inexpensive play on this expansion. Some analysis is forecasting over $1 Trillion of capital influx to Brazil to prepare for these events. More conservative estimates vary from $30 to $50 billion as what the Brazilian government will spend on these events alone, with the caveat that recent history has shown this estimate always to be low. Private money injection is forecast somewhere between $50 and $100 billion. A lot of 'Real' period!
BRXX is designed to take advantage of this growth with weighting, from highest to lowest, in utilities, industrials, materials, telecommunications, and financials. As mentioned above the ETF is still relatively inexpensive. I believe this maybe a better growth play than the iShares MSCI Brazil Index (NYSE - EWZ - $56.44) which is just a large cap index vehicle on the Brazilian stock market. BRXX is tailored specifically for the growth, presently less than half the cost and yielding more than 100 basis points more than EWZ (3.96% versus 2.84%).
Currency and Commodities
Now that we have growth covered let us focus on inflation and currency risk, particularly a concern in emerging markets with a huge capital injection like Brazil will experience over the next few years. The EGShares Emerging Market Metals/Mining (EMT) from Emerging Global Advisors is an equity play in gold, silver, aluminum, copper, platinum, and other metals and coal in addition. The ETF invests in the largest miners in emerging markets in local currency, not the US Dollar. Investors can capitalize on a weakening US dollar because of the general rule inverse relationship of commodity prices versus the US dollar. EMT is currently yielding 2.95%
Disclosure: I have no positions in any stocks mentioned, and no plans to initiate any positions within the next 72 hours. I wrote this article myself, and it expresses my own opinions. I am not receiving compensation for it (other than from Seeking Alpha). I have no business relationship with any company whose stock is mentioned in this article.