"Now the difficulty with those warnings is that they were not specific." - Lee H. Hamilton
Followers of my writings know that I was quite bullish on emerging markets as part of my "Fall Catalyst of 2012" call, making the case that rotation into overseas cyclical areas was likely. Emerging market stocks are a great area to watch for a read on global sentiment, given that most EM countries are dependent upon cyclical growth expectations and export demand. Their unique role as the "small-cap" of the world means they are quite sensitive to environments which favor risk.
As the made-for-TV drama known as the Fiscal Cliff was unfolding, it was emerging market stocks that strongly outperformed the U.S., with the opposite occurring at the start of January once a deal was passed. What is interesting, however, is that the underperformance has been more on the unrelenting side in recent days, despite better China economic data. Persistently strong currencies may be causing some to pause on the trade because it makes exported goods more expensive to foreign buyers.
Take a look below at the price ratio of the iShares MSCI Emerging Market ETF (NYSEARCA:EEM) relative to the S&P 500 (NYSEARCA:SPY). As a reminder, a rising price ratio means the numerator/EEM is outperforming (up more/down less) the denominator/SPY.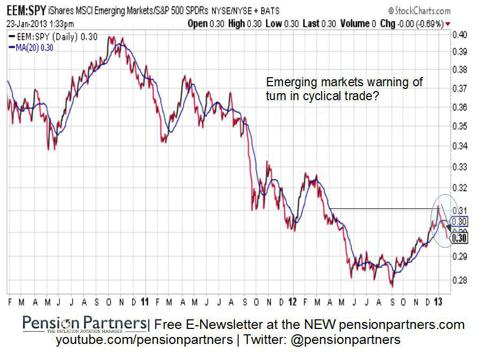 Clearly investors do not necessarily need emerging market stocks to lead in order for a risk-on environment to take place, but movement coincides with sentiment on cyclical expectations for growth. The ratio peaked right at the start of the year and has been worsening since, now below its 20 trading day moving average. While possible a move back to retest the averages may soon occur, I wonder if this is more of a larger warning that the strong start to risk assets may soon be over, and that the Winter Breakout of 2013 already happened. Our ATAC models used for managing our mutual fund and separate accounts remain long equities and have picked up some early signs for deterioration. More confirmation would result in a rotation out of stocks. We are not there just yet, but for those starting to consider a trade against equities, playing relative weak momentum in overseas stocks may make some sense here.
Disclosure: I have no positions in any stocks mentioned, and no plans to initiate any positions within the next 72 hours. I wrote this article myself, and it expresses my own opinions. I am not receiving compensation for it (other than from Seeking Alpha). I have no business relationship with any company whose stock is mentioned in this article.
Additional disclosure: This writing is for informational purposes only and does not constitute an offer to sell, a solicitation to buy, or a recommendation regarding any securities transaction, or as an offer to provide advisory or other services by Pension Partners, LLC in any jurisdiction in which such offer, solicitation, purchase or sale would be unlawful under the securities laws of such jurisdiction. The information contained in this writing should not be construed as financial or investment advice on any subject matter. Pension Partners, LLC expressly disclaims all liability in respect to actions taken based on any or all of the information on this writing.