Fluor Corp (NYSE:FLR) is one of the world's largest engineering and construction companies with a market capitalization of almost $10.5 billion. Since hitting a high of $101.37 back in 2008 just before the market crashed, the stock seems to have been pretty much stuck in a range of $45-70, trading toward the upper end of that range at $63 as of this writing. However, I feel that Flour has very bright days ahead and may be ready for a significant move up over the next year or so.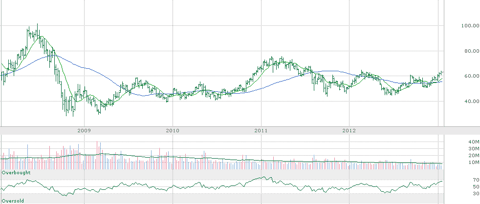 Fluor operates in five major segments: First, Oil and Gas (34% of revenues) provides services to oil, gas, and refining customers. Industrial and Infrastructure (41%) provides engineering, procurement, and construction ((NYSE:EPC)) services. Global Services (6.7%) provides operations, maintenance, and outsourcing services. The Government (15%) segment provides services to the federal government, and finally, the Power segment (3.2%) provides services to power plant clients.
As of September, Fluor had a backlog of $41 billion, with 75% of it coming from outside of the U.S., which should keep the company busy for some time to come. The fastest-growing aspect of Flour's business going forward is expected to be the Oil and Gas segment, which is strong worldwide presently, and as a result, Fluor is on pace to post 2012 revenues that are 20% higher than 2011.
It is a result of this growth and the current valuation of the stock which makes me so bullish on the company going forward. Before getting into that, another catalyst is the company's solid record of creating shareholder value, with buybacks, and to a lesser extent, dividends. Currently yielding just over 1%, Fluor is not what anyone would refer to as an income stock. However, the share buybacks have been very active, and the number of outstanding shares has dropped from 183.5 million in 2008 to 166.5 million currently, a reduction of 9.3% in four years.
Additionally, Fluor has a positive net-cash position right now, with $2.26 billion of cash on hand (as of 2011) and only $514 million in long-term debt, for net cash of $1.744 billion. When the company reports 2012 results toward the end of February I would be very surprised if the cash on hand hasn't grown since last year.
Now, in terms of valuation, Fluor trades at 17.1 times 2012 earnings, which sounds pricey until you factor in two things: cash and growth. When backing the company's net cash out of the equation, the stock only trades at 14.2 times earnings. Additionally, consensus estimates call for earnings to grow to $4.17 and $4.66 in 2013 and 2014 respectively, which would be average earnings growth of 12.4% annually, which more than justifies the valuation.
So, where could this stock go? Conservatively assuming the same earnings multiple, and also that the cash position does not increase, using the above earnings projections, I get a 1-year target price of $71.30. Again, I feel there is a very good probability that the net cash position will increase substantially, which should raise the share price accordingly. My target also does not take into account share buybacks over the next year. If historical trends continue, the company will buy back about 2.3% of the outstanding shares over the next year, which would raise the intrinsic value of the shares by that amount. With all of these catalysts providing upside pressure, I see Fluor hitting $75 in the next year, or 19% above current levels.
Disclosure: I have no positions in any stocks mentioned, and no plans to initiate any positions within the next 72 hours. I wrote this article myself, and it expresses my own opinions. I am not receiving compensation for it (other than from Seeking Alpha). I have no business relationship with any company whose stock is mentioned in this article.