What could be the strongest "January effect" in years started early for a few microcaps. Some stocks begin to show the seasonal strength in December, usually because sellers are fully exhausted or the company issues positive news. Both of these factors appear to be in play for Versar Inc. (Amex: VSR), a stock I bought last week.
On December 22, 2008, Versar announced that it had been awarded a $9.44 million contract to build a facility for the U.S. Army. Versar posted over $111 million in revenue over the trailing twelve months (per Yahoo! Finance), so the contract wasn't huge but it certainly is an incremental positive. More importantly, the defense contractor is profitable, has a record backlog, and has over $1/share in cash on its balance sheet.
Click to enlarge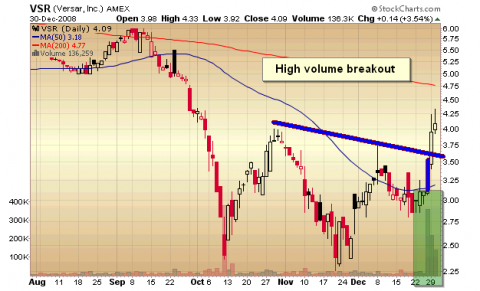 Curiously, the stock did nothing that day or the next few. But on the Friday after Christmas, usually a light session, Versar began to spike on huge volume. The move continued Monday and Tuesday, chalking up a quick 30% rally.
It would not surprise me if Versar retraced back to the breakout point (the blue line in the chart above). However, I still like the stock and think the move has another few dollars to go.
DISCLOSURE: Long VSR.